In Show of Solidarity With Egyptians, Hundreds Converge on Times Square
As a nascent revolution rages in Cairo, demonstrations in support of Egyptian protestors continue to take place throughout New York City. Beginning last Saturday with a rally in front of the United Nations headquarters, a week of public organizing was capped off by a large, loud gathering on Friday in Times Square.
Hundreds of protesters braved another frigid afternoon for two hours of speeches and picketing, all culminating in a mass march back to the UN Friday evening. The demonstrators packed two blocks worth of police barricades, and while it's difficult to estimate whether the crowd was any larger than at Saturday's event—all of which have relied on Facebook to get the word out—it was clearly more diverse.
Syrians and Jordanians carried signs proclaiming their country's solidarity with the Egyptian people, and a growing number of non-Arabic Americans turned out to increase pressure on their own government to cut ties with Egyptian President Hosni Mubarak. 
"You find a lot more foreigners," said Mayssa Sultan, an Egyptian American who has attended several of these events in the last week. "A lot of times at our protests you find a lot of Arabs without a lot of American support, but this time we've had a lot of American support."
A group of CUNY students said that part of the reason for their attendance was embarrassment. They said they were ashamed at the United States' prior support of Mubarak, and at the Obama administration's current reluctance to let revolution run its course.
But as unrest in Egypt continues, many American politicians have raised specific concerns about a power vacuum in the Middle East. Who will fill Mubarak's shoes? Omar Suleiman, the current Vice President, and Mohamed ElBaradei, a Nobel-winning opposition figure, have both come up repeatedly in conversations about who would lead Egypt should Mubarak step down. Worries about the Muslim Brotherhood have been pervasive in recent days, as some suspect their ascension to power would be detrimental to U.S. policy in the Middle East.
"That's a lie," said Yasser Balila, an Egyptian American protester. "Mubarak says, 'Oh, if I go out, the Muslim Brotherhood will take over!' He's trying to scare America, to scare Europe. The Muslim Brotherhood is from the Egyptian people. We can't kick them out of the new government. The Muslim Brotherhood is not all people like you think of, Al-Qaeda and all this. They want to help Egypt, along with ElBaradei, [Secretary-General of the Arab League] Amr Moussa...We have plenty of good people in Egypt. It's just Mubarak, just go!"
Many Egyptian Americans were uncertain about who they would like to see take charge in Cairo. Amr Moussa's name came up more than a few times, and while Balila said the Muslim Brotherhood would not be bad for Egypt, other protesters felt differently. The only thing everyone could agree on? Any government that included Hosni Mubarak would not satisfy the Egyptian people.
"He and his entire regime have to go," said Mayssa Sultan. She, at least, would not support a Suleiman-led government. "Replacing him with Omar Suleiman or these other guys is just not acceptable."
Another protestor named Abbas Abbas agreed. "Suleiman is the same regime, same government, so even if he's a good guy, we don't need him anymore."
While they weren't sure who should lead them, Egyptians were united in their belief that the outcome of the protests would be peace and prosperity, not chaos and war. 
Americans can be forgiven for their unease, though. With conflicting information about the Muslim Brotherhood clogging airwaves, and partisan punditry amping up rhetoric on both sides of the issue, it's hard to know exactly what to make of this new Middle East.
That's what brought Bill Johnson to Times Square on Friday. "I'm here to educate myself on conditions presently and within the recent past," he said. "Why this upheaval now and what meaning it has for us in the United States. I want to meet with people and talk with them about their experiences as Egyptians. What great injustices they've experienced and how they can see a change in government now that won't cause great upheaval."
What worried Johnson is what will happen next, both to Egypt and to the United States. He had come to the rally to get a sense of where the world might land after this is all said and done, but found no immediate answers. 
When asked if he had learned anything that afternoon, he replied, "Not yet. But I'm looking."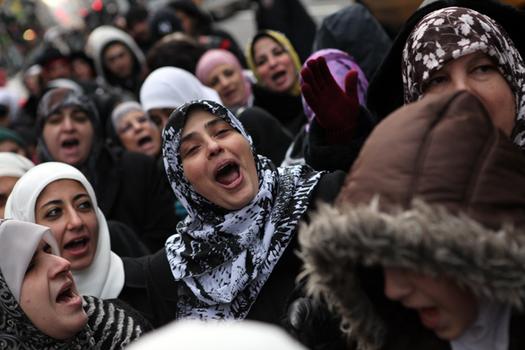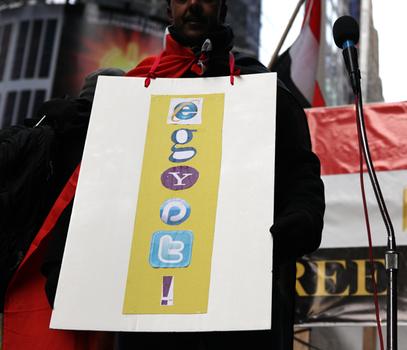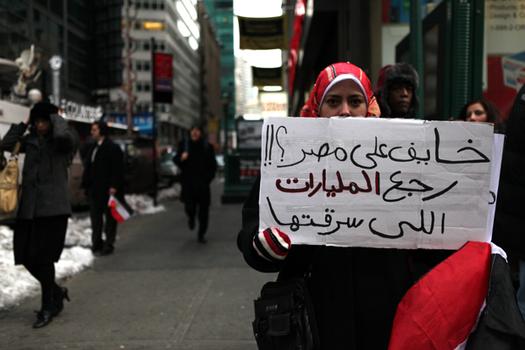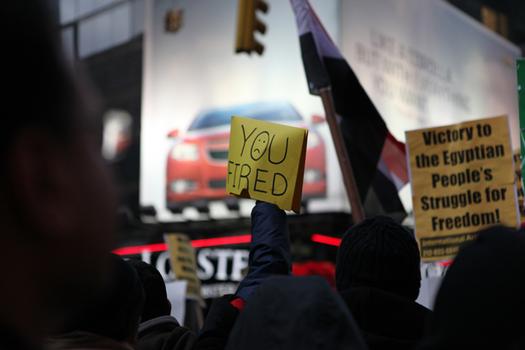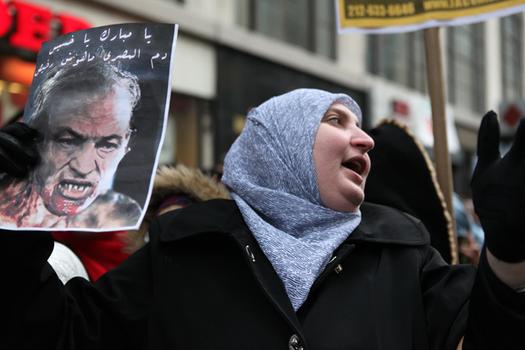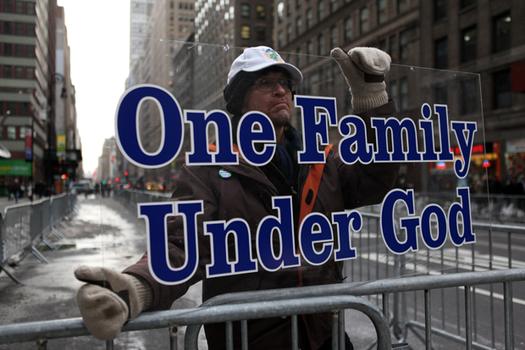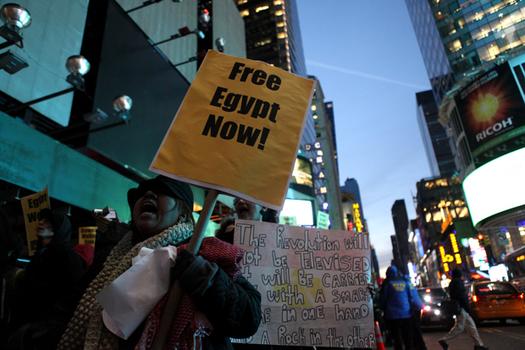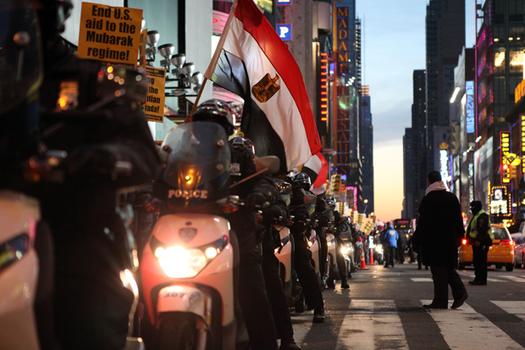 of