Wave of Change
Wave of Change: Recapping a Tumultuous Week in Egypt; Egypt's Strategic Importance to the U.S.; Coptic Christians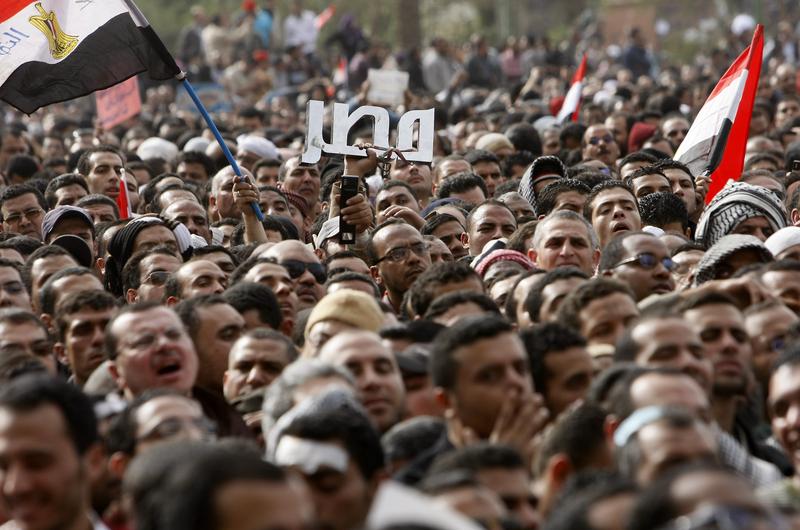 This is the fourth edition of Wave of Change, a special podcast from The Takeaway, covering the mass protests in Egypt and the consequences for the wider Arab world, hosted by John Hockenberry with Celeste Headlee.
In this episode, we look back at the week that was in Egypt, and look toward the future, with the BBC's Middle East editor, Magdi Abdulhadi. Reporting from Cairo, Abdulhadi reminded Takeaway co-host John Hockenberry that just a week ago, it was impossible to image the breathtaking democratic movement that has enveloped Egypt and captivated the world. "I think nobody predicted this would happen as much as anyone failed to predict Tunisia would be the first Arab country to topple a leader who people regarded as a dictator," said Abdulhadi, referring to the democratic movement credited with inspiring uprisings in Egypt, as well as in countries like Syria and Yemen.
What is clear, Abdulhadi says, is that Egypt has passed the point of no return. Once Hosni Mubarak, the autocratic president of over 30 years, announced he would not seek a new term on Tuesday, Egypt was placed on "a slippery slope, and people are demanding more concessions — they want nothing less than him simply going, and going now," said Abdulhadi.
While Mubarak's pledge not to run for re-election initially split public opinion, the torrent of violence unleashed by his supporters against pro-democracy demonstrators and foreign observers, according to Abdulhadi, "managed to sway public opinion back against him, and the people who were persuded by the speech started to say, 'No, we want him to go now.'"
Earlier this week on the Wave of Change podcast, Daniel Pipes, director of the Middle East Forum, told John Hockenberry that he expected Egypt's uprising would be a coup, not a revolution, with a new military leader in place after the dust settles. A military leader has run Egypt since Muhammad Naguib and Gamal Abdel Nasser threw out King Farouk I in 1952.
Abdulhadi, however, was not as certain the Egyptian people would accept yet another military leader. "They have been through about 60 years of military men in civilian clothes who find democracy a difficult thing to deal with," said Abdulhadi. Now, Egyptians are thirsting for a real, thriving representative democracy. Protesters expect new elections and a new parliament, as well as "a new constitution that will gurantee that no president will stay for life," said Abdulhadi.
Assuming Mubarak is not replaced by another military leader, the most difficult work lies ahead for Egypt, as the disparate groups of Egyptians that have coalesced against Mubarak try and govern themselves. Secularists and Islamists will have to reconcile over "how much legislation should be derived from the Qur'an," predicts Abdulhadi.
Also, in today's Wave of Change podcast, John Hockenberry had another conversation with Leslie Gelb, president emeritus of the Council on Foreign Relations, about Egypt's strategic importance to the United States. "Almost everything we do on counter-terrorism in the Middle East is housed in Egypt," said Gelb. Gelb predicted that without Mubarak, the U.S. military will face significant challenges with its counter-terrorism operations.
Turning stateside, Wave of Change checks in with some Arab-Americans in excerpts from Friday's broadcast of The Takeaway. First, Takeaway co-host Celeste Headlee looks at American followers of the Coptic Orthodox Church, Egypt's largest Christian sect, with Father Armia Toufiles of St. George Coptic Orthodox Church in Brooklyn. While Coptic Christians are generally supportive of Mubarak's ouster, they're also apprehensive about the prospect of an Islamist government controlling Egypt. "We have to make sure that change is done properly because unfortunately, if the change happens abruptly then the consequences will be worst for Egypt as a country, the Middle East and the whole world," Father Toufiles told Headlee.
Also, from Friday's show, John Hockenberry spoke with two Arab-American women about their reactions to the political tumult in their home countries. Nancy Yousef, said she wished she could be alongside her fellow Egyptians in Cairo's Tahrir Square. Meanwhile, Tunsian-American Naima Nour told The Takeaway that she hoped Tunisia and Egypt would follow an American model of democracy and governance.
CORRECTION: The Wave of Change Podcast for February 4, 2011 incorrectly identifies speaker Nancy Yousef as Naima Nour. Nancy Yousef, who shared her feelings of patriotism at the end of the podcast, is an Egyptian-American and a Professor of English Literature at City University of New York at CUNY/Baruch. We regret the error.