The holidays are long over, but chestnut-lovers who have been roasting probably still have scars from the festive, yet dangerous, endeavor of roasting chestnuts. Fortunately, there are easier ways to cut into the nuts' brittle outer shells so that they don't explode over an open fire or in the oven.
Freelance chef Amy Chaplin, who grew up in Australia and had a chestnut tree in her yard, admits that she almost always inflicted injury on herself when trying to score chestnuts. "I'd been struggling with sticking a paring knife in either end of it, thinking that was the top, and usually cutting myself," she says. That was until she found out a much better way to go about it.
Chaplin (pictured below) says the first step is laying the chestnut on its flat side so that it doesn't wobble. Using a serrated knife, slice across the exposed, curved top. Once the chestnuts are scored and all fingers are intact, put the chestnuts in a pot, cover them with water, bring them to a boil. Drain, then pop them into the oven for 15 minutes at 425 degrees. "Then they're ready," she says. "It's really quick. Although it is good to let them sit a little bit outside. So, I just cover them up so they steam. And then they're easier to peel, and I feel like the center gets nice and soft and creamy."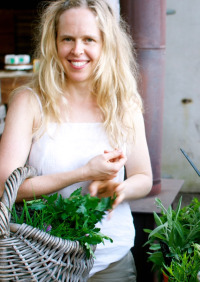 Chaplin notes it's important to get chestnuts that are as fresh as possible. That means going on the hunt for them now, since chestnut season peaks in December and finishes in March. Freshness can be indicated by a shell that's not too brittle. One reason chestnuts are sometimes hard to find in the states is because a blight in the early 1900s killed many of the trees in America.
"Dried chestnuts, which can be difficult to find even in specialty stores, can be broken up and cooked in sweet rice and brown rice in an Asian style," Chaplin says.
While the most common danger associated with chestnuts usually comes in the preparing process, there's also another hidden danger: getting horse chestnuts instead of edible chestnuts. That was a lesson learned by food writer Cathy Erway, who received a package in the mail from some well-meaning friends. Erway didn't realize the chestnuts in the package—which were bigger, bumpier and more irregular than edible chestnuts—were only intended for decorative purposes. (You can read about her disastrous experience trying to roast the horse chestnuts here.) "I reached out to Deb Perelman, who I mentioned in my blog post, and she said, 'I think you have horse chestnuts, which I'd never heard of before'," says Erway. "And I looked it up and, of course, they are poisonous and not edible."
For delicious, edible chestnuts, however, Chaplin's recipe for roasting is below.
Roasted Chestnuts
Fresh chestnuts, about six per person
Large pinch sea salt
Pre-heat oven to 425 degrees Fahrenheit.
Rinse chestnuts and place on a cutting board. Lie flat and use a serrated knife to cut a slit in the shell across the top. Repeat with all the chestnuts.
Place in a saucepan, cover with water, add salt and bring to a boil. Once water has boiled, strain chestnuts, transfer to a roasting pan and bake for 15 minutes.
Remove from oven where the chestnut shells should have split open, making them very easy to peel. Cover with a towel and set aside for about 15 minutes, allowing the chestnuts to steam.

Pop them out of their skins and enjoy while warm.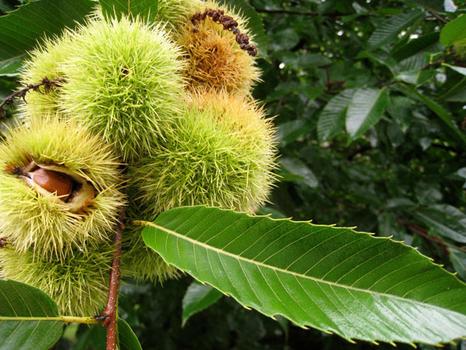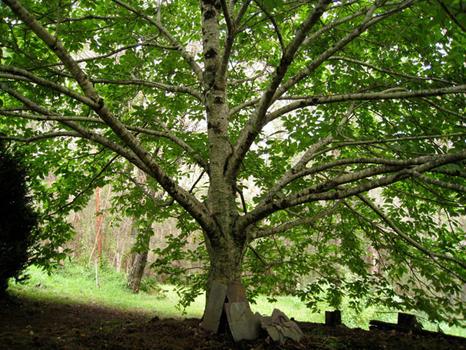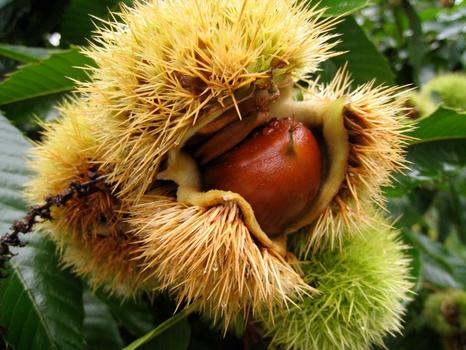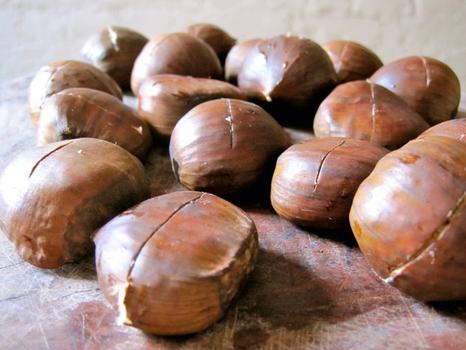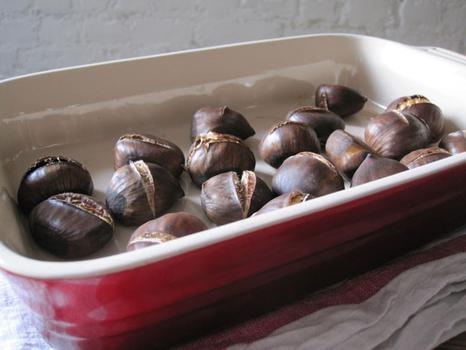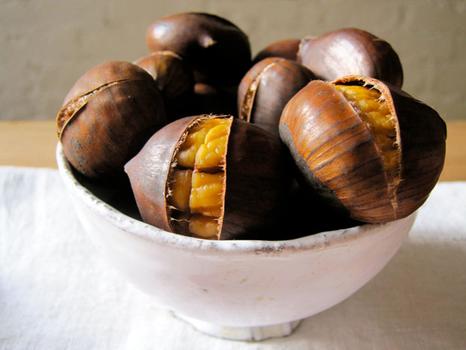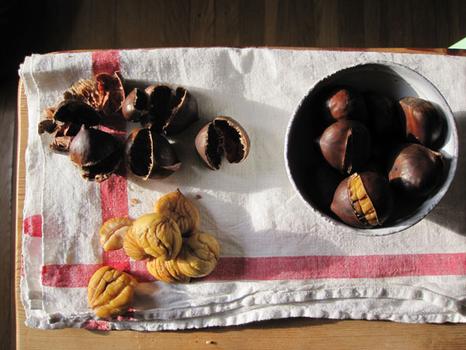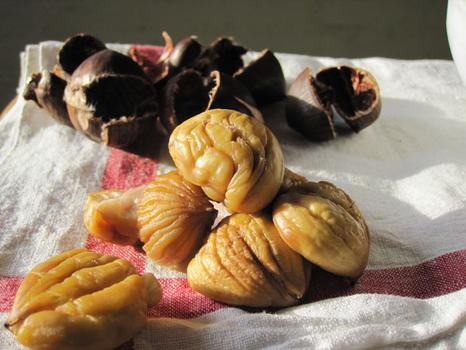 of