In Egypt, Reflections of a World Not Safe for Journalism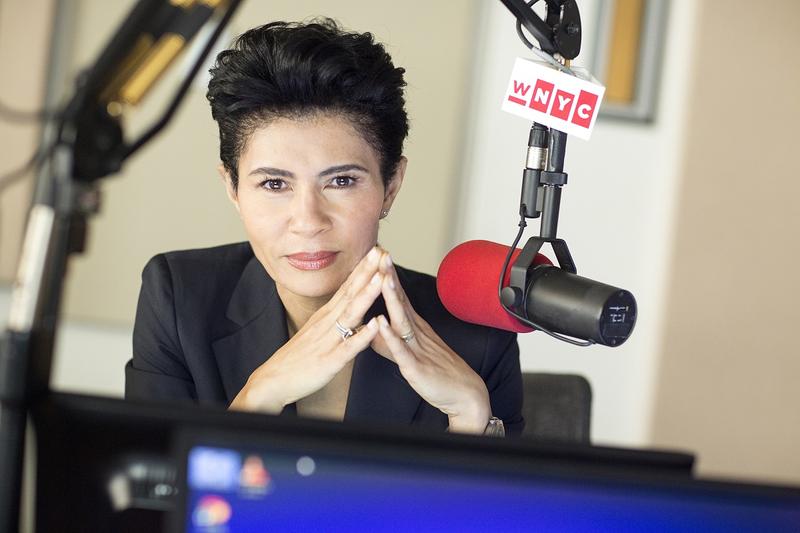 Katie Couric says it's not safe for reporters to be out on the streets. CBS Chief Foreign Affairs Correspondent Lara Logan reports that Egyptian military police stopped her camera crew and marched them—at gunpoint—back to their hotel. CNN's Anderson Cooper tweeted, from Cairo, that he was kicked and punched repeatedly. NPR's Lourdes Garcia-Navarro was also attacked and filed this report.
On the print side, The New York Times's Nicholas Kristof tweeted, "Pro-Mubarak thugs at Tahrir v hostile to journalists. Several journalists attacked. I was threatened but am fine." Yesterday, when he appeared on The Takeaway, we could hear the disturbance in the background. Then he abruptly signed off. Later, Kristof posted that he's encountered men "armed with machetes, straight-razors and clubs, very menacing." Two AP correspondents were also roughed up near the squre.
Nor are Americans the only targets. The Jerusalem Post is reporting that Egyptian military police arrested four Israeli journalists in Cairo. Three of those arrested work for Channel 2; the fourth is from Nazareth. In a separate incident, a Belgian journalist was beaten, accused of spying and detained by unidentified men in civilian clothes. And a number of foreign photographers and cameramen have reported attacks on them near Tahrir Square.
Of course, the world now knows Midan Tahrir, or Tahrir Square, as the epicenter of the unrest in Cairo. The square was originally called Midan Ismaileyya, named after a 19th-century ruler who commissioned the new downtown district's "Paris on the Nile" design. But after the 1952 revolution, when Egypt emerged from a British-occupied constitutional monarchy into an independent republic, the square's name was changed to Midan Tahrir or "Liberation" Square. In a true republic, the people retain ultimate control over their government. That is what these protests are all about. Liberation.
We learned about the interdependence of journalism and liberty here in America during our own transition to democracy. The first real colonial newspaper was published as a sideline by a printer named James Franklin. He happened to have a brother named Ben. Benjamin Franklin was first published in his brother's newspaper, under the pseudonym Silence Dogood, in 1722, and even his brother did not know the author's identity (guarding James against any repercussions from Royalists at home and from the Crown).
When Ben Franklin moved to Philadelphia in 1728, he took over the Pennsylvania Gazette. Soon he owned a half-dozen publishing franchises in the six largest colonies. By the time the Declaration of Independence was signed, there were 89 newspapers published in 35 cities. Most papers at the time of the American Revolution were anti-Royalist, but not all. The free exchange of ideas was alive and well, and journalism flourished in the new republic. By 1800, there were 234 newspapers published across the states. Then came radio news. Then TV.  
To Americans, democracy and journalism are nearly synonymous. Thus, the first amendment to our U.S. Constitution: 
Congress shall make no law respecting an establishment of religion, or prohibiting the free exercise thereof; abridging the freedom of speech, or of the press; or the right of the people peaceably to assemble, and to petition the Government for a redress of grievances.
These values are deeply implicated in the current democracy movement in Egypt. Not surprisingly, there is great alarm here at home about a great many things, including the treatment of journalists in Egypt during the protests. And there should be.
The ugly truth, however, predates the Egyptian crisis of the last ten days and spills far beyond the streets of Cairo. Eighty-seven journalists were murdered worldwide in 2010. And that's not taking into account the journalists who have been assaulted, kidnapped, harassed or otherwise suffered violence in the line of duty.
Just last October, in fact, the International Federation of Journalists presented a special report to the UN General Assembly on the violence used against the media and independent journalism in different regions around the world. The report addressed international threats of violence and intimidation against media and independent journalism and a continuing crisis of "impunity that denies justice to the victims of violence and is an obstacle to democracy."
Three countries bear the brunt of the killings: Pakistan (14), Mexico (13) and Honduras (10), which account for 43% of journalists murdered in 2010. The governments of all three countries simply fail to ensure the safety of journalists. The report shows that the risks are not limited to conflict areas; many journalists also risk their lives covering stories on organized crime, drug trafficking or human rights violations. Impunity continues to deny justice to the victims of violence and, as our colleagues in Egypt are reporting, is an obstacle to democratic development. Simply put, killers of journalists are not being brought to justice.
While the attacks and killings include foreign journalists working abroad (British journalist Rupert Hammer in Afghanistan; Togolese journalist Stanislaus Ocloo in Angola; Italian journalist Fabio Polenghi in Thailand; Turkish journalist Cevdet Kılıçlar in international waters near Israel; and American journalist James P. Hunter in Afghanistan) and while the situation in Egypt has highlighted the foreign journalists targeted for harassment, local journalists continue to face the greatest danger.
Journalists like Shahira Amin, a senior journalist at Nile Television, who walked out this week in anger that state TV was not broadcasting the protests and clashes in Tahrir Square. 
I heard her interviewed on the BBC World Service yesterday. Amin says she lies awake at night, in fear they will come through her door and take her away to prison. Still, she says she's not a hero. She's right. She's a journalist. But a journalist should not have to live in fear.
Egypt has been the scene of more than 100 incidents involving the harm or detention of journalists in the past 36 hours. I am grateful to my American colleagues in Egypt for standing with Shahira Amin to raise awareness of this important issue. Let us hope their call will draw attention to the underreported risk journalists face around the world.
Jami Floyd is an attorney, broadcast journalist and legal analyst for cable and network news, and is a frequent contributor to WNYC Radio. She is former advisor in the Clinton administration and served as a surrogate for the Obama campaign on legal and domestic policy issues.