Chinese Food Writers Celebrate the New Year
"A surprisingly good cake, which I loved so much in the last war that I dreamed about it at night and which I have tried on this war's children with practically the same results, can be whipped together and put in the oven with the ham and whatever else you are storing up for the week ahead." So wrote the landmark food writer MFK Fisher, who moved fluidly between life in the kitchen and out, from memory to recipe, in times both lean and fat. 

It's a strategy that continues to resonate with food writers today, across every culture, and the Chinese cooking scene is no exception. On the occasion of the Chinese Lunar New Year, we asked writers from across culinary China to weigh in with a favorite memory and recipe in celebration of the holiday.
Ava Chin's Fiery Dan Dan Noodles
Ava Chin writes the Urban Forager blog for the New York Times. She gives WNYC her thoughts and recipe for fiery dan dan noodles.  "When I was a kid, one of my favorite dishes was stir-fried noodles. Every New Year, my grandfather would set a giant platter of noodles down in the middle of the table, and we would dig in—slurping on the long strands of mein. We were not allowed to cut the long noodles, which symbolize a long, healthy life, and I wanted to live a very long time. As an adult, I had my first taste of Xinjiani or Uighur cuisine—Muslim dishes from Western China—while reporting from Beijing. Here is my Silk Road twist on spicy Sichuan dan dan noodles, adding cumin, coriander, and fennel seeds to the fiery mix."
Fiery Dan Dan Noodles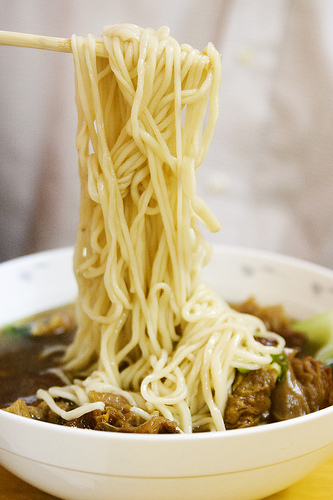 ½ lb of ground pork or beef or lamb
4 t of soy sauce, reserving 1 t for end
¼ cup of beef broth
2 tablespoons local honey (or brown sugar)
10 oz. noodles
1 tablespoons sesame or peanut oil
2 cloves garlic, minced
1 tablespoons ginger, julienned
2 red chili peppers, ground (use 1 chili for medium spicy)
1 tablespoons ground coriander seeds
1 tablespoons ground cumin
1 tablespoons ground fennel seeds
½ tablespoons ground cinnamon
3 scallions, sliced fine
Sprig of cilantro, chopped
Combine ground meat with 3 tablespoons soy sauce. Add to wok or iron skillet over medium flame, breaking meat mixture up with wooden spoon or spatula. When meat browns, add beef broth and honey until cooked. Separate the liquid from the meat, reserving both in separate bowls. Heat water for noodles, following package directions until done. Strain. Add oil to wok over medium flame and saute garlic until golden, about 3 minutes. Stir in ginger, chili peppers, coriander, cumin, fennel, and cinnamon to wake up spices. When color brightens, add meat mixture, scallions, reserved liquid and noodles. Toss together with tongs, adding last teaspoon of soy sauce and cilantro to taste.
***
Fuchsia Dunlop's Bowl-Steamed Belly Pork with Pickled Vegetables
Fuchsia Dunlop is the author of Land of Plenty: A Treasury of Authentic Chinese Cooking and Revolutionary Chinese Cookbook: Recipes from Hunan Province, as well as Shark's Fin and Sichuan Pepper: A Sweet-Sour Memoir of Eating in China. Dunlop offered the following excerpt from Revolutionary Chinese Cookbook: Recipes from Hunan Province, together with a Sichuan style recipe for "a delicious recipe for steamed belly pork with preserved mustard greens that is typical of Sichuanese celebratory meals." Here's what she remembers about Chinese Lunar New Year's:
"When midnight arrived, we went outside and set off fireworks, bangers that echoed for miles around and rockets that sent streams of sparks into the dark sky. And then there was a sudden silence, just the freezing night and a moonless sky scattered with bright glinting stars. Afterwards, we piled inside for another meal that included a marvelous soup of winter bamboo shoot that had been simmering in the embers of the fire, and stay up into the early hours playing games. New Year's Day itself began with steaming cups of glutinous rice wine and egg and a big breakfast of rice with about nine dishes, and then we all walked along the winding track up the valley, visiting every neighboring house to offer New Year's greetings (bai nian) and share some tea and sweetmeats. Later, we climbed into the back of a pick-up and drove some other relatives' home. The men of the household were cooking over a wood-fired range, as about two dozen people milled around, eating and drinking and warming themselves at the open hearth in the kitchen. After a lively, noisy lunch, it was already getting dark, and we began to make our way home on foot, walking first alongside rock-strewn river bed, and then up the main track towards Fan Qun's village. Soon it was completely dark, and silent, the road lit only by the windows of farmhouses in the distance, and flickering candles set before shrines to the gods of the earth."
Bowl-Steamed Belly Pork with Pickled Vegetables
To make this dish you will need a ceramic bowl about 4 cm deep and 21 cm in diameter, and a steamer which will accommodate it.
1 pound fresh, boneless pork belly, with skin still attached
2 teaspoons dark soy sauce
½ cup peanut oil for frying
3–4 Sichuanese pickled chillies (optional)
1 tablespoon black fermented soybeans
1 cup Sichuanese ya cai or Tianjin preserved vegetable
Bring a pan full of water to boil, add the pork and blanch for about 5 minutes. Remove, reserving the cooking liquid, and rinse in cold water. While the meat is still hot, pat it dry with paper towel or a clean tea towel and smear it all over (especially the skin) with 1/2 to 1 teaspoon of dark soy sauce. Heat the groundnut oil in a wok to about 170˚C, add the pork, skin side down, and fry for about 3 minutes until the skin is slightly crispy and a dark red-brown. Remove the meat from the wok and return it to the hot cooking water, where it should soak for 5 to 10 minutes, until the skin is supple again. Remove from the liquid and set it aside to cool completely. When the pork is cold, cut it into 0.5 cm slices, each with a strip of skin along the top. If the slices are very wide, cut them in half across the direction of the skin (ideally the pieces should be about 8 x 4 cm). Cut each of the pickled chillies into 2 or 3 sections.
Lay the pork slices in one or two tidy rows across the whole base of your bowl. Each slice should overlap the last, and the most important thing is that the strip of skin on each piece should be in contact with the surface of the bowl. Lay any fragments or broken slices on top, and then sprinkle 1/2 to 3/4 teaspoon of dark soy sauce all over the meat. Add the fermented beans and pickled chillies, and then fill the bowl with the preserved vegetable, pressing down gently with your hand. Place the bowl in your steamer, cover with the lid, and steam over energetically boiling water for about 2 hours. Do make sure you replenish the water from a boiling kettle whenever necessary. To serve, turn the contents of the bowl out on to a serving dish and let your guests help themselves. The dark strips of skin should make an attractive, stripy pattern.
***
Kian Lam Kho's Sweet New Year Cake (甜年糕)
Kian Lam Kho is the author of the blog Red Cook: Adventures from a Chinese Home Kitchen.

 Here he recalls memories of the preparations for the Lunar New Year: "Two or three weeks before Chinese New Year, my aunt would start soaking a basinful of glutinous rice. She let the rice saturate overnight, and then put the wet, soft result through a stone grinder. She would mix this slurry with brown rock sugar to make Chinese New Year Cakes, a ritual repeated annually in my extended household in 1960's Singapore, where I grew up. I used to jostle my way past my brother and cousins for a chance to turn the stone wheel, only to give up after making a few revolutions. The adults would take over, and we would always end up with plenty of cakes to eat as well as for gift giving. New Year Cake is ubiquitous in our New Year celebration. The round shape of the cake symbolizes the full cycle of annual seasons. This cycle reunites the family and celebrates unity."
"The name of the New Year Cake is nian gao (年糕).  The Chinese characters for sticky (黏) and year (年) are both pronounced nian. Hence, nian gao can refer to 'sticky cake' (黏糕) or 'New Year cake' (年糕) depending on the character used. Furthermore, the characters for cake (糕) and high (高) are both pronounced gao. Nian gao means 'year high' and is thus used as a symbol for prosperity. The expression nian nian gao (年年高), which literally means 'year, year high' is commonly used to mean 'prosperity every year.' You can see why these homophones are irresistible for the Chinese.

 After moving to America, our family still celebrates Chinese New Year with nian gao, now commonly available in the markets in the Chinatowns of New York City."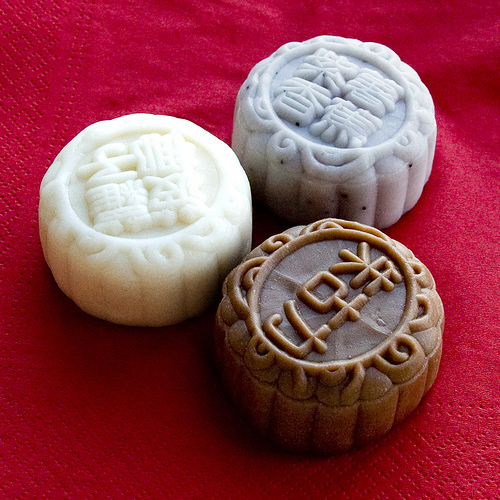 Sweet New Year Cake (甜年糕)
1 lb. glutinous rice flour
2 cups water
3/4 lb. Chinese brown sugar (or dark brown sugar)
1/4 cup vegetable oil
Toasted white sesame seeds for garnish
Melt brown sugar completely in the water over low heat. Put the glutinous rice flour in a medium mixing bowl. Pour the hot syrup onto the flour and partially cook it to form a dough. When it is cool to the touch, add vegetable oil to the dough and knead well. The dough will be elastic and can be formed into a cake. 

Line the bottom of a 9-inch cake tin with waxed paper. Grease the paper and the side of the tin liberally with vegetable oil. Put the glutinous rice dough into the cake tin. Steam the cake on a rack over boiling water in a wok or in a metal steamer. Steam for about one hour.

 Remove the cake tin from the wok when the cake is done and sprinkle on some toasted sesame seeds.
Cool on a rack until it reaches room temperature. Refrigerate the cake for about an hour before trying to unmold. This will make the process easier. When unmolding the cake, you may want to grease the entire cake surface with vegetable oil so the cake will not stick to your hands. When cooled store the cake in the refrigerator. This cake is usually covered in egg batter and deep-fried before serving. Slice the cake into about quarter-inch thick slices. Make an egg batter by mixing one egg and one teaspoon of cornstarch. Dip the cake slices in the egg batter and fry the cake in a frying pan with about 1/8 inch of vegetable oil. Drain the fried cake on a paper towel before serving.

***
Sandy Ley's Zongzi
Sandy Ley is the author of the China-based food blog Phat in Shanghai. Here's what comes to mind for Ley when thinking of the New Year festivities: "The smell of burning incense reaches my nose. It's still early, but I know my mother has already been up for hours. I join her in the kitchen, where we pour hot tea over candied lotus root and honey dates for ancestors and then get straight to work. Zongzi is traditionally eaten during Dragon Boat Festival in May, but my family always made a big batch of them during the New Year as well. With years of practice and a bit of patience, I am able to transform a couple of bamboo leaves and a handful of glutinous rice into an elongated pyramid. My mother looks over and nods her approval. A couple hours on the stove and I'll pull back the bamboo leaves to reveal a perfect parcel of glossy sticky rice. The slightest touch of a chopstick parts the zongzi, exposing its hidden treasures: a bright orange salted duck egg yolk, dried scallop and my favorite--chunks of 5-spice pork belly so tender that the fat has melted into the rice."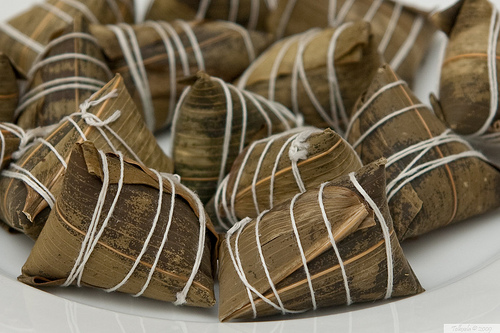 Zongzi
1 lb glutinous rice, soaked overnight
30 bamboo leaves, soaked overnight
1 lb pork belly, cut into bite size pieces
1 tbsp Chinese five spice powder
10 duck egg yolks
10 pcs dried scallop, soaked overnight
1 ball of string
20 toothpicks
Soak the rice, bamboo leaves, and dried scallop overnight. Marinate pork belly with five spice powder overnight. Drain rice, add a tablespoon of salt. Make sure your bamboo leaves are really clean, then take two leaves (with spines facing out), pinning them together at the top in a criss-cross. Take the end of bottom leaf and place it on top of the other, creating a boat shape. Pin with a toothpick. Fill with rice, pork belly, egg yolk, and scallop. Cover with more rice, but don't overpack.  Place another bamboo leaf on top and fold together to cover. Tie securely with string. Boil in a tall pot for 1 hour. Serve with soy sauce and chili sauce.