Thirteen More Schools Face Final Word on Future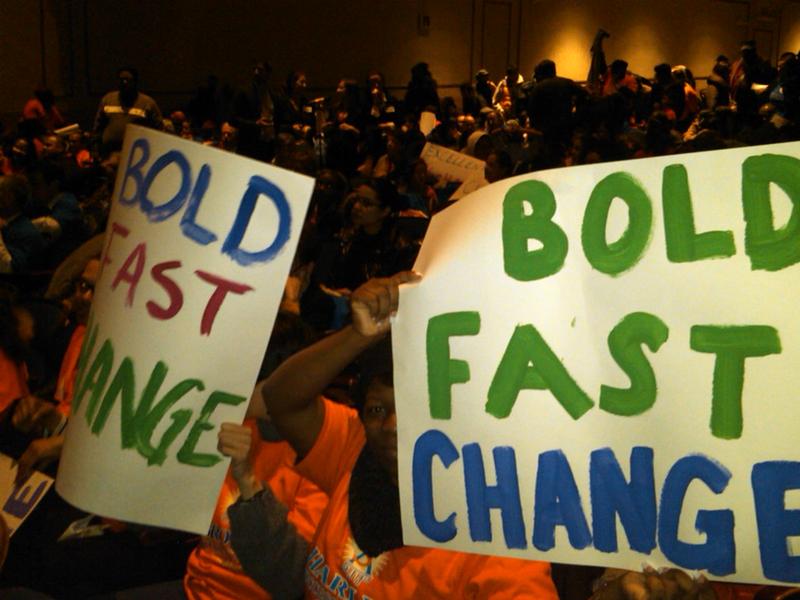 WNYC's Beth Fertig will be tweeting live from tonight's Panel on Educational Policy hearing. Follow her @bethfertig.
The fate of 13 more struggling schools will be determined by the Panel for Educational Policy Thursday night during the second round of voting this week to determine whether the schools should be closed. The panel voted to close 10 schools early Wednesday morning after almost six hours of public comment.
Tuesday's hearing also drew more than 1,000 supporters of the Success charter network, run by former City Councilwoman Eva Moskowitz, because the panel was also voting on separate plans to give the network more space inside regular public schools in Harlem and on the Upper West Side. She bused supporters to the hearing.
The hearing Thursday is likely to attract a huge contingent from the teachers union, which is planning a big rally before the vote at Brooklyn Tech High School. The schools to be voted on tonight include several big high schools that are neighborhood institutions: Columbus in the Bronx and Jamaica and Beach Channel in Queens.
Teachers claim the schools were allowed to fail because they were overloaded with special education students and new immigrants. But the city said other schools with similar populations have higher graduation and attendance rates. That's why it plans to replace them with smaller schools it says can be more successful.
The union is calling for an investigation into whether the city could have intervened sooner to save the schools. Last year, the union blocked the city's plan to close 19 schools -- including many of those on the list Thursday -- when a court found the city didn't provide enough community input.
Meanwhile, the principal of Columbus High hopes to convert her school into a privately managed charter. Supporters are collecting ballots from parents, a majority of whom will have to approve the conversion, and will count them after the panel's vote.
You can read more about Columbus in our Big Fix series with Gothamschools and link to this story for more information on how it's hoping to become a charter school.

View City Schools to be Phased Out by September 2011 in a larger map