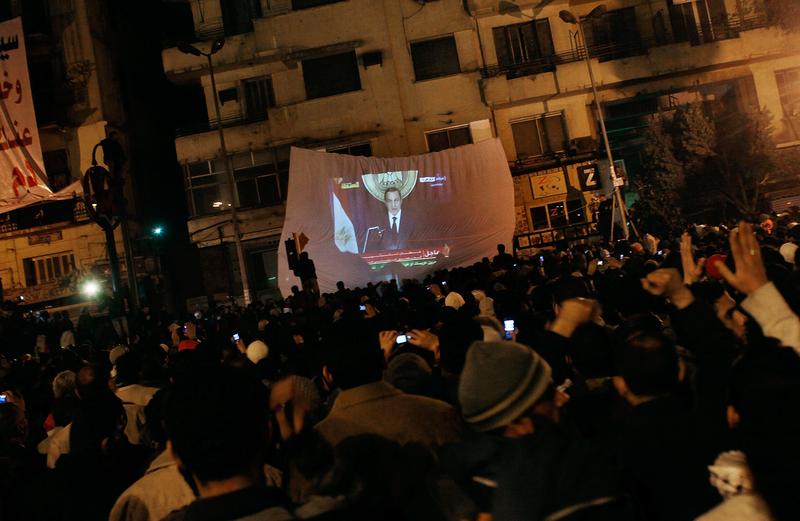 The sense of jubilation felt by millions of Egyptian protesters yesterday has quickly soured as clashes between pro-Mubarak and anti-government protesters erupted in Cairo and Alexandria. What's being described as a choreographed backlash against the opposition broke out Wednesday in Cairo's Tahrir Square, after protesters refused to leave Tuesday night following President Hosni Mubarak's pledge not to seek a new term.
Twenty-eight year old Adham Bakry, one of the anti-Mubarak protesters who spent the night in Tahrir Square, was incredulous over the presence of pro-Mubarak demonstrators. "They just started using so much violence, and they came in huge numbers, even using horses and camels and weapons. It's unbelievable," Bakry told The Takeaway's Celeste Headlee on the Wave of Change podcast.
Bakry spoke to The Takeaway from a building near Tahrir Square where he had taken shelter from the violence with his girlfriend. While Bakry said he was not willing to give his own life to removing Mubarak from power, he noted that "there are many who will, who are prepared to die."
"They're all tired from spending the night here and protesting yesterday," Bakry said of his fellow demonstrators. Fatigue, combined with seeing throngs of Mubarak supporters resort to violence had a demoralizing effect on the opposition. However, Bakry was resilient, saying he planned to return to Tahrir Square when protesters regrouped.
Bakry dismissed the pro-Mubarak group as agents of the corrupt government. "It is to polarize the Egyptian people," Bakry said. "This is how they believe they can keep Mubarak on his throne and stop the protesters from getting our rights."
Yesterday, when The Takeaway spoke to Egyptian actor and protester Amr Waked, he seemed certain Mubarak was on his way out, even referring to him as the "ex-president." Today, Adham Bakry seems less sure of Mubarak's demise. "I really don't know what to expect," a weary Bakry said. "He has been brainwashing people for 30 years, and he's succeeded to get support. Unimaginable!"