Cuomo's Budget: The Day After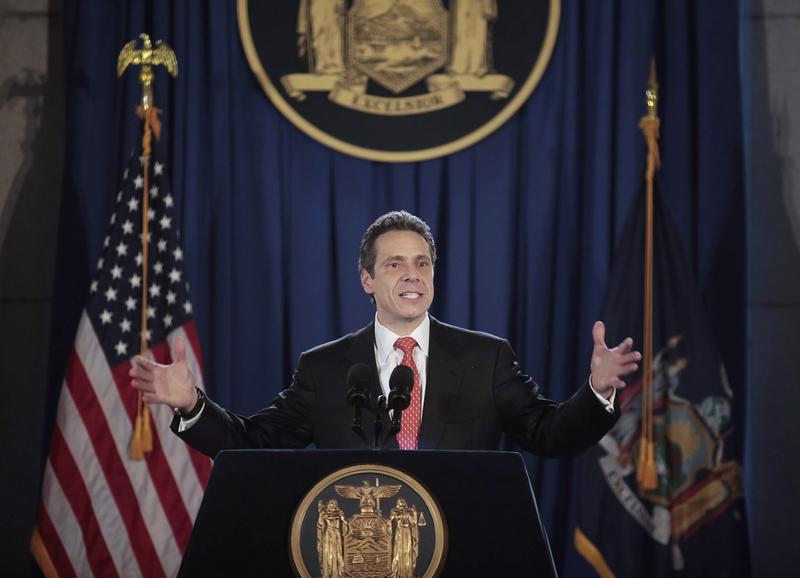 Welcome to Politics Bites, where every afternoon at It's A Free Country, we bring you the unmissable quotes from the morning's political conversations on WNYC. Today on The Brian Lehrer Show, Errol Louis, host of NY1's Inside City Hall joined Azi Paybarah, WNYC political reporter and author of The Empire blog, to give us a closer look at Governor Cuomo's $132.9 billion budget proposal.
New York state faces a $10 billion deficit this year. Newly-elected Governor Andrew Cuomo is charged with fixing it.
On Tuesday, Governor Cuomo released a budget proposal intended to do just that. The name of the game is streamlining government organization and operation, cutting waste and spending wherever possible. That calls for a microscope on a macro scale. New committees will be created to examine loads of public services and find the fat to cut. Highlighting the long, arduous process that entails, Azi Paybarah said that Governor Cuomo's proposal does more to outline broad goals than enumerate policy.
The governor is implementing this kind of program, with committees looking at government and prison consolidation, unfunded mandates, and other things—a series of panels to which the governor is saying, "Study these issues and report back to me." It's almost to the point where he was left yesterday announcing budget targets rather than specifics.
In particular, the governor singled out Medicaid and education funding as prime drivers of costs that don't produce adequate bang for the buck. But where can the government find savings? Governor Cuomo mentioned trimming the Medicaid bureaucracy so that funds don't get whittled away as they pass from hand to hand. On education, Azi Paybarah said, Cuomo not-so-subtly called out administrators and their salaries.
He told school districts, "Here's what I'd like you to cut, here's where I think you guys can do it, figure it out." He did not step in and say, "I'll help relieve unfunded mandates," and he's not going to empower them to do something new that they haven't tried before. He pointed to them and said, "Your salaries, for some of these guys, are more than mine, and I'm managing an entire state. Some of them are managing school districts with fewer than 1,000 children." 
Another place Governor Cuomo is turning for budget cuts is New York City. Mayor Bloomberg was among the first detractors out of the gate on Tuesday, and he slammed the governor's proposal, saying it unfairly withdrew state funds previously promised to the city—about $300 million—while other municipalities were spared such a cut. Errol Louis said that the state has characterized the reallocation of funds differently—perhaps with good cause.
The budget director said, "You didn't get any money last year, you're not getting any this year. That's not a cut, that's just the way it is." The state's rationale is, New York [City] has a lot of other ways to raise money. We've got all kinds of parking and water bills and an income tax, and that's not true for a lot of smaller localities. The state is saying, New York [City] is going to have to live without this $300 million.
Louis said that doesn't mean the city can't complain.
When it came to education in particular, the mayor's people feel like they're becoming victims of their own sound budgeting practices. When they try and estimate in advance what the state will give them, they're not pulling numbers out of the air, they're not making forward guesses; they're relying on what the state tells them. If the state tells them they're going to give, let's say, a billion dollars for education, then turns around and gives them half a billion or less, then they're really scrambling.
Mayor Bloomberg isn't the only one making noise about the governor's budget. Paybarah said that health care sector unions and lobby groups are up in arms about funding cuts, which he finds surprising, considering these are the same people the governor tapped to help him fix Medicaid.
Immediately after the governor's budget presentation, every reporter's email inbox was bombarded with howls. It caught my interest that 1199 SEIU, the union that represents health care workers, along with the Greater New York Hospital Association—both members of the governor's Medicaid redesign team—came out and said that the targeted budget cut the governor's expecting would decimate health care in New York. These are people that are working with the governor who are saying this.
Emily, a caller from Westchester, said that she was tired of hearing such doomsday calls from unions, cities, and everyone else. Sacrifices should be no surprise.
I was disappointed in the kinds of Armageddon reactions from some of the groups out there. Everyone knew this was inevitable...The bottom line is, there isn't money, and it isn't constructive to say that every cut will cripple every industry and program.
That won't stop parties that feel slighted from making their case to the new governor. Louis said that just as Cuomo's budget proposal was more outline than policy, nothing is set in stone yet. There's plenty of time for those left out in the cold to try and negotiate a better deal.
Many of the changes the governor is seeking are going to have to be obtained at the contract table. Some union leaders I'm talking to are saying, people can do all the Power Point presentations and television ads they want. When we get to the bargaining table, there's going to be nobody else in the room...We're going to have a very different conversation.