Panel Votes to Close 10 Schools Following Raucous Hearing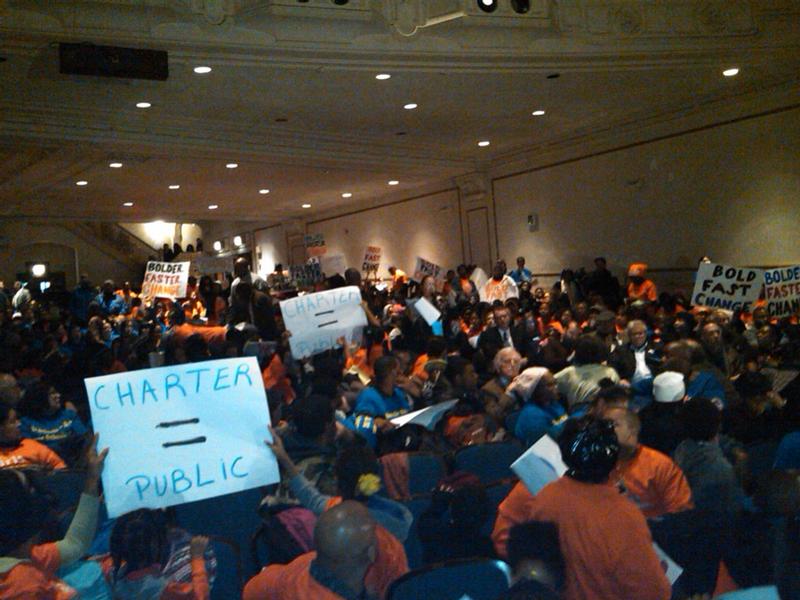 A panel controlled by mayoral appointees voted to close 10 low-performing schools Tuesday night following a raucous public hearing that pushed beyond midnight.
Roughly 2,000 parents, students and teachers packed Brooklyn Tech High School's auditorium Tuesday night as the panel, which is poised to close 25 schools, voted to shutter 10 of them during an emotionally charged hearing. The remaining schools will be voted on Thursday.
High school senior Matthew Morgan, 17, who attends Urban Assembly Academy for History and Citizenship for Young Men, described himself as "a man with no ambition" before he came to the school, which the panel voted to close Tuesday night.
But after arriving at an all-boys school in the Bronx, he said, "I had a purpose and a conviction to live out my legacy my ancestors left for me and all of us."
Students and teachers chanted "Save our Schools." Councilman Charles Barron, who was arrested at a protest against the closings on Monday, said no schools should be failing in a system with a $23 billion annual budget.
"Every one of our schools should have smart boards, computer labs, science labs, athletic programs, music programs, art programs, qualified teachers, qualified principals, smaller class sizes," he said.
United Federation of Teachers President Michael Mulgrew strongly hinted at the possibility of legal action. His union and the NAACP won a lawsuit last year that found the panel violated state law by voting to close 19 schools without enough community notification.
Mulgrew cited an internal Department of Education report that found large high schools, like some of those being closed, don't do as well with low-performing students as smaller high schools.
"We will be calling on an official investigation of educational neglect," said Mulgrew. "The job of the Department of Education of New York City is to make sure every child is supplied with a good education so they can have a meaningful life."
Chief Academic Officer Shael Polakow-Suransky batted down Mulgrew's accusation that this data showed the department allowed students and schools to fail. He told WNYC that "what the report was trying to measure is what does it take to beat the odds," referring to schools that do better than expected with struggling students.
He said the fact that smaller schools did better, overall, with those students supported the department's goal of replacing failing high schools such as Robeson and Jamaica with small schools.
More than 350 people signed up to speak but many of them apparently gave up as the night wore on. Public comments ended at midnight, a few hours earlier than last year. The vote lined up as expected with the proposals winning support from the mayor's eight appointees, while four members appointed by the borough presidents (the Staten Island representative was absent) often voted against the closings and the charter school expansions.
The panel itself provided a few heated moments. A brief, almost physical confrontation erupted between the Manhattan representative, Patrick Sullivan, and a mayoral appointee when Sullivan wanted to postpone the rest of the hearing because of the icy weather.
And after the public comment period, a few panel members spent an hour asking questions of Department of Education officials. There were cheers from the remaining audience of about 100 teachers and parents when Manhattan representative Sullivan - known for taking on the Bloomberg Administration - pointedly asked Chancellor Cathie Black whether putting a Harlem Success charter in the Wadleigh High School campus would cause overcrowding.
Black said the department would make sure the co-location worked and that the Success charters have produced results.
Hundreds of others at the hearing were drawn Tuesday by another equally controversial proposal to give the Success network of charter schools more space in two Harlem district school buildings, and to let it open a new elementary school inside the Upper West Side's Brandeis campus that now houses four small high schools.
The network is run by former city councilwoman Eva Moskowitz. She organized yellow school buses to bring her supporters to and from the hearing and provided them with sandwiches, drinks and talking points.

"My experience in fifth grade has been wonderful. I had the best education I could possibly have," 10-year old Faith Rodriguez testified of her experience at Harlem Success Academy 1. "Wow, it's just so sad kids my age cannot get the education I have."
The student was cheered as she also called for more space and "bold, fast change" to reform the city's schools "not in 20 years, but now."
Those two phrases were included in a script given to the leaders of each bus-load of Success network parents, children and teachers who had come from Harlem and from the network's new schools in the Bronx. They were told to expect "hundreds of union representatives and others protesting school closures. Those protests will send the message that the public doesn't want change."

The plan to bring a new Success elementary charter into the Brandeis campus was opposed by the local community board. Community education council district 3 president Noah Gotbaum added that parent associations on the Upper West Side also opposed it, because they want more resources in their existing schools.
"What level of community opposition do you need to turn your attention to our public schools?" he asked, adding: "These co-locations pit parents and families against each other."
Gotbaum was booed by some supporters of charters.
An alum of the Urban Assembly school for young men, Irique Huntt, 20, ripped the panel for allowing the room full of public school students and families to become divided over privately-managed charters and regular schools.
"The thing is y'all should not have us competing in here," he shouted.
The panel voted to close the Academy for Collaborative Education and KAPPA II in Manhattan. It also voted to phase-out the Academy for Environmental Sciences High School and I.S. 195 in Manhattan, the Metropolitan Corporate Academy High School and Paul Robeson High in Brooklyn, School for Community Research and Learning, Urban Assembly Academy for History and Citizenship of Young Men, Monroe Academy for Business and Law High School, and New Day Academy in the Bronx. The remaining schools on the list will be voted on Thursday night at 6 p.m. at Brooklyn Tech's auditorium.
Update: Two schools slated for closure and replacement that were going to be voted on this week, PS 30 and PS 231 in Queens, will be taken up next month. The department of education says a public hearing that was required for one of the schools before the vote had to be postponed because of last week's snow storm. And an extra hearing has been scheduled for the second school. As a result, the panel will vote on 13 school closings/phase-outs at the Thursday meeing.