A Spoonful of Sugar – and Then Some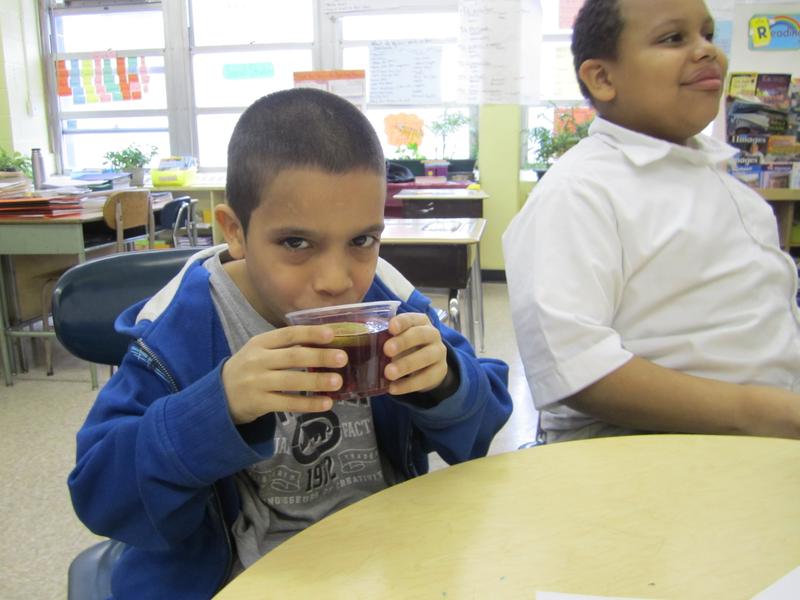 A new public service ad by the city Health Department shows that drinking just a few sodas a day is like eating more than 90 packets of sugar.  It's part of the city's "Pouring on the Pounds" campaign, one of several where the city's going for the gross-out, in the hope it will move people to change their behavior.
But a recent visit to a Brooklyn classroom suggests seeing the sugar you're drinking isn't the same as believing it's bad for you – or bad enough to alter your habits
In Rabiyah Abdur-Rahman's combined fourth- and fifth-grade class at PS 59 in Bed-Stuy, Brooklyn, the school nutrition coordinator, Simone Herbin, proudly held up a 20-ounce bottle of Arizona Iced Tea.
"I got it from the recycling bin outside the cafeteria," Herbin said. "So someone drank this whole bottle."
It's one of several drinks Herbin brings to the class for an exercise: get the kids to figure out how much sugar they're drinking; show them what that plain, raw sugar looks like; and suggest an alternative.
The first step is learning to read the nutritional information on the label, which entails some math. The sugars are listed by serving size – but that's not everyone says that isn't really how much you drink at one time.
"When you're looking at drinks, do you tend to drink the entire bottle, or do you drink half the bottle?" Herbin asked.
"I drink the whole entire bottle!" said Frost King, a spirited 12-year-old.
Others agreed. So, it was time to do some multiplication – the number of sugars times the number of servings.
Herbin handed out different drinks to different kids – pineapple soda, fruit punch, iced tea, chocolate milk and more.
But Frost brought in his preferred drink to be examined. He likes Sprite, Mountain Dew and Gatorade, but his favorite is Kola Champagne, a Caribbean soft drink.
"It's tastes good," Frost said. "It's got the flavor in there, and once you open it, you can smell the flavor."
The calculation is a little tricky, but Frost worked out the total: 95 grams of sugar.
To show what that really means, Herbin gave the kids a full drinking cup of plain white sugar, an empty cup and a plastic teaspoon. The students take that empty cup and transfer the correct amount of sugar into it, spoonful by spoonful. Each spoon holds about four grams of sugar.
"If you want to find out how many spoonfuls to put in [the empty cup], take your number, and divide it by four," Herbin said. "But that's the last math problem I'm gonna make you do. Then, you get your treat!"
For 10-year-old Jamal Williams, it was not too tough. His chocolate milk had 20 grams of sugar. That put him at the low end, with five spoonfuls of sugar in his cup, while Frost's Kola Champagne 'won' the day with 24 spoonfuls of sugar. 
Frost was one of several students who are more delighted than appalled, now that the amount of sugar in the soda was plainly visible.
He and at least one other student couldn't resist taking a spoonful of it and eating it straight up.
It turned out Frost is pretty familiar with sugar in its non-beverage state.
"When I eat spaghetti – spaghetti and meatballs – I always put two tablespoons of sugar in my food," Frost said. "Sugar puts more flavor in your food."
Frost is a pretty trim 12-year-old. His mother said she does try to get him to eat salad with his meals. Most of the kids in the class seem fit, or even skinny, though a couple are overweight. Still, this school is in a neighborhood with some of the highest obesity and diabetes rates in the city. That's why the non-profit City Harvest decided to make this one of the first schools to get a full-time nutrition coordinator, as part of the organization's Healthy Schools program.
Herbin tried to reason with the kids. She knows there's no point demonizing sugar.
"We all drink soda from time to time," she said. "It's a treat. But you always want to pay attention to what you're drinking, because it adds up. This isn't the only thing you're gonna be consuming that has sugar in it."
It certainly is not.
"Everything you eat has sugar in it," said 12-year-old Hennessy Aponte. "Except chips. They've got salt in them."
Herbin's grand finale was showing the kids how to make alternative soda: seltzer and fruit juice, with a squeeze of lime. Most of them think it's okay. But Jamal Williams was pretty enthusiastic.
"I want to make it at home," Jamal said. "It's not hard."
Herbin had realistic expectations about what impact the lesson will have on the kids. But as the class got ready for lunch, she asked Frost, with a little hope in her voice, whether he'd be having milk or chocolate milk today, instead of soda.
No way. He had a bottle of Champagne Kola to polish off.
"I'm sticking to my sugar!" Frost said.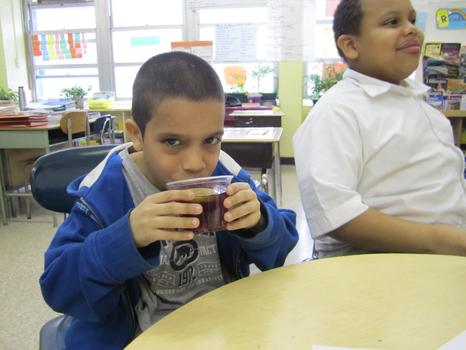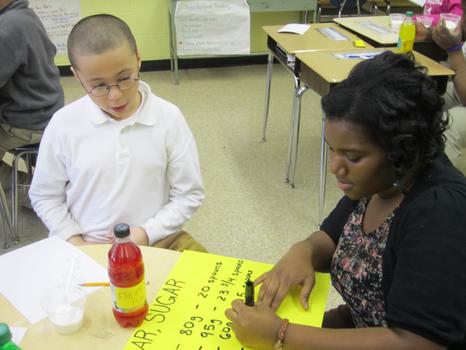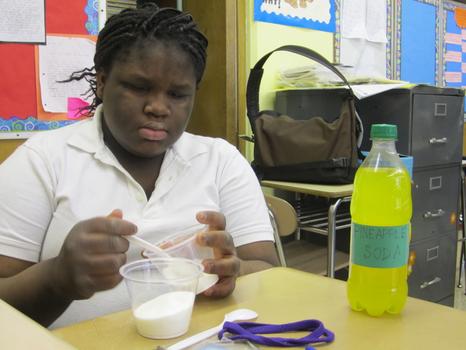 of