#Jan25, #Mubarak, #Egypt: The Arab Diaspora on Twitter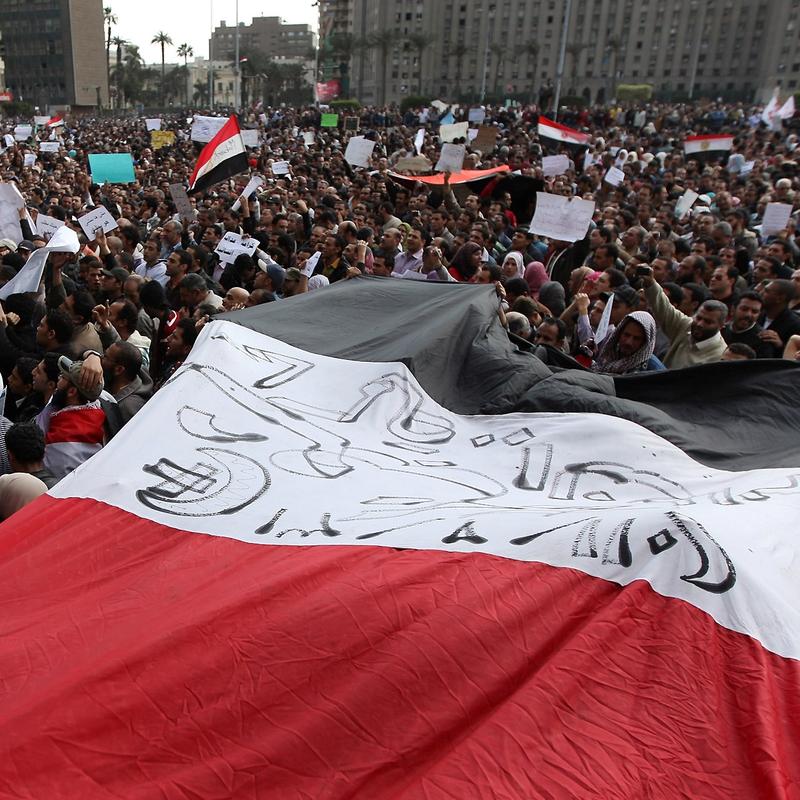 #Egyptians have won. No matter how long it takes 4 #Mubarak 2 leave already, let's take this moment and say MABROUK (CONGRATS) EGYPT. #JAN25
—@monaeltahawy, Egyptian American columnist, blogger, and activist.
Despite limited to no internet activity in Egypt since Thursday, the global twittersphere has been dominated by Egyptian uprising themed hashtags, like #Egypt, #Mubarak, #tahrirsquare and #Jan25.
Google, Twitter and SayNow engineers released "Speak to Tweet" for Egyptians, a service that turns voice messages into tweets with the #Egypt tag attached. Egyptians could use their landlines to call one of three international numbers and leave messages.
It's unclear how many Egyptians accessed google's service. What is clear is that the Egyptian diaspora, with Arabs and Muslims in the rest of the world are hungry for news, eager to comment, to analyze, and in many cases, to criticize what the Western media is getting wrong. Here's a roundup of how the Egyptian uprising is making waves through the larger Arab and Muslim world community:
Fayyad, a Palestinian on kabobfest.com wrote 5 Things the US Mass Media Got Wrong on Egypt. An excerpt:
Mohammed Elbaradei is not the leading opposition figure. He's a great and honest individual, and perhaps makes a good president, but there are many others who actually led the opposition to the regime and the demands for freedom and democracy for many years and enjoy far more credibility and street credentials. Those include Mohammed Badii, leader of the Muslim Brotherhood, and more prominently, Ayman Noor, founder and leader of the progressive Ghad Part and the Kifaya (Enough) movement. Noor challenged Mubarak, ran against him in elections. He was jailed by Mubarak for five years on drummed up charges of forged signatures on the petition to register the party. So please media, stop appointing leaders for Egypt that suit you.
Haroon Moghul, a Pakistani American on Religiondispatches.org wrote 4 Reasons Why Egypt's Revolution Is Not Islamic. An excerpt:
Egypt's revolution doesn't have to be Islamic because Islam isn't at the heart of the problem on the ground. In fact, the non-political Egyptian Islam of the last few decades has succeeded in deeply Islamizing Egyptian culture, making Muslim piety interwoven with the everyday rhythms of Egyptian life. We saw this in the protests after the Friday prayers today, in the spontaneous congregational prayers that took place in the heat of demonstrations—and we can see it in the number of Egyptian women who veil (though many don't and still strongly identify with Islam, whether culturally or religiously, personally or publicly).
Rana Rizk, a New York-based Egyptian American wrote a personal account of what she's going through while trying to reach family and friends in Cairo on the Huffington Post. An excerpt:
Today I had lunch at 5pm and dinner at midnight. I am about to sleep now out of emotional exhaustion of following the news intently all day today. I have been on the phone with my family in Egypt getting eyewitness reports from what they see out their window, very close to Tahrir square and I am reporting back international news I see online, since the Internet was and still remains cut off. They are completely isolated. I am writing before I go to sleep in New York City in commemoration and thought of all those who were injured today, arrested, or even killed. Of course, Egypt was a black hole today with no light coming out. I am scared to find out what happened to our courageous protesters today. We have no access to any information regarding arrests and violence exerted by police on protesters.
On Muslim Matters, an Egyptian American named Haytham wrote echoed the sentiment of many in the diaspora: "This is indeed an astonishing civic moment in the world, and I hope it passes successfully and with the least amount of bloodshed." More:
Some people claim that the Egyptian protest, named by protesters as the "Day of Anger," is due to poverty or lack of economic opportunity, but I believe this is incorrect. This protest is a reaction to the lack of dignity prevalent throughout Egypt, where people are not able to live as human beings. It is due to the feeling of having no rights and of being a slave to the state. These protests took place because the people of Egypt saw this protest as a glimmer of light and hope at the end of what they felt had been a very long dark tunnel.