Ice, Sleet Slams Winter-Weary City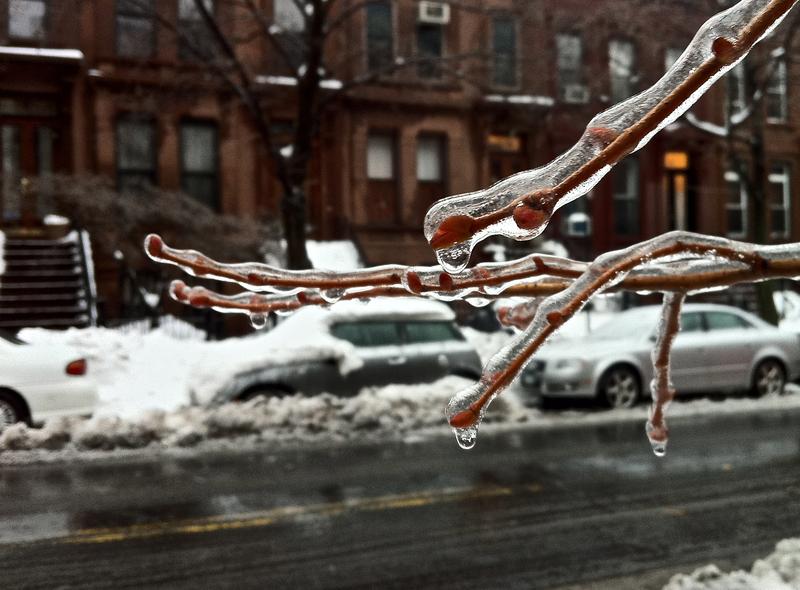 A 1/4 to 3/4 of an inch of ice fell on the tri-state area Tuesday night, downing power lines and tree limbs, cancelling flights and making for treacherous driving conditions. The brutal wintry mix of ice and sleet has given way to rain as temperatures rise, but power outages are wide-spread in the area.
Con Ed is reporting more than 1,600 customers without power in New York City and Westchester County. The Long Island Power Authority is reporting more than 1,400 customers without power. The Public Service Electric and Gas Company of New Jersey reports 9,000 are still without power. NYSEG is not reporting any outages at this time. 
A freezing rain advisory is in effect for Westchester County, New Haven, and Putnam County until 6 p.m.
"Leave plenty of extra time because it will take you as long to scrape your car as it will to get into New York," MTA spokeswoman Marjorie Anders told WNYC this morning.
New York City public schools and government offices will be open. Governor Chris Christie has ordered that state offices in New Jersey will open with a two-hour delay. Essential employees should report on schedule.
The subways were running on or close to schedule except for the No. 7 train -- which is running local from Flushing, Queens, to Times Square -- and some delays on the No. 6 train. The MTA has been de-icing and keeping trains moving to keep the third rail free of ice, the agency said.
"We're doing fairly well right now, but as the storm gets worse I can't guarantee it," MTA spokesman Charles Seaton said.
The Office of Emergency Management warned New Yorkers should use caution during their commute.
"During the peak of the morning rush hour roads and sidewalks may be slippery and dangerous," the office said in a statement.
Buses
Buses are operating with delays this morning due to slick roads.
Subways
C train service is back with some delays. The No. 7 train is also running local.
LIRR
The Long Island Rail Road has been restored to a regular weekday schedule.
Metro-North
Metro-North trains are running on a regular weekday schedule this morning, but trains to and from New Canaan and Waterbury are suspended at this time. NJ Transit Normal service is being restored systemwide after some earlier suspensions and delays. All New Jersey transit tickets and passes will be cross-honored today. Amtrak's Northeast Corridor service between New York and Philadelphia is now running, but with delays of up to an hour. Service was suspended earlier this morning because of power problems.
Bridges and Tunnels
MTA Bridges and Tunnels' nine crossings are open and traffic is moving. Drivers are advised to use caution on wet roadways.
PATH
PATH trains are running on schedule this morning.
Airports
Airports are open. The Port Authority says 1,400 flights have been cancelled in all at the area's three major airports so far today. All three airports in the metropolitan area were reporting minor delays for arriving and departing flights by Wednesday afternoon.