At Anti-Mubarak Rally, Anger and Optimism from Egyptians
Hundreds of protesters gathered outside the United Nations headquarters in New York City Saturday, calling for the resignation of Egyptian President Hosni Mubarak.
The event was organized by The Alliance of Egyptian Americans and by Egyptians for Change. Organizers passed around petitions they said would be sent to the UN and urged protesters to contact U.S. government officials, including Secretary of State Hillary Clinton, and push them to support the revolt.
The demonstration was peaceful, with entire families in attendance. Children in strollers and toddlers carrying signs joined parents and grandparents. American-born college students spent their Saturday afternoon alongside Egyptian expatriates. Many wore face paint, and everyone seemed to be taking pictures and videos with smartphones, echoing the role that technology has had in galvanizing protesters in Egypt.
"Under Mubarak there is no democracy, no freedom," said Aliaa Gouda, a protester and native Egyptian who has lived in the US for 21 years. "Here, we have freedom of speech. We have no freedom of speech over there. If you say something, you're done. It's a fake democracy."
Yasmin Elkhashab held a sign that read, "Saudi Arabia awaits your arrival Mubarak," a call for Egypt's leader to relinquish control of the government and flee the nation. "I'm protesting thirty years of corruption, poverty, unemployment," she said. "The people in Egypt aren't happy, they haven't been happy and it's time to take a stand."
Many among the crowd said the recent Tunisian revolution served as a catalyst for the uprising in Egypt. Chants of "Tunis, Tunis" were almost as frequent as the choruses denouncing Mubarak.
"Tunisia was a huge push," said the protest's media coordinator, Ahmed Lotfy.
Not all protesters carried anti-Mubarak signs. Many hoisted posterboards denouncing President Barack Obama, the United States government and even the CIA for supporting Mubarak's regime, both in message and through foreign aid. The protesters argued that the American government shares blame with the Mubarak regime for the oppressive climate in Egypt. One protester held a sign showing a tear gas canister, which read "Paid by taxpayer money...Used in Egypt against peaceful protestors."
As the crowd grew too large for one megaphone, demonstrators in the back formed their own circles with more pan-Arab sloganeering, shouting and chanting for freedom in countries like Yemen and Palestine. Many called for the US to stop backing Israel.
"The US is supposed to stop supporting dictatorships in all Arab countries," said Isaac Ezat, originally of Egypt. "First is Mubarak, he's a big dictator. Do not support any military governments, same like Cuba, which is our enemy. There should be no double standard between Cuba and the Middle East."
Hegazy Hussein said that the US position on Egypt appears inconsistent with its pattern of foreign policy. "I know the White House doesn't want to interfere in internal affairs, but who are we fooling? We interfere in everyone's internal affairs, and that's for democracy."
Aliaa Gouda said it was important for Americans to recognize that they have an ally in the Egyptian people -- not in their dictator. According to Gouda, some in the US might get the wrong impression about what's happening in Egypt.
"Nobody is against America in Egypt," Gouda said. "They make it look like this. The regime wants you guys to believe that we are against the West. We are not against the West. We love everybody, we live in peace with everybody."
The protesters were hopeful that change would finally come to Cairo, though some were more cautious in their optimism than others. Many expressed concern that protesters in Egypt would turn to violence and looting as the days dragged on, corrupting the message of freedom and peace.
For her part, Gouda was confident that her country would emerge from the conflict stronger than before, and that Americans needed a similar dose of optimism.
"I am sure something is going to happen, because when the Egyptian people say enough, it's enough," she said. "You guys need to be optimistic about what's going to happen over there. Whoever the people over there will choose to lead them will be a good person."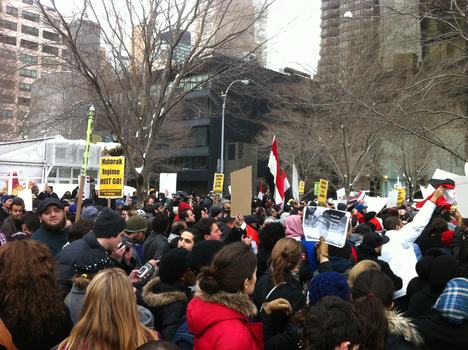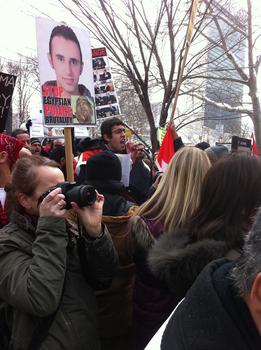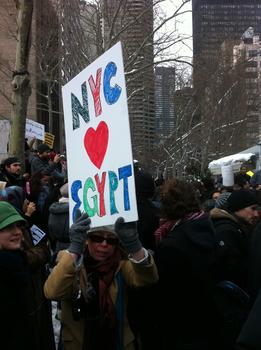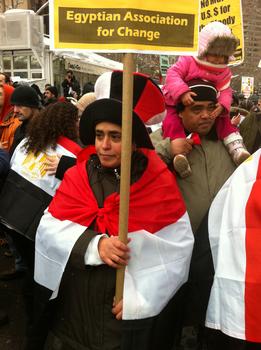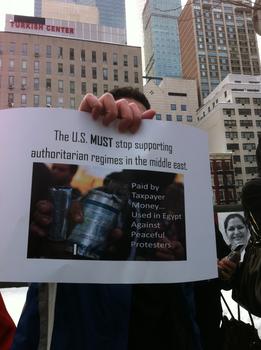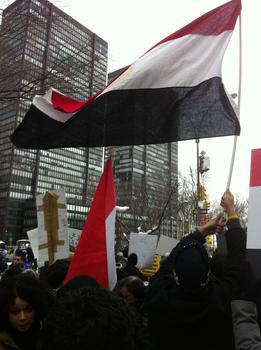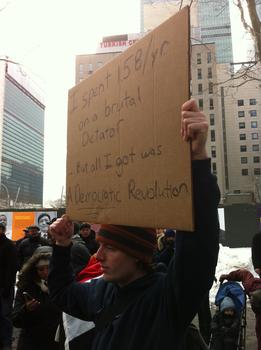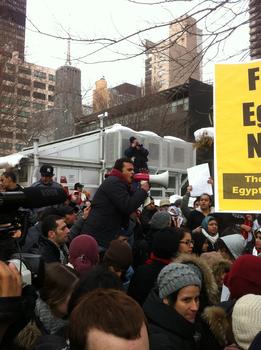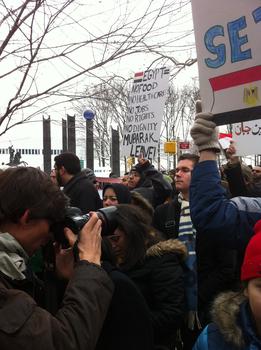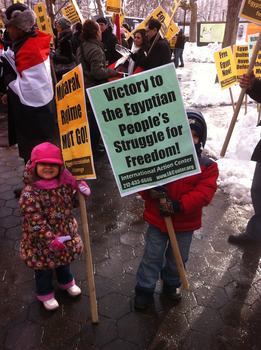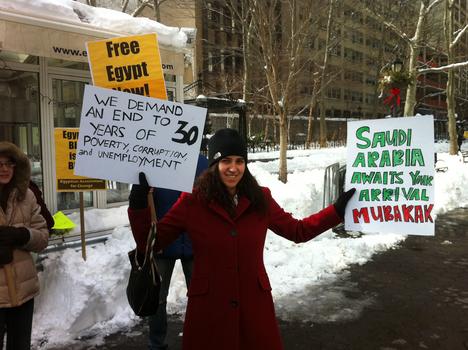 of