Newark Prepares For Its Close-Up In Season 2 Of 'Brick City'
This weekend, Newark residents will see their mayor, Corey Booker, talk about something other than snow removal. The second season of "Brick City," a documentary series starring Mayor Booker, the city's Police Director Garry McCarthy and the city's residents themselves, kicks off on Sunday, January 30 at 8 P.M. on the Sundance Channel.
"The second season of 'Brick City' is a deeper and richer and more complex journey than Season 1, which ended kind of on a wave of hope and change that came in with Obama and also ended with the birth of a baby of Jayda and Creep, a couple that was in Season 1," said one of the show's directors and executive producers Marc Levin.
Levin, who was born in Elizabeth and moved to Maplewood in his teens, directed the docu-series with Mark Benjamin. He and Benjamin also produced the project with actor Forest Whitaker.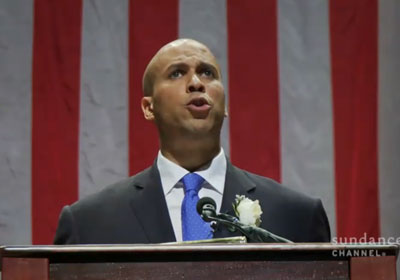 Season 2 is set in 2010, with Booker facing a crippling budget crisis along with a re-election campaign. Dashaun "Jiwe" Morris, author of the memoir "War Of The Bloods In My Veins: A Street Soldier's March Toward Redemption," also gets caught up in a murder case in the second season as Police Director McCarthy struggles to find the right formula to fight crime. "The bottom line is, I would say, a theme of 'How do you change and move ahead in these hard times?'" Levin said. "In an era of austerity, in an era of popular rage, anti-incumbent fever where there is tremendous anger and mistrust of anybody who's in charge."
The executive producer and director added that although Booker gave the crew incredible access to a behind-the-scenes look at city hall, the second season hasn't been a breeze for the mayor to watch. "You know, it's very hard to watch Season 2 for him, because it's like reliving the worst nine months of his life," Levin said.
The promo to the second season (embedded below) is centered on Booker. "This is Newark, New Jersey. Our strength is hard and our courage is invincible," Booker says at the beginning of the opener as alternative hip-hop composed by Khari Mateen starts to play. Then, the mayor's shown smiling and holding a Nets jersey, then looking troubled at a budget meeting, then running in a race through the streets of his city. Forty-five seconds in, Booker says with gusto: "I'm not the kind of guy that wants to have my ship rot in the harbor. I'd rather be sunk at sea than be timid and meek. Let the show begin!"
Levin added that he chose Newark for the film because it's a city with stories an audience can follow. "And certainly, Newark is a city that never disappoints when it comes to larger-than-life characters and with real drama," he said.
The first episode of Season 2 of "Brick City" airs on the Sundance Channel on Sunday, January 30 at 8 P.M.