Meet Preet Bharara: New York's Highest-Profile Prosecutor
The first Guantanamo detainee to be tried in a civilian court was sentenced to life in prison this week – a sigh of relief for prosecutors who had failed to get him convicted on 284 out of 285 charges.
The case has been one of the most important prosecutions so far for Preet Bharara – the U.S. Attorney for the Southern District of New York.  Bharara is barely 1-1/2 years into his tenure, and even though he's one of the most powerful people in New York, he's still one of the least known.  Even the press still has trouble pronouncing his name.
But there are plenty of individuals who'd like to tell you about him – some of them people you wouldn't expect to be fans. Manhattan defense lawyer Ron Kuby, a courtroom fixture for more than 30 years, has had his share of bitter confrontations with previous U.S. Attorneys. But he said Bharara's different.
"You expect federal prosecutors to make all kinds of enemies," Kuby said, "and the extraordinary story here is you have a man who has taken over the most high-profile and powerful United States Attorney's job in the entire country, and everyone – across the political spectrum – admires, respects and likes the guy."
A High School Kid's Conviction
If you want to understand Bharara, people close to him said to go back to 1986, his senior year of high school. Go back to a small, tightly run place in Tinton Falls, New Jersey, called The Ranney School, where all the boys had to wear blue blazers and gray slacks. 
Barbara Tomlinson taught Bharara American History and American Literature there, but she now calls herself his first client.  She said he stuck his neck out for her like no student ever did.  Here was this blue-eyed Indian kid with everything to lose – valedictorian of his high school class, editor of the school paper and an admission ticket to Harvard.  Then one day, Tomlinson got fired for insubordination.
"Preet was very upset about this," said Tomlinson, who didn't want to comment specifically on why she got fired, "and he came to me and said, 'Well, you know, the students should do something.  You're one of the best teachers in the school.'  And I sat him down and I said, 'No.'  I think by that point he'd been already accepted at Harvard.  I said, 'You don't know what this might do to that.'"
But Bharara didn't listen. He rallied a group of other students and together they strode into the office of a headmaster everyone feared.  They demanded that Tomlinson get her job back.
"Here was a young man who was interested in having the right thing happen and trying to figure out, could we fix it?" Tomlinson said.
Tomlinson didn't get her job back.  But what she noticed about Bharara is a theme that ran through dozens of other interviews with Bharara's friends, peers, former supervisors and even critics: a strong sense of right and wrong.
A Whirlwind First Year and a Half
Bharara oversees more than 200 lawyers handling many of the country's most important cases in terrorism, organized crime, public corruption and financial fraud.  In just the last year, the office secured a life sentence for the Times Square bomber and more than a dozen guilty pleas in what's expected to be one of the largest insider trading probes in history. 
The office also indicted drug kingpin Christopher Coke and legendary arms dealer Viktor Bout.  And this month, it charged 26 members of the Gambino family in the biggest mob take-down ever in New York.
But despite the headline-grabbing cases, Bharara doesn't relish talking to reporters.  He didn't want to be interviewed for this profile, so he sent his friend of 18 years and his No. 2 at the office, Boyd Johnson III.
"You know, he's a humble guy, Preet.  He's a very modest guy.  This job that he has as the U.S. Attorney really isn't about him," said Johnson.
The Path To U.S. Attorney
Bharara was born in the state of Punjab in India.  His parents named him Preetinder, a Sikh name that means "the one who loves God."  But everyone calls him Preet.  He likes to say his family comes from four faiths: His father is Sikh, his mother Hindu, his wife's father is Muslim and her mother, Jewish.
In his public appearances, Bharara takes the podium with a formal, often stiff, air.  But friends say he's the first guy with a witty come-back, the first guy you'd invite out for drinks.  (His standby is a Ketel One vodka and tonic, with lime).  And Johnson said Bharara is as crazy about Bruce Springsteen as he is.  If he had to pick out one song by the Boss that embodies Bharara, he'd say "Born to Run."
"Well because, he has a great sense of urgency about him," said Johnson.  "I mean, not to be too serious, but he thinks that we're called to do things.  And that's a calling that is urgent."
Bharara's path to that calling started at Harvard, then to Columbia Law School, and eventually, to a job as Chief Counsel to Senator Chuck Schumer.  There, he was instrumental in helping the Judiciary Committee investigate the Bush administration's firing of eight U.S. Attorneys.  It was no surprise to anyone when Schumer recommended Bharara to be Manhattan's next U.S. Attorney.
Terrorism
Barely a year into his new job, the office took some heat when Times Square bomber Faisal Shahzad wasn't brought to court after his arrest. Usually a defendant appears before a judge within 48 hours. Ron Kuby said Bharara's tenure has been exemplary, but this incident really disturbed him.
"This was an American citizen, on American soil, taken off an airplane and simply made to disappear for two weeks," said Kuby.
Prosecutors later explained Shahzad had quietly waived his rights and agreed to cooperate with investigators without a lawyer.  Bharara's office maintains the decision not to present Shahzad right away was correct under the law.  Still, civil libertarians said the office bent the rules and shouldn't have kept Shahzad away from a judge for so long.
Financial Fraud
Elsewhere, Bharara's aggressiveness has been applauded.  The financial press recently dubbed him the "New Sheriff of Wall Street" for his extensive insider trading probe.  But people close to these cases say giving Bharara that kind of credit is a bit misplaced.  First, the investigation began long before he ever became U.S. Attorney.  Second, the lauded use of wiretaps in the cases wasn't originally his call.  Those wiretaps started a year and a half before his tenure.
Some speculate that insider trading is where Bharara wants to make his mark. But Rich Zabel, who's supervising the investigations, disagrees. He said the office isn't gunning for some kind of an insider trading legacy.
"There's so much written about it, and there's so much press attention to it, that sort of translates into, 'Oh, that must be the legacy that we want the office to be known for or that Preet is always talking about,' but that's not in fact what happens. It sort of generates itself," said Zabel.
The Financial Crisis
So far, Wall Street watchers say Bharara's office has been wimping out on punishing any major bank or executive for the missteps that triggered the recession. The thinking is, if there's any office positioned to bring a prosecution, it would be the one located right next to Wall Street. But last month, Johnson said what people want doesn't matter, if there's no actual evidence of criminal conduct.
"We can't just go get indictments because the public is demanding indictments. I mean that would be incredibly irresponsible of us to do," said Johnson.  "Just because there's a cry for scalps in any area is not going to mean that Preet is going to submit to that."
Congress released a 600-page report Thursday laying some blame on Wall Street for the financial collapse.  It said banks ignored warning signs and continued pushing risky investments.  And reportedly, the panel handed some evidence over to prosecutors for possible investigations.
Bharara's office wouldn't comment on whether the report will actually launch any new cases.  And as people wait to see what he'll do, former U.S. Attorney Mary Jo White has this piece of advice:  don't listen to the political windstorm.
"Your job is to do the right thing in every situation," said White, who gave Bharara his first job as a federal prosecutor 11 years ago.  "In the Southern District in particular, which is older than the United States Department of Justice, there's a long tradition of autonomy and independence, and it is critical that the U.S. Attorney embody those traits.  And clearly Preet does."
Of course, if Bharara does bring a successful Big Bank prosecution one day, people say he will truly make a name for himself.  And maybe then, everyone will finally remember how to pronounce it.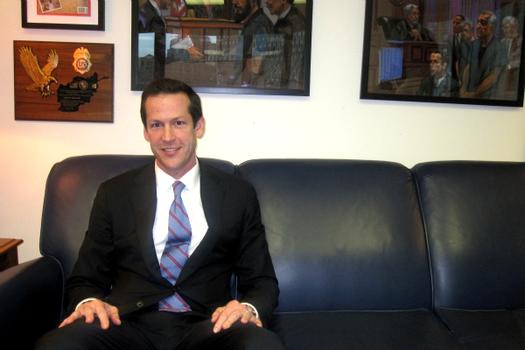 of