Artist Transforms FBI Files Into Short Films
When New York City-based artist Jenny Perlin began combing through a 250,000-page archive at Columbia University's Arthur W. Diamond Law Library, she saw more than just the names that once caused country-wide hysteria, like those of Julius and Ethel Rosenberg, Harry Gold, and J. Robert Oppenheimer. Perlin saw the opportunity to make art out of the pen-marked and heavily redacted F.B.I. files.
The Rosenbergs were accused of passing sensitive information about the atomic bomb to Russia in 1951, and after a trial that lasted just over two years, both were executed in the electric chair. The elements of espionage, Cold War Communist fear and a controversial execution captured the public imagination as developments were trotted out in big, bold headlines like "Accused of Crime Worse Than Murder," (an accusation made by the case's judge), and "Burial of A-Spies Fails to Stem Red Propaganda." Behind the case and its headlines are the F.B.I. documents that inspired Perlin to make the eight short films in her series Perlin Papers.
It's fitting that Perlin made the films, as she is distantly related to Marshall Perlin, the lawyer for the Rosenberg's sons who were orphaned after their parents' execution. Because he helped declassify hundreds of thousands of top-secret documents in the 1970's, Ms. Perlin was able to pore over the thousands of photocopied pages from F.B.I. notebooks. They hold everything from heartbreaking descriptions of how the Rosenberg's sons were taken into foster care at the hands of armed policemen to meticulous notes on the comings and goings of a group of 1940's housewives who were being tailed by F.B.I. agents.
With her artistic eye, Ms. Perlin saw the opportunity to examine the documents that had fallen through the cracks. "You have lives, in this case of over 30 to 40 years, all sort of sitting there, waiting to be looked at, discovered, or in many cases ignored," she said about the archives.
Perlin's short films range in length and style. All were shot with 16-mm film. "Mimeograph" is her imagining of the lives of the typists responsible for slogging through years of F.B.I. data, clicking and dinging it through completion. "I wonder if they read the documents and how they felt about the proceedings," Perlin wrote in her description of the film.
In "Notes," Perlin animates simple squiggles and loops as if testing a ball-point pen. What's significant about these spirals is not only that they were classified for decades, but that they were the doodles of Harry Gold, the lab technician famously convicted for passing nuclear information to Russian spies.
For a peek into the Perlin Papers that doesn't involve file cabinets or boxes of photocopies, head to Location One at 26 Green St. on Thursday, January 27. The screening is part of the XtraCurricular series, a collaboration between the Marina Abramović Studio and the Columbia University School of the Arts. You can also check out Perlin's film "Transcript" at the Guggenheim museum from February 11 through May 1, 2011.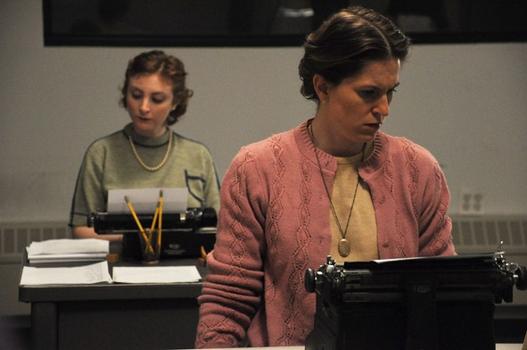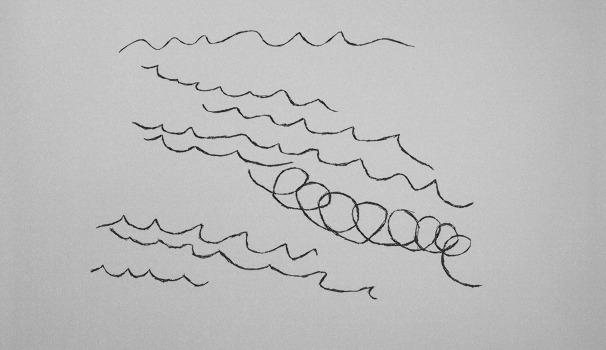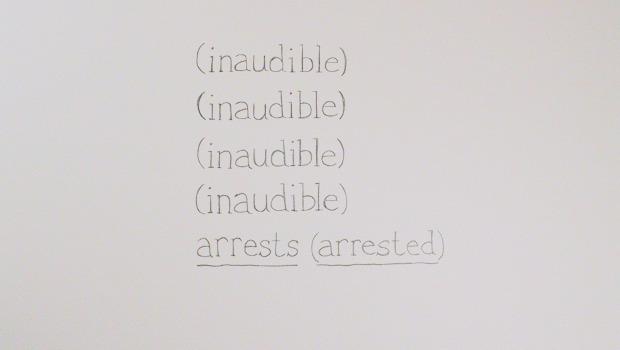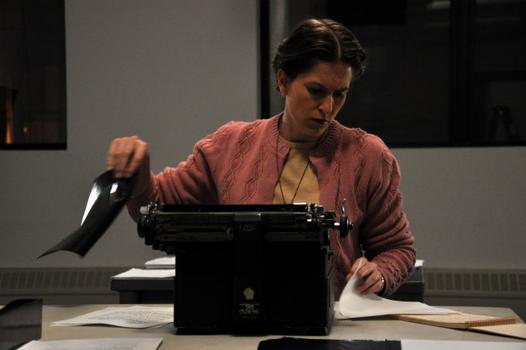 of