In a Brooklyn Courtroom, Space for Young Graffiti Offenders' Art
Nelson Rosaro, 17, of Brooklyn sat sketching in his notebook Tuesday at a table in the same room where he was convicted for his graffiti crime. He looked around at the paintings that dotted the drab walls of the courtroom on the 10th floor of Brooklyn Family Court and then up at Judge Lee Elkins, who presided over his case.
"It feels great, cause that guy right there is my judge," Rosaro said. "I hope it helps my case out."
Artwork created by juvenile offenders on probation for graffiti crimes dapple the walls of Judge Lee Elkins' courtroom, where he presided over many of the cases of the offenders-turned-artists.
The colorful 18-by-21 inch canvases are the culmination of a program called Paint Straight, a scared-straight approach to graffiti crimes created by a former offender and graffiti legend Ralph Perez, knows as "Tatu X-Men," whose work could be seen throughout the cityscape and on nearly every subway line during his active years. He founded the program three years ago and has graduated 22 graffiti offenders. Of those, only one has been arrested for graffiti crimes since.
"What I try to teach them is to open up their minds a little bit," Perez said, "open their spirits up a little bit so they can take their art and evolve it into something bigger, instead of going out there and destroying public property."
The program, taught at Family Court, lasts for 10 weeks, five of which involve what Perez calls "deprogramming" or educating the children about graffiti addiction, history and culture. The remaining five are painting classes.
Perez has mentored more than 70 kids, teaching them how to turn their art into lucrative careers, like using their graffiti style in marketing, T-shirt design or sneaker design.
Elkins, the judge, said participation in this kind of program would definitely help the juveniles' cases, but wouldn't comment specifically about anyone in the room. He said he's been impressed with the results so far and wanted to show support for the program and the kids.
"I wanted the kids to be able to come in here and see that we value their creativity and that this space belongs to them as much as it belongs to the people of the state of New York," Elkins said.
Hovering over a pink canvas on an easel covered in crude eye balls, screaming cartoon heads and the words "Blaaa," Elkins quipped, "It reminds me of lawyers."
Sixteen-year-old Jesus Merced, wearing a red track suit jacket and a black trucker hat emblazoned with his tag "Nesu," is one of the recent graduates of Perez's program. Merced was arrested for spray painting in a train station near undercover officers. He said since he started the Paint Straight program his skills have improved, and he's learned his lesson.
"I never had nobody teach me how to draw, like growing up," he said, lugging around a worn sketchbook. "I just relied on myself to do it. Now, I actually got somebody to teach me, to get me better, to lead me into the right way."
The Bushwick native is teaching his little brother how to draw and is hoping to design hats and T-shirts and attend art school. He's still into graffiti.
"Just not illegally from now on," he said.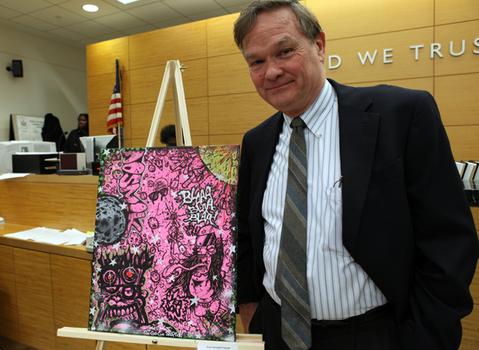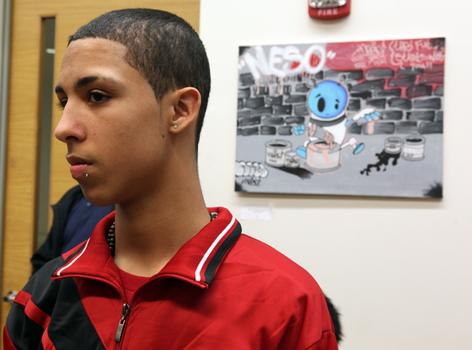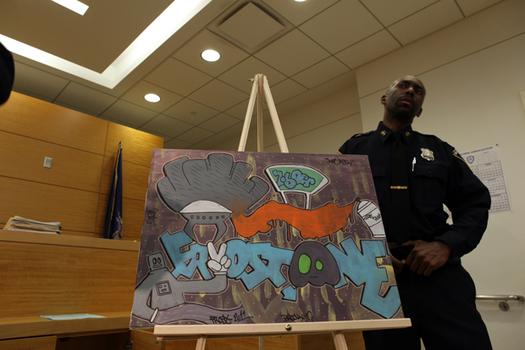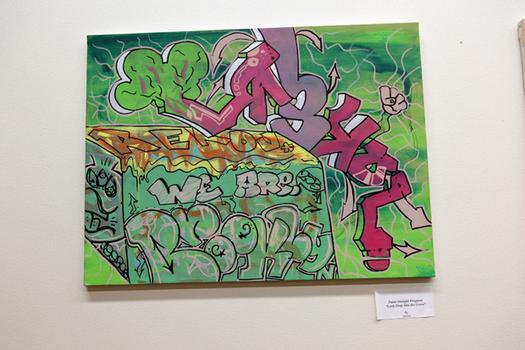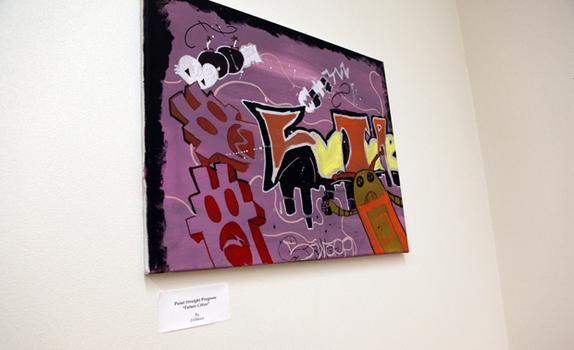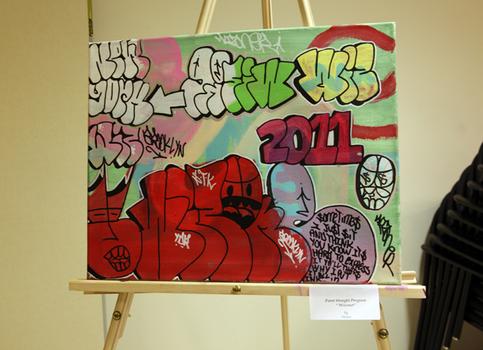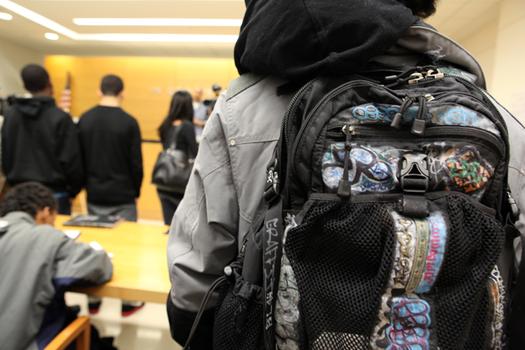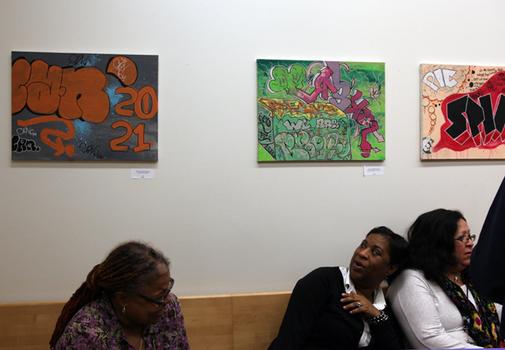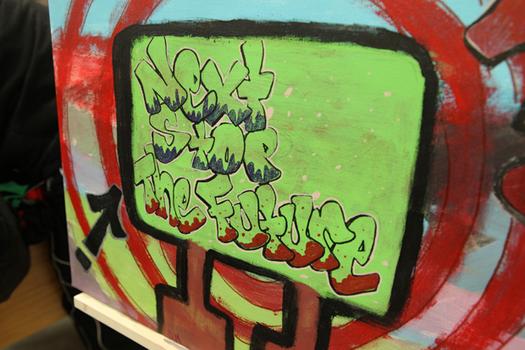 of