Artists and Chefs Collaborate On Edible Works Of Art
Artist Marina Abramović's "Volcano Flambé" must be eaten in silence. The dessert is served with a pair of headphones and a small wooden box loaded with an MP3 player that holds the artist's instructions on it. After Abramović tells you to close your eyes, and concentrate on breathing slowly and deeply, she walks you through the experience of eating her creation.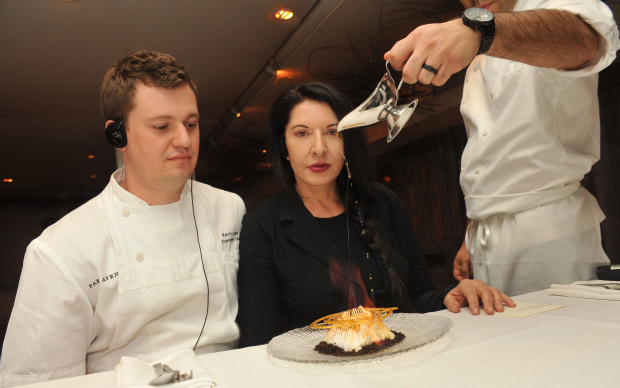 Kevin Lasko is the executive chef at Park Avenue Winter on the Upper East Side. He collaborated with Abramović for months to bring her vision to the table. "She wanted to do an aphrodisiac dessert and she wanted an exploding pyramid, so we tried to work on that in the beginning," Lasko says. "She wanted textures, and she wanted hot and cold, and she wanted exploding and flaming. So we left it there: an aphrodisiac, volcano-exploding dessert…and then we went to the drawing board."
Artists have been using food as a medium for many years. Both the Surrealists and the Dadaists created art by manipulating the appearance of food and performing subversive experiments at the dinner table. The goal was to shake up the daily routines of food and eating. 
Anne Pasternak heads the arts nonprofit Creative Time, which is curating the food art project. "It's not exactly a surprise that artists would be interested in using food as part of their inspiration," Pasternak says. "All four of the artists that we selected for this initiative have a relationship to food. For example, Marina Abramović may be best known as a performance artist, but she loves having people participate with her. For example, she's made cakes out of gold and chocolates with gold."
Abramović's "Volcano Flambé" is also topped with gold. A golden band of spun sugar sits on top of a mound of almond cake encased in a flaming mountain of meringue, surrounded by crunchy bits of dark chocolate. As you enjoy the dessert, her narration invites you to "feel the sensations" of  "cold...white...gold...crunchy...soft... salty...liquid... creamy..."
"It was much different for me as a chef," Lasko says. "Normally, when you think of food, you think of flavors first and you go from there. This was backwards--we started with shapes and colors and temperatures."
New York–based artist Paul Ramirez Jonas is preparing to present his culinary intervention at the restaurant next month. Without giving too much away, he says he plans to explore the idea of other people being "present" at the dinner table, even when they are not physically present at the table.  
"When we're having dinner, there are these other people having dinner with us, people we're talking about. And I thought, how can I make that present?" Ramirez Jonas says. "There's something I'm going to try to do that's going to be fantastic, but I don't want to give it away yet! 
However, he will give a hint: "It has to do with a glass of wine!" 
Ramirez Jonas says that the way all four artists are being paid for their culinary intervention works out to be a pretty sweet deal. "We're not getting paid with money, we're getting paid with a very nice tab at the restaurant that we can slowly deduct from every time we eat," he says. "I just have this fantasy that every time I'm having a difficult day, I can just go to the restaurant and have lunch. If I use it very slowly, it will last me a long time!"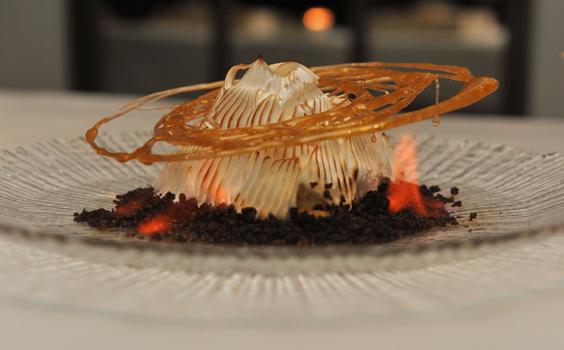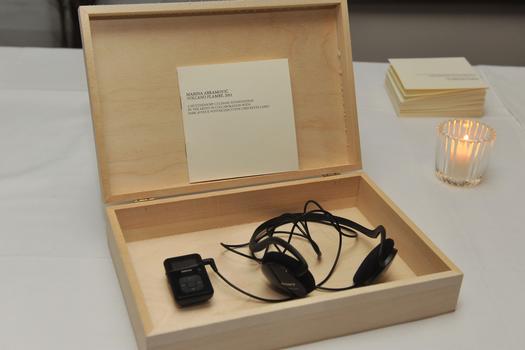 of