Mayor Bloomberg Calls on Obama to Lead Charge on Gun Control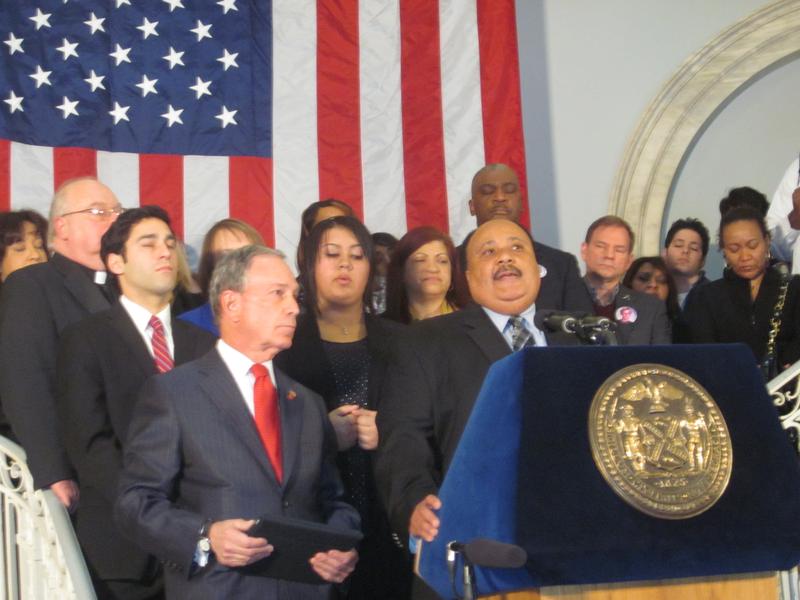 Mayor Bloomberg, at a rally championing gun control, called on President Obama to lead the charge on reforming the nation's gun laws in the wake of the Tucson tragedy during his State of the Union speech Tuesday night.
"Washington's got to do that, and we call on the president to lead that charge the way President Johnson did," Bloomberg said, referencing President Lyndon Johnson's address following the assassinations of Martin Luther King, Jr., and Robert Kennedy in 1968.
Bloomberg, along with 34 men and women who lost loved ones to gun violence, gathered Monday at the City Hall rotunda to laud the merits of gun control, an issue brought to the forefront of the national discourse by the recent Arizona shooting that killed six and wounded 13, including Rep. Gabrielle Giffords, who was shot in the head.
He called on lawmakers to make it harder for people with felonies or mental illness to buy guns and to require background checks for all gun sales.
"The greatest country in the world," said Mayor Bloomberg, "the greatest democracy every created and yet we have this carnage and our democratic system so far has been unwilling to fix it."
But it's unclear how much traction, if any, gun control proponents have gained post-Tucson. After initially staying silent in the wake of the shootings, the National Rifle Association has come against one bill, introduced by Rep. Carolyn McCarthy, that would ban high-capacity magazines, such as the one used in the Tucson slayings. It also opposes a bill, introduced by Rep. Peter King, that would prevent guns from being carried within 1,000 feet of a government official.
Second Amendment scholar John Bruce, who teaches at the University of Mississippi, is skeptical that Bloomberg's proposal to limit gun access to the mentally ill could be ushered through Congress. The obstacles, he said, would include coaxing mental health agencies to share their confidential records with other government agencies.
"The sheer logistics of implementing that system is pretty daunting," said Bruce. "And to really make it work, you probably have to have a pretty aggressive system. That aggressive system is going to face a pretty substantial opposition."
Bruce thinks it's unlikely any gun control laws will be passed, despite the furor over the shootings in Tucson. He said America's romance with the Wild West "has been so internalized that we simply accept the staggering number of fatalities each year."