Where Old Fax Machines Go to Die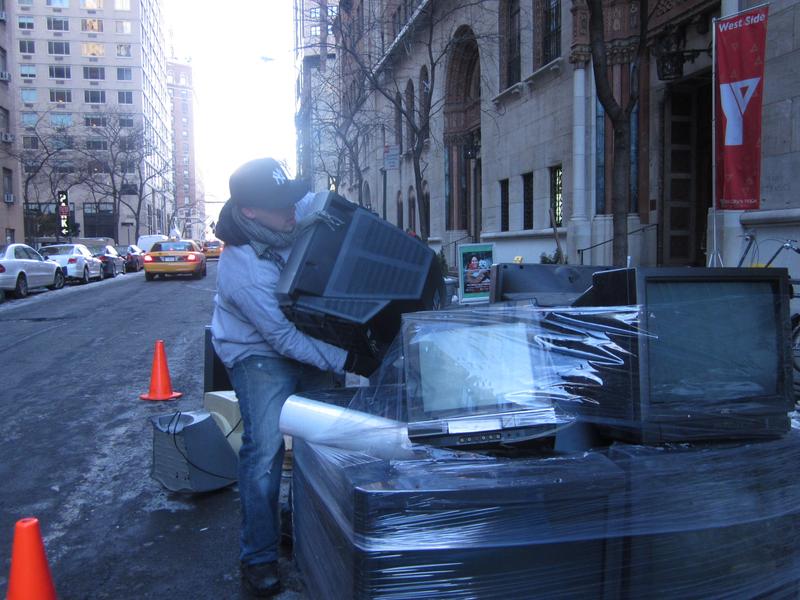 Old computers, outdated cell phones, unloved fax machines — they found their way,by the ton to an electronic recycling event on the Upper West Side on Sunday.
Despite the frigid temperatures, hundreds of participants toting shopping bags laden with dusty answering machines, old CDs and other electronics turned out for the outdoor event, the final in the "After the Holidays" e-waste series organized by the Lower East Side Ecology Center.
"A lot of people, they say goodbye to their computer like they were saying goodbye to a friend," said Michelle Sanchez, who works at Tek-Serve, which co-sponsored the event and accepts e-waste at its Chelsea store. "And [for] some of the people it's like, 'I'm so tired of looking at this garbage in my home, so I'm glad you're here to take it.'"
Christine Datz-Romero, who runs the Lower East Side Ecology Center, said she expected an e-haul of 20 tons for the day, helping the center collect about 80 tons overall. Recycling e-waste has caught on, she said, in part because many people are concerned about old PCs ending up in the developing world and the heavy metals in the circuitry polluting local groundwater.
Datz-Romero said as the Mount Vernon-based recycler whom the LES Ecology Center contracts to shred the equipment is required to destroy hard drives so no personal information is at risk. Most of the component materials end up going into recycled products. Nothing, she said, will be sent abroad.
Lisa Chin of Manhattan seemed exhilarated to get rid of her old electronics.
"All right, I have a paper shredder, I have an old answering machine, a mouse -- three of them broke already. And a few earphones. I just collect it, and it sits there in storage," she said. "It's ready to go. It's time."