New Concerns About Toxic PCBs in Schools Pose Clean-Up Challenge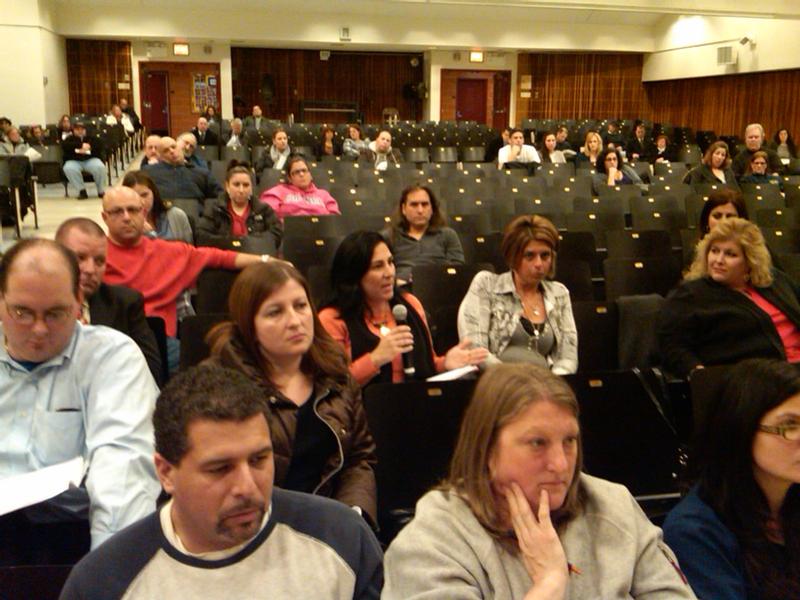 More than 30 years after they were banned by Congress, PCBs continue to show up in lakes, rivers, plants and fish. The toxic chemicals were widely used in electrical products. Efforts to eradicate them are still taking place – including in the Hudson River. But there are new concerns about PCBs in schools, following tests in New York City last year that found the chemicals leaking from lighting fixtures. And that raises complicated questions about how to get rid of them.
Earlier this month, Marie Stackhouse got a letter from her children's Staten Island elementary school saying PCBs had been discovered on floor tiles. A teacher had alerted the city and the source was determined to be a leaking light fixture. Two effected classrooms were closed while the city tested their air. But Stackhouse and other parents refused to send their children to school even though the city said it was safe.
"We obviously didn't know what the levels in the class were that they were breathing before they removed the materials," said the mother of two. "So, we were basically holding them until we found out whether or not the air tests would come back acceptable."
The air tests at PS 36 did come back safe, but that was after the fixtures had been removed. All of the lights are now being checked. Parents on Staten Island see that as a victory, but they say it's also a warning for the rest of the city because more than 700 schools have older lighting fixtures that can leak with age.
Decades after being banned, polychlorinated biphenyls, or PCBs, are still in the paint, caulk and lighting fixtures of older buildings. Last year, the Environmental Protection Agency ordered the city to test five elementary schools as part of a study because of concerns about caulk. When the first three schools were tested, EPA technical advisor Dennis Santella said the biggest source of PCBs turned out to be lighting fixtures – not caulk.
"We found high levels in rooms that had no other sources other than the ballasts," he said.
The ballast is what limits the current to a fluorescent light. Picture a thin metal box about eight inches long. They contain PCBs because they're an excellent form of insulation.
When EPA tested classrooms with these older lighting ballasts, the air came back at levels several times the agency's acceptable limit. EPA toxicologist Mark Maddaloni said that's high, but it's not an imminent danger because the agency's standards are extremely conservative. They're based on chimps and industrial workers who had longterm exposure.
"I feel reasonably confident that exposures at or below the exposure guideline are protective of human health," Maddaloni said. "But I cannot give you 100 hundred percent assurance," which is why, he said, the agency wants them out of the schools.
At high exposure levels, studies linked them to health problems from rashes to cancer.
"PCBs in the air are a real source of danger," said David Carpenter, Director of the Institute for Health and the Environment at the State University of New York at Albany, who has done a number of studies of PCB's and their effects.
"This is a hazard to children," he said. "No one's going to die tomorrow, that's not the point. PCB's don't cause acute disease, they cause a great variety of chronic diseases. But the one of greatest concern in schools is they are, like lead poisoning, substances that reduce the ability to learn."
The parents at PS 36 had many questions about health effects. About 60 parents and teachers attended a two-hour long hearing on Staten Island last week with officials from the EPA and the city's health department. They bombarded them with questions about rugs and asthma, and parent Narcisa Pannone wanted to create a health registry.
"Like in 9/11," Pannone said, "these children, there's got to be approximately 200 that were exposed for two years and five months. There has to be some accountability. You guys have to accept accountability."
The EPA officials and health department representative, Dr. Nathan Graber, said a registry wouldn't be very useful because children are exposed to PCBs in so many ways, not just schools, and it would be extremely costly to create a scientific study.
The city has now directed all school custodians to visually inspect their lights for leaks, which show up as brown and yellowish stains. Critics say a better way is to take all the lights apart. But with more than 700 schools at issue, Mayor Bloomberg said a complete overhaul is difficult.
"The bottom line is it's not practical nor do we think it's necessary to go and redo every single building the city has," he said. "It would be all the public housing, it would be all the schools, it would be most private buildings – maybe small houses probably don't – but any sizable building that was built during 20 or 30 years when this was one of the basic building materials. As long as you don't touch it, it's fine."
But some city council members and environmental advocates say the mayor is underplaying the danger. In December, the EPA issued guidelines advising school districts across the country to get rid of their old lighting fixtures because they're prone to leak. But New York City objected to the recommendation – citing the cost. It also claimed there's a greater danger of PCBs in food than schools. The EPA sent a stern letter back, disputing that argument.
Meanwhile, the EPA has continued to spot test schools on weekends. That's how a second school on Staten Island, PS 53, was discovered to have leaking fixtures. Some observers see this as an effort to pressure the city. Miranda Massie, litigation director for the group New York Lawyers for the Public Interest, thinks the EPA is in a difficult place.
"My guess is they would like to see the city to come up with a citywide plan to switch out those old bulbs and replace them with modern lighting," she said. "My guess is they're going to continue to do this enforcement action of inspecting schools until the city agrees because the fines that can be imposed for these violations, these leaky bulbs, can be quite substantial."
Massie's group and some parents threatened to sue the city a couple of years ago when caulk with high levels of PCBs was discovered in a Bronx school. The city then agreed to do the pilot study of five schools, one in each borough, to study various sources of PCBs and discovered the role of the lighting ballasts. The three schools studied so far have since had their ballasts replaced.
The EPA's regional administrator, Judith Enck, denied her agency is trying to pressure the city with its spot checks of schools. She said its trying to get a sense of the scope of the problem. She also said the city is making progress on developing long-term plans to get rid of the fixtures. New York isn't alone. The EPA has also worked with schools in Oregon, North Dakota and Massachusetts on leaking fixtures. The agency concedes the replacement costs can be high but that new, and more energy efficient lighting saves money. But that's only if schools can come up with the financing.