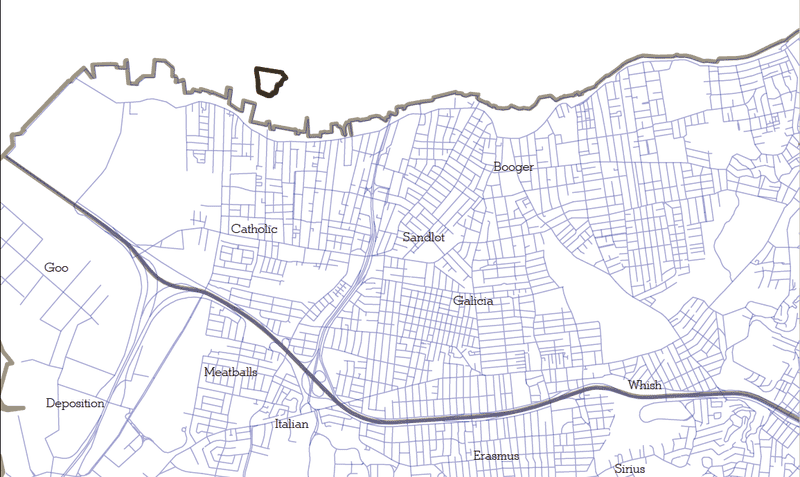 In 2008, Manhattan-based artist and programmer R. Luke DuBois set up an account at Match.com. As a dating venture, the effort was a bit of a bust. "I didn't end up really meeting anybody," he explains. But DuBois was fascinated by the way people presented themselves online and quickly discovered that by manipulating small details in his own profile (such as listing the zip code of a neighborhood one over from his own), a completely different set of possible matches would emerge. "I started playing it like a video game," he says of the process, "where I would change things in my profile to see how it affected things."
This exercise led DuBois to sign up for 21 different dating sites—including the hook-up service AdultFriendFinder.com—so that he could quantitatively analyze the most commonly used words in dating profiles. He used the data to create a series of maps that showcase the most frequently used words by geography. New York City's most frequently used online dating word, for example, is 'Now'—confirming just about every Type A stereotype of our town's inhabitants. (In Chicago, incidentally, it's 'Always'. And in L.A., 'Acting.') For big cities, DuBois was able to break the data down further, narrowing down the most frequently used online dating words to individual zip codes. (He analyzed more than 410,000 profiles for New York City alone.) The maps are now on view at the Bitforms Gallery in Chelsea.
So what does all of this reveal about New York? Well, it seems we are quite colorful when it comes to describing ourselves. 'Meatballs', 'Booger' and 'Erasmus' are big in Staten Island. 'Sexist' pops up in Queens (in Breezy Point, to be exact)—as does 'Atonement,' 'PhD' and 'XXX.' In some cases, neighborhoods fit their stereotypes ('Publishing,' 'Obnoxious' and 'Baby' all appear for Park Slope); other times they do not ('Yeats' is popular in the vicinity of Sheepshead Bay). The bizarre trifecta of 'Hustler,' 'PMS' and 'Swelling' is in the Bronx—while Manhattan is home to high-end living words such as 'Finance,' 'Luxury' and 'Brunch.' Most interestingly, the word 'Ganja' is popular in WNYC's West SoHo zip code (leading me to wonder what the heck is going on at the office after hours).
Last week, I spoke with DuBois, who explained his fascination with online dating and how New York is different from the rest of the country in it's choice of words.
Why this obsession with people's online dating profiles? Online dating is this weird thing. You put up this profile, with a photo and you have to say who you are and what kind of person you want to be with. And the part where you say who you are, you kind of fudge it—you lie. It's a highly idealized version of yourself you're putting out there. I've seen the profiles of friends of mine and I'm like, 'Really, that's you? You're not funny or outgoing.'
You surveyed the entire country, what popped out at you from the initial results? The only places where people will use negative adjectives about themselves are New York and Chicago. I think it's because those are the only places that the singles communities are cynical enough to get away with that kind of honesty. Where people will say things like 'I'm a micromanaging bitch' or 'I'm a workaholic jerk.' In smaller communities people are more idealistic and romantic.
What does the popularity of the word 'now' in New York profiles say about the city's culture? It's probably because we're all A.D.D. (Attention Deficit Disorder) I'd say that the funniest thing about New York is that people are very specific about name-checking their day. They like to name what neighborhood they work in and what restaurants they ate at. People in Phoenix won't do that. But in New York, a woman might write: 'My day is crazy because I work in Gramercy and I live in Brooklyn and I want a guy who takes me to Pastis.'
What other elements set New York apart? Big cities like Chicago and New York have a broader range of vocabulary that people use. It was really interesting to see it. On Manhattan's Upper East Side, for example, you get words like 'transcendent.' I mean, who uses 'transcendent' in a dating profile? The whole DUMBO/Brooklyn Heights area is pretty funny, too. You get works like 'dick' and 'graphic' and 'artisanal,' as well as 'postmodernism' and 'cheese.'
Was there one word that stood out to you above all others? My favorite one is in the Bronx, and it's 'ex.' It's right in the middle [in the Belmont, East Tremont area]. I always wonder, is it 'ex' for 'ex-wife' or 'ex-convict' or 'ex-novelist'? It could be anything. You can sort of dream it and imagine the context in which it has been said.
Given what you've learned about online dating profiles, if you had to write one today, what would it say? 'Artist seeks muse.'
Find detailed maps from around the city and the U.S. at DuBois's project website. His exhibit, A More Perfect Union, will be at Bitforms Gallery in Chelsea through Feb. 19.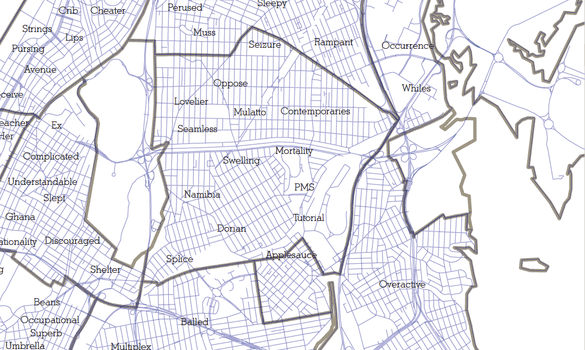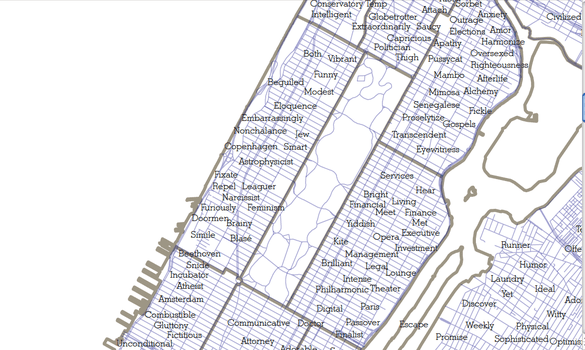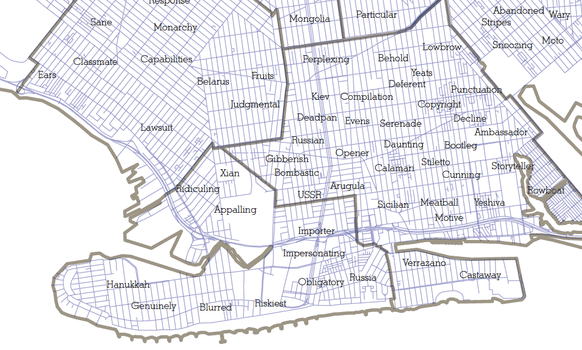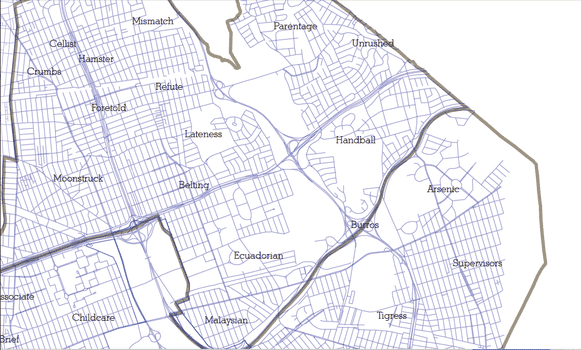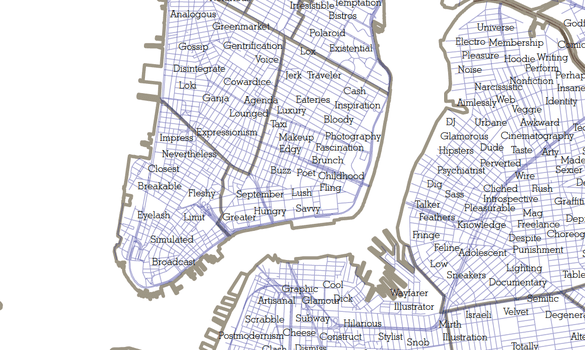 of