The Secret to Sunday Sauce
Canned tomatoes: they're easy to use, accessible year-round and approved by Italian grandmothers everywhere. And during these cold winter months, few things are as comforting as a bubbling pot of Sunday gravy on the back burner.
While canned tomatoes might be endorsed by even the most tradition-devoted chefs, there has been recent concern over the presence of Bisphenol A (B.P.A.) in the lining of canned food. B.P.A. is used in commercial plastics and mimics estrogen. In particular, the worry is that the acidity of tomatoes leaches B.P.A. from the can liners.
"It can disrupt the endocrine system, theoretically," says Carolyn Cope, the "Crisper Whisperer" columnist for the food blog Serious Eats and author of the blog "Umami Girl." Nothing is ever black and white though, particularly when it comes to food and health.
"I think if you are eating nothing but canned food and drinking nothing but soda and are constantly bombarding your system with things like B.P.A., it could be a problem, especially for young children. I think the magic age is six," Cope says. "They say you should be careful how much exposure overall to compounds like B.P.A. young children get. I'm not sure if you're eating canned tomatoes once a week that it's going to make much difference."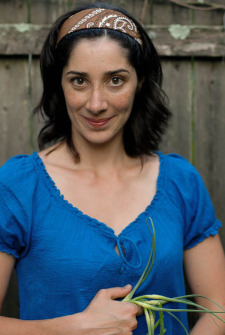 She notes that tomatoes can be found in B.P.A.-free cans and tetra paks. Regardless of the packaging, the choices abound as to what kinds of tomatoes to use. Cope suggests using whole tomatoes rather than diced or strained varieties.
"The primary reason is that since you can see what the tomatoes look like in the can once you've opened the can, producers tend to often save the best tomatoes for that purpose," she says.
Another reason is that whole tomatoes often include the seeds. "The seeds actually have the most umami of anywhere in the tomato, so it can make your tomato sauce taste a little more tomato-y," Cope noted.
In addition, as All Things Considered host Amy Eddings points out, many chefs favor San Marzano tomatoes, an heirloom from Southern Italy popular for tomato sauce. The variety is considered to be more meaty, less watery and sweeter than the average tomato. However, Cope advises looking for tomatoes canned without additives, as calcium chloride and citric acid may sometimes impart a metallic, less fresh taste.
Below is Cope's recipe for "New Old School Tomato Sauce."
New Old-School Tomato Sauce
(Pictured above with Millet and Cheddar Polenta in Fine Cooking, Feb/Mar 2011.)
"This simple yet deeply savory tomato sauce is new in the sense that I've tinkered with it myself over more than a decade of cooking it at least twice a month. More importantly, it's old-school because it is steeped in the long traditions of several generations of Italian-Americans in my family, and countless generations of Italians before them. Serve over pasta or polenta, as pizza sauce, or as you would any tomato sauce—or use as a base for other sauces. Keeps in the fridge for up to a week, and in the freezer for up to six months."
Serves 6

1/4 cup olive oil
1 medium yellow onion, finely diced
1 medium red onion, finely diced
1 medium carrot, shredded
8 large garlic cloves, finely chopped
2 tablespoons double-concentrated tomato paste (or 1/4 cup regular tomato paste)
2 28-ounce cans whole tomatoes
3 or 4 small, pale inner celery stalks with their leaves
1 cup whole fresh basil leaves
2 teaspoons salt, only if your tomatoes are unsalted
1 4-inch piece rind of Parmigiano-Reggiano cheese
2 tablespoons butter
1. In a 5 1/2-quart Dutch oven or other large non-reactive pot with a heavy bottom, heat olive oil over medium heat for a minute. Add diced yellow and red onion and shredded carrot and cook, stirring occasionally, until very soft, about 10 minutes. Add garlic and cook, stirring, until very fragrant, about one minute. Add tomato paste, stir to distribute, and cook one minute more. Be careful not to burn the tomato paste, but a hint of caramelization will deepen the tomato flavor.
2. Pour in juices from canned tomatoes. Then, one at a time, crush each whole tomato in your palm before adding it to the pot. Add celery, basil, salt (if using), and cheese rind and stir to distribute. Bring sauce to a simmer, then cover pot, reduce heat to maintain a gentle simmer. Cook, lifting the lid occasionally to stir and adjust heat if necessary, for at least an hour—or all afternoon, if you wish. Just before serving, swirl in the butter.