While China's Hu Jintao is in D.C, Other Chinese Innovators Hit Times Sq.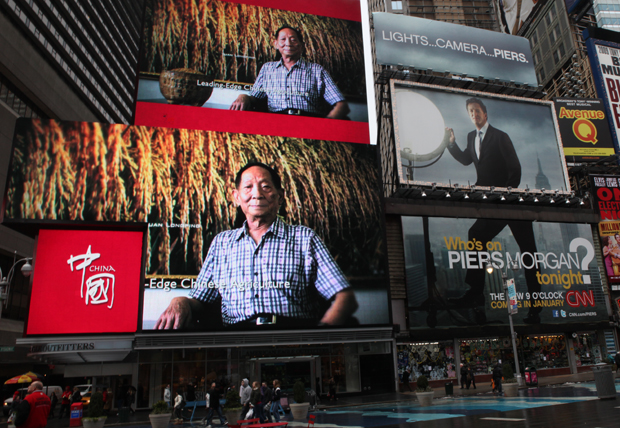 Chinese ad in Times Square featuring inventor of hybrid rice Yuan Longping on January 19, 2011 11:35 a.m. (Photo by Stephen Nessen)
China's soft power push or public diplomacy campaign has hit Times Square in the form of a 60 second video loop. The video features familiar faces like Yao Ming, Jackie Chan, the pianist Lang Lang (who will perform at the White House), the first Chinese astronaut in space Yang Liwei, as well as lesser known Chinese celebrities, like Yuan Longping, the "father of hybrid rice."
The Chinese state-run news agency Xinhua reports that the video will be shown at Times Square 15 times an hour, 300 times a day and will last until February 14. That means viewers will have 8,400 opportunities to spot their favorite Chinese hero.