Cuomo's War Money: Millions for a Fight, Thousands for a Bonus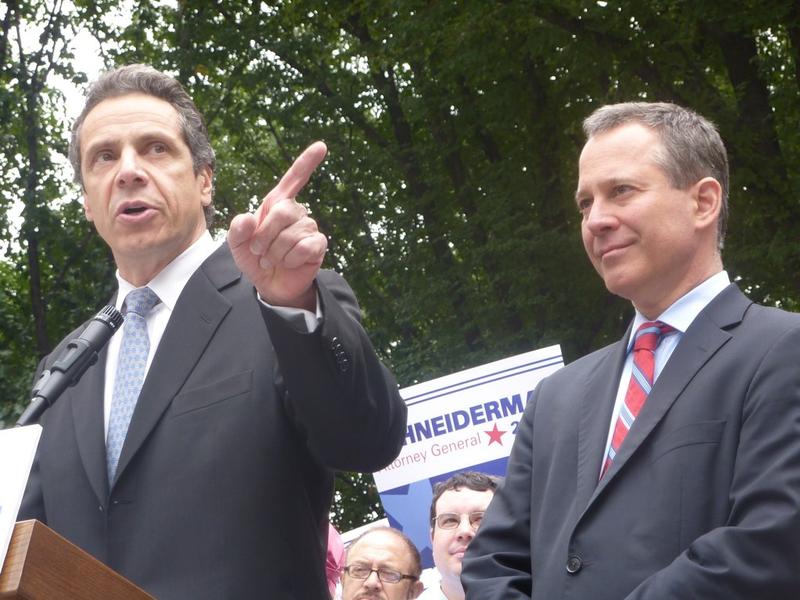 As he prepares to wrestle against legislators and organized labor to control the state's $11 billion deficit, Governor Andrew Cuomo is arming himself with money.
Over the past month and a half, Mr. Cuomo raised $217,625.79, nearly four times as much as his predecessor, Democrat Eliot Spitzer, according to research by a government watchdog group. After spending nearly a million dollars between late November and mid-January, Mr. Cuomo has $4.17 million left on hand in his campaign account.
The governor and his aides say they'll need every nickel of it. Mr. Cuomo says he expects an onslaught of negative ads to appear statewide once he proposes specific cuts to state spending, particular in the areas of health care and education, whose members are organized in two of the state's most potent unions: 1199 SEIU (health care) and the NYSUT (teachers).
Both Mr. Cuomo's immediate predecessor, Governors Spitzer and Paterson, faced particularly harse ads when they attempted to slow the rate of health care spending. Although each governor responded publicly, the fights left them with less popularity in the polls and less money in the bank.
Mr. Cuomo is hoping not to repeat that history.
The governor's $4.17 million warchest does not count the millions raised by the newly formed Committee to Save New York, a nonprofit group funded primarily through business executives and real estate developers who support Mr. Cuomo's budget agenda.
The group was formed with Mr. Cuomo's blessing, and he has said he encourages people to join them.
Because the Committee to Save New York registered as a 501c4, rather than a political organization or lobbying group, they are not required to disclose the source of their funds. The group may disclose their expenditures if the Commission on Public Integrity declares their activities constitute "grassroots lobbying."
A spokesman for the group, Bill Cunningham, said he does not know who specifically funds the group he represents. Asked if he was curious, Mr. Cunningham replied, "No, I'm not."
(Critics, like the New York Times editorial board, and the New York Public Interest Research Group, the government watchdog group, are calling for more disclosure.)
The source of Mr. Cuomo's contributions are less mysterious.
$25,000 came from an accomplished tax attorney in Buffalo, Steven J. Weiss. Another $5 - yes, five dollars - was donated by a woman in Miami, Florida, Adrian Siegel. (A campaign spokesman could not immediately explain what may have prompted that particular contribution.) New Yorkers for Affordable Housing donated $25,000.
Other donors were less transparent.
$30,000 came from six business groups using three different addresses.
Another $35,000 were given by two LLCs, private business organizations that, under state rules, do not have to disclose their owners, and whose contributions do not get counted towards any individual's donor cap. Currently, the state limits the amount of money an individual donor can give to a candidate. For statewide candidates, the cap is more than $37,000. The lack of disclosure around contributions from LLCs have rankled government watchdogs for years. On the campaign trail, Mr. Cuomo defended taking money from this types of organizations.
"I want to reform the campaign finance system. To reform the campaign finance system I have to get elected," Mr. Cuomo said, and added, "To get elected I have to raise money." 
Mr. Cuomo's latest filing statement is the first peek inside how he has been husbanding his resources since his landslide victory against upstate Republican businessman Carl Paladino.
Mr. Cuomo has spoken about the need for austerity in government — and even reduced by five percent his salary and those of a handful of top aides. He even shied away from any major celebratory activities to commemorate his inauguration, saying his administration would celebrate once they've scored accomplishments worth celebrating.
Mr. Cuomo was, nonetheless, generous when it came to his campaign money.
Among the larger expenditures from Mr. Cuomo's campaign account were a series of bonuses paid to top aides, several of whom followed Mr. Cuomo into his administration.
Long-time aide Joe Percoco - who had the title of campaign manager, received $90,000. He is now the "executive deputy secretary." Drew Zambelli, a trusted aide with ties to Mr. Cuomo's father, the former governor, was given $80,000. Mr. Zambelli is now the "counselor to the governor," a title many in state government have not seen in some time. And Benjamin Lawsky, a federal prosecutor who worked for Senator Schumer before joining Cuomo in the attorney general's office, received $50,000. He is now the Chief of Staff. Josh Vlasto, who joined Mr. Cuomo's campaign from Senator Schumer's office, received a $10,000 bonus. He is now the deputy communications director for the governor.
Azi Paybarah is the author of The Empire, a blog that covers everything you need to know about New York state politics and governance.