From Brooklyn, Helping Haiti Help Itself
When the earthquake struck Haiti one year ago, many Haitians in the diaspora said they felt a call to action. Though Haiti has been plagued by natural disasters and political chaos for decades, they said the sheer scale of this crisis meant they could not sit by and leave the job to outsiders any longer. But finding ways to help Haiti help itself has proven a challenge. A Haitian born accountant in Brooklyn has been learning that first hand.
Last year around this time, Jean-Claude Denis was pacing between the desk in his cluttered accountant's office and the television in the next room, trying to call Haiti for news of relatives and a school he helped start in the neighborhood he grew up in. 
But at the other end of the line – over and over again – this is what he heard: "The number or code you have dialed is incorrect. Please check the number or code and try again."
When the news did come in, some of it was bad. Denis lost a sister. And he learned the school, based at a community center called Korebel, had collapsed. Denis' friend Joseph Cadet (photo right), a contractor who is also from the Bel Air neighborhood of Port-au-Prince, had been supporting the school as well.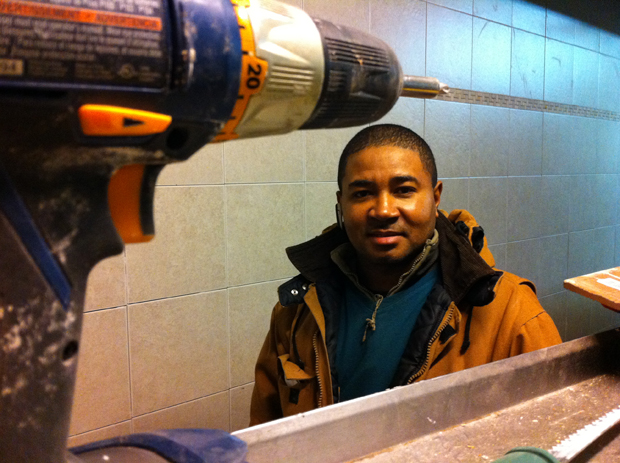 He spent those first few days driving around Brooklyn, picking up a case of water here, donations of clothes and food there, in hopes of somehow getting it to Haiti fast. He and Denis were among many Haitians in New York intent on helping Haiti rise from the rubble.

On the way to Canarsie to pick up donations from a client, Cadet said, "We are people we have to stand up for ourselves! It's a wake up call now! It's a wake up call."
Over the past year, both of these men did a lot to help Haiti. Cadet sent a first truckload of donations. Then, because he feared the supplies would fall into the wrong hands, he said he started a shipping company that videotapes the delivery of goods so that senders can see them arriving. And he made room in his shipments for supplies for the school. Denis worked day and night through tax season to send enough money to the school to get it up and running again in a temporary building. 
"It's been a tough year," he said a week ago at a busy print shop in Flatbush, Brooklyn.
Denis was calculating nervously how much he could spend on a colorful program for the Korebel School's first annual Gala dinner taking place the next evening. He leaned over a computer screen while a designer walked him through the layout.
"This is the cover," said the designer, then flipped through pages of photographs of the school children and the evening's honorees and performers.
Denis had already borrowed money to pay the banquet hall in Queens and put ads in local media. He was planning for 200 people, at a hundred dollars a head, but few paid in advance and snow was forecast.
"Now is the D-Day," Denis said with a pronounced Haitian accent. "You don't know what to expect. So I'm praying for God to have good turnout tomorrow."
But raising money in the Haitian community has been no easier this year than any other, according to Denis. He says it is not because they are not responding, rather that they are sending whatever extra money they have to their own families.
The Multilateral Investment Fund, which tracks remittances for the Inter-American Development Bank, estimates remittances are higher than ever recorded, $1.9 billion in 2010, compared to $1.64 billion the year before. 
Sitting in his office at the Haitian radio station Radio Soleil, host Ricot Dupuy said callers to his shows tell him their pockets are empty.
"The charge on every single Haitian in the diaspora has increased significantly," he said. "Whatever contribution they used to make to their family, they've increased that." 
But he said he has been disappointed that Haitians in New York have not done more to create new institutions and a new vision for helping Haiti.
That's what Jean-Claude Denis is endeavoring to do. But he said he is thousands of dollars in the red as a result. 
"I didn't celebrate Christmas," he said. His 15-year old did not get a pile of presents.
The next night, a basement banquet hall in Queens opened its doors at 8 p.m. on a snowy evening for Korebel's Gala dinner. There were videos overhead of Korebel's school children at desks in blue and white uniforms, and a disco ball spinning dots of light onto the walls and rug. By 9 o'clock, about 30 people had arrived. 
Several of the evening's honorees did not show, and one, the activist attorney Sanford Rubenstein, had to leave early. So Denis and his team hastily turned the music down and presented him his award in front of a video camera.
Denis' sister, Sherley Cooney, started volunteering this year as Korebel Foundation's Director of Public Relations and she said she was a little disappointed at the turnout so far. Part of the problem, she guessed, might be that Haitians have Haiti fatigue.
"It feels like when you're throwing rocks in the ocean," she said. 
Cooney visited the Korebel school over Thanksgiving last year. Since the earthquake, the school has grown because so many of the others are still closed. Cooney said growth is great, but Korebel needs more money fast. As of January, some of the teachers were waiting for back pay. And the plywood and tin roof building was not going to last forever.
"There is no bathroom in the school," she said, "We have 550 kids. There is no bathroom." Then, holding back the tears welling up in her eyes, she said in a small voice, "This is Haiti."
There is a latrine next to the Korebel community center and school. But a University of Chicago anthropology student who has been teaching English at the school said, "It's full, to put it bluntly."
"Because there's a large population trying to live in small quarters," she explained.
Over the past year while working on her Ph D, Chelsey Kivland has been helping Denis grow Korebel Foundation into something he doesn't pay for out of his own pocket. It has 501c3 status now, and Kivland argues this is the kind of aid Haiti needs – support for locally run projects.
"To me that's such a big diff from sending your check to a foreign organization like Red Cross or UNESCO," she said, "Because, at the end of the day, you want your money to go to people who know what the community needs are and have the local authority to make it happen."
Sitting alone with her dinner at a banquet table near the front, a guest named Carlie Regis said that's exactly the reason she came.
"I only support what I trust," she said. And since Jean Claude Denis is a longtime friend she said, "I'm totally willing to give in Haiti but I want to give to someone who is doing good, not to put money in their pockets."
The evening included a moment of silence for victims of the earthquake, presentations about the school, a three course meal and performances by local Haitian singers. But two-thirds of the seats were never filled.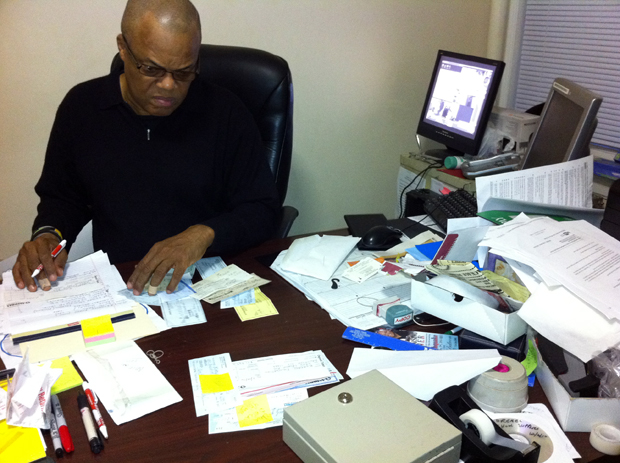 A few days later, Denis (photo left) sat at his messy desk again, tabulating the money he received in cash and checks.
Altogether, the event brought in about $8,000. That's a little more than half what Denis spent to put it on. Paying back the money he borrowed is going to be tough. But he said it was the first annual Gala and he did succeed in creating momentum for Korebel.
"I've gone broke. I've gone broke," he said. "I went over the limit in order to make sure they have a nice vision of Korebel."
But he said he was glad to be getting the word out.
"I've been getting calls from people saying they're going to send their checks," he said, optimistically.
While at his desk, a text came from the school's administrators in Haiti. It was about the money he planned to send that day for overdue teacher salaries. They each make about $100 a month.
"They told me the minute I cash it, let them know," Denis said.
Next step – a raffle. Denis has already put out posters and flyers.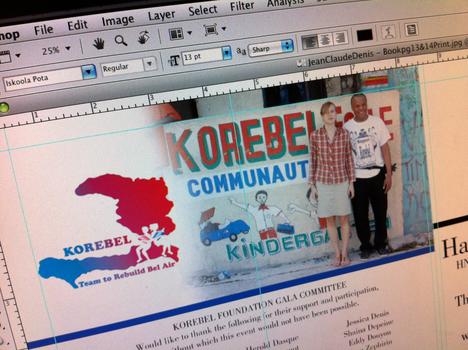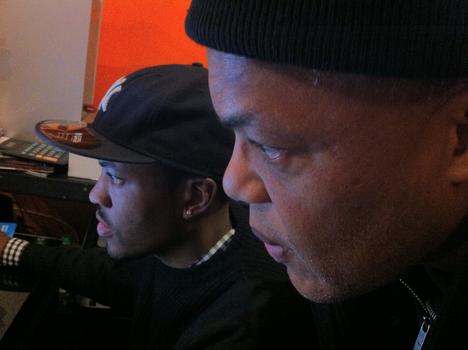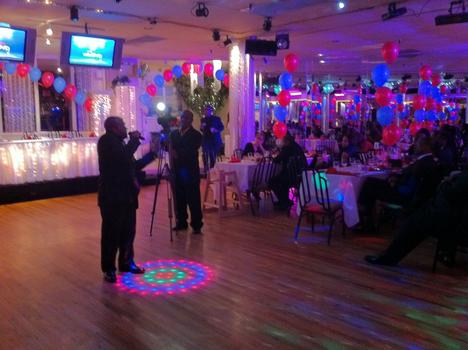 of