Comfort food often feels necessary when temperatures outside become frigid. For All Things Considered Host Amy Eddings, there's nothing like a bowl of oatmeal with a dollop of jam, a go-to produced by her father whenever she felt out of sorts as a child. Chef Vikas Khanna, whose restaurant Junoon recently opened in the Flatiron District, considers lentils to be his ultimate comfort food for when he's feeling homesick or under the weather.
"India grows one-third of lentils in the world," he says. "Actually, most of it is consumed in the country. It's cheap, it's accessible. I think that's one of the reasons it's become the comfort food of the nation."
A pantry staple that stores well, lentils are also a good source of protein in a country with a high percentage of vegetarians. Canada, however, is world's largest exporter of lentils, with most of the growing region located in the central Canadian province of Saskatchewan.
Khanna also notes that Sikh temples around the world serve the legume at traditional langar buffets, a free meal that literally feeds the masses. On a personal level, Khanna recalled that one of his earliest memories of cooking in the kitchen involved making a bowl of yellow lentils for his grandmother who was feeling ill.
"When she woke up [from her nap], I had the kitchen cleaned and I had this bowl of lentils, but it had sugar instead of salt," recalled Khanna, who was 7 years old at the time. "I just remember me throwing it out and saying this is wrong, and my grandmother said, 'No, anything made with that kind of purity can never be wrong.'"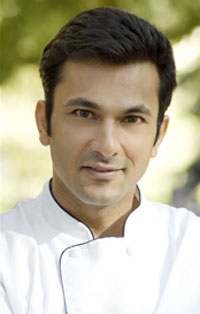 At Junoon, Khanna makes a daal that includes five types of lentils, which he soaks overnight on very low heat, a trick he picked up in India. He started running banquets in his native country, and there would always be a coal or wood-fired clay oven. After the party, the oven would still retain a good deal of heat, so he'd set a large skillet on top of it and place a bowl of lentils there to soak overnight. The process, which Khanna recommends, reduces the cooking time and, with some lentils, allows them to sprout. He said that slow-cooking the lentils also creates a creamier texture.
Khanna hails from the Punjab region of India, where culinary tradition dictates cumin seeds, and not mustard seeds, are used to season the lentils. He points out that he'd didn't even taste coconut, which is often used in Southern India's lentil dishes, until he was 16. Khanna's grandmother would also season her lentils with ginger because she said it aided digestion.
Below is Khanna's recipe for khichdi. He told Eddings, who felt stymied by the recipe's call for clarified butter, that olive oil works just fine as a substitute.

Khichdi (Lentils and Rice)
by Chef Vikas Khanna

"Khichdi is considered India's comfort food and is made in a similar style to preparing a risotto. Whenever I was sick as a child my mother would feed me this rice dish since it is healthy, easily digested and a complete meal. In this version, I have added broccoli, carrots and peas to the basmati rice and lentils. (The vegetables should be varied with the season.) Here in the U.S., I often use French green lentils. My sister will always call me whenever she feels something coming over her and ask me for some."

Serves 6
1 cup basmati rice
2 tablespoon clarified butter (or vegetable oil)
1 teaspoon cumin seeds
1 cup green lentils
1 teaspoon ground turmeric
10 cups of water (6 cups for soaking, and 4 cups water for cooking)
1/2 cup coarsely chopped broccoli
1 cup cauliflower florets
1/2 cup frozen peas, thawed
1/2 cup chopped carrots
Juice of 1 lime
1/4 teaspoon asafetida (optional)
Salt to taste
1. First rinse the rice with cold water to remove the excess starch. Then soak the rice in cold water for at least 30 minutes. Drain and reserve.
2. Heat the clarified butter over medium in a medium pot. Add the cumin and asafetida and cook stirring until fragrant, about one minute. Add the rice, lentils, turmeric and salt and stir continuously until well mixed.
3. Add the water, bring to a boil and then reduce the heat to low. Add broccoli, cauliflower, peas and carrot and stir well. Cover and cook for another 15 to 20 minutes, until the mixture has a thick consistency. With a whisk, evenly mix the rice mixture and stir in the lime juice. Serve hot.