Luxury Ships Pass in the Night
More than 100 people braved frigid temperatures to witness several massive ships passing in the night. Shifting in the cold at Battery Park, as their toes went numb, some of the shivering spectators recognized one another from the fancy dinners and drinks at the bar aboard the Queen Elizabeth, one of the three luxury cruise ships rumbling down the inky black Hudson River Thursday night.
"It's a historical thing, we started on it, and we had to see it through," said Stephanie Evans, 62, from Wales. Evans and her sister boarded the Queen Elizabeth in South Hampton eight days ago and arrived in New York Thursday morning.
They were pleasantly surprised to run into fellow cruiser, Matthew Cole, 21, from East Anglia. Together, they watched the Queen Mary II, the Queen Elizabeth and Queen Victoria, all part of the Cunard fleet, pass the Statue of Liberty under a barrage of fireworks. "You don't get that in port, so you ought to see them all off," Cole said. Although temperatures dipped in to the 20s, Cole said "it's well, well worth it."
Another passenger who recently disembarked in New York fondly described the Queen Elizabeth as, "very elegant, like going on the deck of the Lusitania." Another cruiser nearby nodded in agreement. 
The fireworks ended shortly after 7 p.m. All three ships blasted their horns as they lumbered toward the mouth of the Hudson and these passengers prepared for their first night on land in eight days.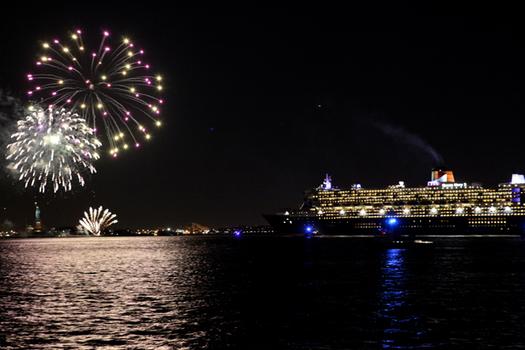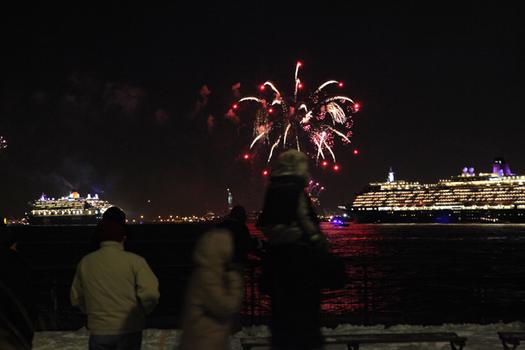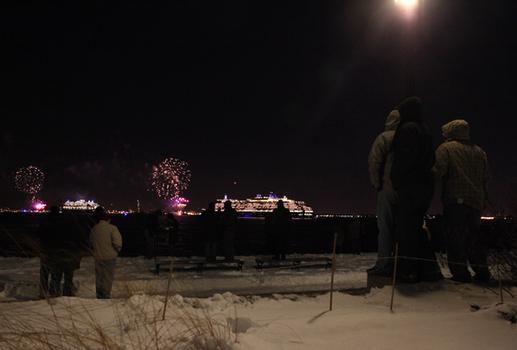 of