Master Teacher's Classes Always in Session at Chelsea High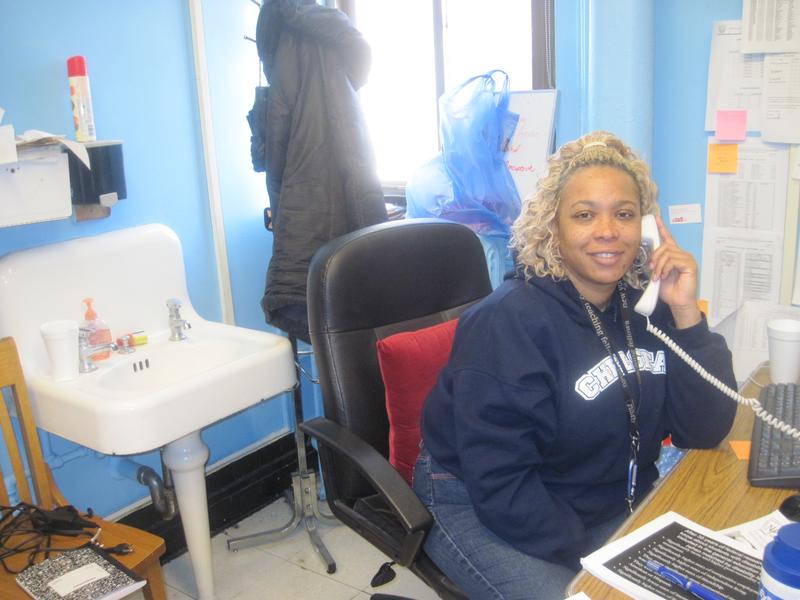 One of the hardest things about being a teacher is figuring out how to meet the needs of all different levels of students. Some are performing way above grade level while others may need intensive help just to follow along. In our ongoing series "The Big Fix," WNYC and the website GothamSchools have been looking at three low-performing high schools. WNYC is following Chelsea Career and Technical Education High School, where teacher Tonja Weary got a big promotion in September. But she's not too happy about the title.
"I hate the title of master teacher," she said. "It is the absolute worst title ever."
It's not that she doesn't think she deserves the 30 percent raise in exchange for mentoring other staffers. It's just that Weary sees an obvious contradiction.
"You're never a master in this profession," she said. "I don't know about other professions. But this profession is the one that humbles you the most."
As a special education teacher, 40-year-old Weary is particularly humbled. Chelsea now puts all of its special ed students in mainstream classes. That means almost every one of the school's 42 teachers has a special ed student sitting in his or her class.  And it's Weary's job to help her colleagues learn the tricks of the trade. At a school where only half the students graduate on time, that's a big job.
In an 11th grade history class, students sit in clusters reading about the Lincoln Douglas debates. Weary co-teaches this class. She and the history teacher have handed out two different reading assignments for the 33 students. One is an easier version printed for 12 of the students, including two with special needs. The kids don't know why they've got different handouts. Weary moves around the room and stops to helps a girl who doesn't understand Lincoln's statement that a house divided against itself cannot stand.
"What Lincoln means by this, is?" she asks the student. There's a pause. "In terms of the United States?" 
"Oh, that if we don't come together..." the student responds. Weary urges her to think about the meaning and use her own language to explain the quote. A boy sitting next to her at the cluster of desks beats her to it. "We the people," he says.
"You're right!" Weary says. "Come on. We the people..." This time the girl gets where she's going. "Yeah, if we the people don't come together it's just gonna fall apart."
"What's gonna fall apart? " Weary asks her. "The union," says the boy.
Across the aisle, history teacher Annette Raymond works with another group that has an easier time comprehending the lesson. The students at this table are stumped by the word "fiat" so they look it up in a dictionary. Meanwhile, Weary heads toward a student who's sitting alone at a desk with a computer. He needs an even easier version of the Lincoln-Douglas debate so she's found something for him online to get him thinking about state's rights and slavery in the 19th century.
Weary has been co-teaching this class for years. Raymond, the history teacher, says they spend hours each week going over what their different students can handle because some are a few years behind grade level.
"Most of our time is basically done doing the research, trying to find appropriate materials," she explains before the class begins, as they use a printer that seems to be on its last legs to make copies of those customized materials. As an example, Weary hold up a three-page reading that's single spaced.
"I would have to completely reformat this" for special education students, she explains. "I would take half of it, reformat it, so it looks different so that the students have room to write, and room to think and pauses."
Weary is in her eighth year of teaching at Chelsea. She switched careers after working on the business side of NYU's education department. Principal Brian Rosenbloom said he promoted her to master teacher because his staff needs help tailoring instruction to about 550 students performing at vastly different levels, regardless of whether they have special needs. He says about 17 or 18 percent are actually classified.
"She's running meetings in the mornings, as well as meeting with teachers individually and with groups and visiting classrooms," he said of Weary's typical schedule. "And I think it is improving the instruction in the classrooms. Is it improving the instruction in every classroom? Not yet. Will it eventually? I hope it will and I believe it will."
Some teachers left when he took over two years ago, and the school's union representative acknowledges there were tensions. But Rosenbloom said he's pleased with those who remain.
Teachers are front and center in the national debate over how to improve a struggling school. New York City and the teachers union agreed to the new title of master teacher last summer for the eleven "transformation" schools like Chelsea that are getting federal improvement grants. Those who applied were all screened by the Department of Education. At some schools the principals had been replaced and had no control over the hiring process.
But Rosenbloom's case was different. He was allowed to stay at Chelsea because he had only been there two years. He interviewed 11 applicants for the master teacher position, two of whom were already working at Chelsea, and chose to hire just one (some schools have more but overall they didn't hire as many as the city expected). The salary is $124,000. Rosenbloom preferred to spend most of his grant, which is almost $1 million annually for three years, extending the school day so kids would have more time in class. He's also using it to pay for two professional development groups to spend more time than in previous years working with his teachers.
Weary's duties as master teacher include holding meetings with other teachers at 8 a.m., a half hour before the regular school day begins, and observing them at work. All but two of the school's 42 teachers agreed to work the longer day, which Weary says indicates a good level of buy-in. Some have been teaching longer than her.
Weary also holds one-on-one meetings during the day with teachers who need more help tailoring, or "differentiating," their instruction. Graphics teacher Brian Fowler has been having a tough time because he's only in his second year so she stops to watch him with a class of juniors.
The students sit at rows of computers designing logos. Some are cruising along but one boy can barely launch the software program. Fowler stops by to give him encouragement but has to keep moving to answer questions from other students. The class is emptier than usual on this visit just a few days before Christmas break, with maybe 24 of the 32 students present. Fowler says it's hard meeting all of their needs.
"In here you have every level of kid from the special ed up to the really gifted," he says.
Weary meets with Fowler after the class. She wishes she could move the computers out of rows and into a big circle to make it harder for students to hide during class, but there are technical issues with the room that the principal is trying to address. She also counsels Fowler on adapting assignments and she singles out one student who has trouble paying attention.
"I think he has a touch of, I would say – without being diagnosed, clinically diagnosed – ADHD because he cannot stay focused for long periods of time," she muses aloud to Fowler. They talk about how the student is bright but might need an extra task during class to maintain his focus. Weary suggests maybe letting him hand out classwork and being the teacher's buddy.
Weary said she'll give this student more thought. But first she has to go teach a class. It's a lot of juggling, this new title of hers. She wishes the 100-year-old building had more space for staff meetings (her tiny office with a sink is part of what was probably once a laboratory room). Teachers are tired from working longer days and teaching Regents prep classes on Saturdays. And she said it often seems like there's never enough time to address her top concern: changing teachers' attitudes about special ed.
"Just making sure that they understand students learn differently, we need to come up with different things," she said.
And that constant challenge is one reason why, she says, even the master teacher is still learning.