Travelers Weather the Storm at Area Transit Hubs
Wednesday, January 12, 2011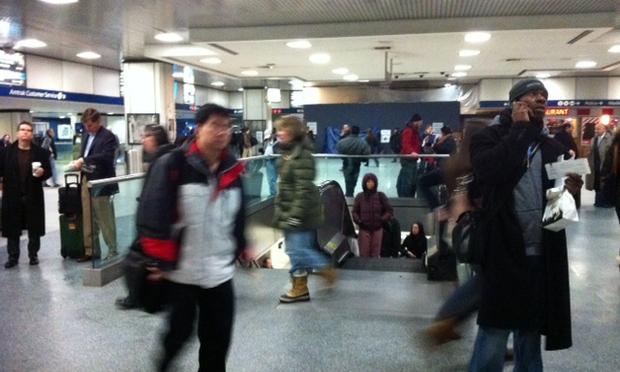 (Jim O'Grady)
Joyce and Bob Fliegel, a Long Island couple determined to catch their Caribbean-bound cruise, spent the night at Penn Station to ensure they met their departure time at a Manhattan pier -- making them among those who were waiting out the snow storm at area train stations and airports.
"We spent it with a lot of homeless people," Bob Fliegel said with the good cheer of a man leaning on a suitcase full of sunscreen and Hawaiian shirts, determined to make his cruise departing from a Manhattan Pier at 4 p.m. Wednesday.
He and his wife napped on chairs in the Long Island Rail Road waiting room until station cleaners kicked them out at 3 a.m. They then bought train tickets to Newark, which was the cheapest way to gain access to the all-night Amtrak waiting area.

"It was pretty creative," he said.

Airline passengers were not so lucky.

The latest snowstorm to hit the Northeast caused hundreds of flight cancellations at the region's three major airports. Most would-be travelers got the word about the disruptions and stayed home Wednesday morning, leaving La Guardia's Central Terminal nearly empty.

But a handful of people did get stuck at the airport. Na-nee Kim and her friends came to the airport late Tuesday night because they didn't want to miss their flight to Miami.

"We knew there was a storm, but we didn't know it would be this bad," she said, laughing. Kim and her friends ended up spending most of the night at the airport.

"It was not that bad," she said. "On the third floor, they gave us small beds."

Kim says American Airlines told them they'd have to wait until after 2 p.m. Wednesday to get out on another flight. "We'll wait and see," she said.

Another Miami-bound passenger, Larise Vidauje, said she and her boyfriend didn't find out that their 8 a.m. flight was cancelled until they got to the airport early Wednesday morning.

"We called last night about 11 p.m., and they told that the flight was on time," she said. "So we left the hotel at 5 a.m., and when we got here, they told us that all flights in New York were cancelled. They couldn't tell us anything," she said.

American Airlines booked the couple on a flight at 5 p.m. Wednesday. Vidauje said they had no choice but to spend the day at the airport.

Riders of trains and buses in the New York metro area found fairly good service at normal or reduced schedules during the Wednesday morning rush, the big exception being Amtrak's 9 a.m. cancellation of trains between New York and Boston. Drivers encountered passable conditions on major roads. They were even able to navigate down cleared city side streets that went unplowed for days during the late December blizzard.
For the latest transit information, visit mta.info
More in:
Brian Zumhagen has been a weekend anchor at WNYC since 2003. His career in journalism started in 1993, with an internship in the press office of the German Green Party's parliamentary delegation. Brian went on to spend the rest of the '90s working as a reporter, producer, and fill-in anchor at NPR member station KQED in San Francisco. He's returned to Germany several times over the years for reporting projects. Most recently, he won a grant from the Arthur F. Burns Fellowship to produce radio features for the 20th anniversary of the fall of the Berlin Wall. Before coming to WNYC, Brian was a frequent contributor to PRI's The World. He reported for the program on 9/11 and served as the show's United Nations correspondent during the run-up to the Iraq war. Brian lives in Queens with his wife and children.