From Haiti to Brooklyn: Earthquake Memoirs at PS 269
It's been exactly a year since thousands of Haitian immigrants in the New York area got word that an earthquake had shaken their capitol city to pieces. Since then, many have taken in relatives from Port-au-Prince, doubling up in small apartments to make room for a sister or a cousin. Hundreds of the newcomers are children. The New York City schools have taken in almost 800 new students from Haiti. Some are here with both parents, others left a mom or dad – or both – behind. And 12 of them have started memoirs, posted just inside the entrance to a Brooklyn elementary school.
About half the students at PS 269 are of Haitian descent and since the earthquake a dozen more have come directly from Haiti. So this week, to mark the one-year anniversary of the earthquake, Principal Phyllis Corbin pulled them into a special workshop to share their memories.
"I don't know how much talk they get to do in school about it," Corbin said. "Now they get to give that first hand account."
The students began by sharing their thoughts with Department of Ed advisor Mary Esposito. In two overlapping circles, she wrote down some of their memories of what happened in both Haiti and New York after the earthquake hit. In the Haiti circle: the smell of decomposing bodies, for example. In New York: people raising money and sending aid. In both places, the kids agreed, people were sad and upset.
Then, in white button-ups and blouses, blue skirts and slacks, the students leaned over lined paper and put in pencil their personal experiences.
A student named Nehissa wrote about friends who died at her school. "The sad part was when they found their bodies," she wrote. "Their parents were crying and I was crying too."
"I was scared," a 9-year old named Dayon said simply, when asked about his memories.
In a tiny voice, another 9-year old named Obed described the earthquake as "really bad."
"It was my city," he said, "so I was feeling very, very bad."
Some students spoke readily about their personal experiences before putting them on paper.
"I saw people that are dead and people that are still alive," Dayon said in broken English. "When I go home, my mom was crying and she left me to go see if our family is still alive." His close family members did survive, he said, but she was gone for a day before he found out.
Ten-year old Laurie was not so fortunate. "My grandma came in Haiti for a little vacation," she said, "And after the earthquake the house fell down on her." She died after eight days, Laurie said.
An 11-year old named Ann started to shiver while she described finding out from her dad that her school had collapsed.
"I was like, 'Oh my gosh. Is everybody ok?,'" Ann said, but her father told her, "'No. Your best friend died.' And I was like 'Oh my.'" "My friend died," she said plainly, "My teacher died. And my principal died too."
Some of the earthquake survivors at PS 269 cannot speak English well enough yet to tell their stories to non-Creole speakers. Others said they do not want to talk about it. Some said people tell them they should forget what happened.
Over the course of the year, the staff at PS 269 has provided Haitian kids with winter coats and boots and as much attention as possible. The school counselor, psychologist and nurse all speak Creole. Nurse Florine Cherubin said she acts as everything from translator to detective -- trying to uncover their emotions.
"Sometimes you have to remove yourself as a teacher or a nurse," she said. "You have to be their mother, you have to be their friend. And then try to draw them out."
A fifth grader named Sarah said she has a hard time erasing the images in her head.
"It just bubbles in my head and I can't do nothing about it," she said. "All the kids that died, all the persons that died, and all the schools that came down."
Sarah said she sometimes still feels nervous about her father's well-being -- he still lives in Haiti. Others expressed similar fears for the safety of family members left behind: "I'm thinking about my family," Obed said, "What's going to happen to them."
It is difficult to be far from family members, these Haitian transplants said, but they are also very happy to be in New York.
"Sad, Haiti. Happy, New York," said a boy named Cyler. And when sadness does catch up with them in New York, the students described a broad range of coping mechanisms.
Dayon said when he feels upset he has a video chat with his mom, who is still in Haiti. Laurie's dad is in Haiti, but her mom is here in New York. "I ask her if she's worried about Daddy too," Laurie said, "She says, 'Yes.' She would like him to come here to stay with us."
For the 11-year old named Ann who trembled when she spoke, a few simple remedies seemed to go a long way. "Well, I just drink hot chocolate every night for me to calm down," she said. And she said she has a new best friend: Laurie, one of the other recently arrived Haitians at her school.
Ann said, at school, she and Laurie "talk and talk and talk." And Laurie comes to her house to do homework and hang out. "So now I have somebody to help me," she said. "I have teachers to help me. I have my mother to help me. I have my friends to help me. I have my best friend to help me. And I have everybody to help me. That's great."
This week, Ann's memoir -- at least its beginning -- was posted at the entrance to PS 269, along with those of fellow students. The memoirs went up next to a comfort board students made last year, a collage of dozens of yellow hearts on which students wrote messages of hope for Haiti. One said, "I hope you feel better." Another said, "I wish they get food and water." A third, "Dad, I know you're ok."
(*PS 269 requested WNYC leave out the children's last names).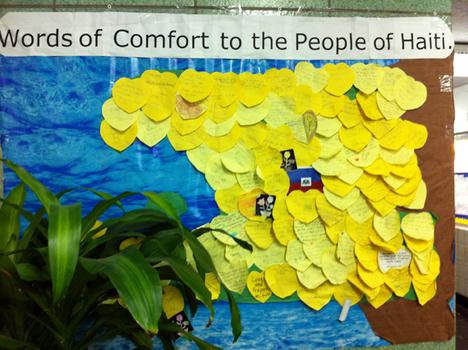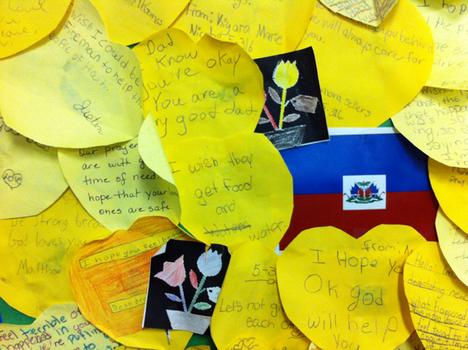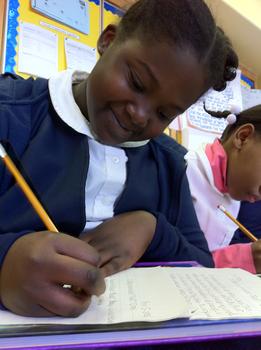 of