Archives Mixtape: The Junior Journal, 1949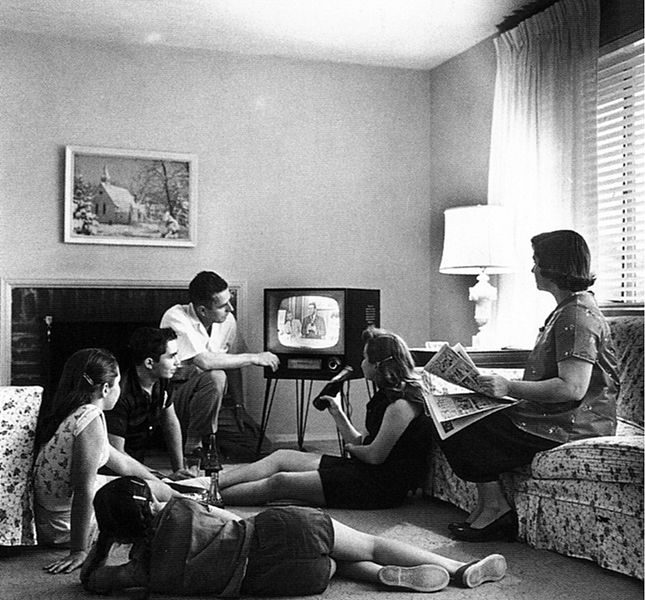 Lest you feel the NYC Municipal Archives' WNYC Collection is made up of only parades and tree lighting ceremonies, we've decided to start up a new mixtape mini-series of songs culled from the hours of archival audio we catalog.
Our first entry (er, track) is a song we're calling "Television (In My House)," a cautionary tale of the consequences of watching television with too many friends, which you might find reminiscent of The Beatles, if it hadn't been broadcast a solid decade before anyone cared about those guys.

"Television (In My House)" (okay, so our song-naming skills could use a little work) is sung by the Junior Newsboy to Mr. Junior Reporter in the only episode we've found in our collection of the children's series "The Junior Journal."
After the song, Mr. Junior Reporter runs in to the town's mail truck, Clarence, who's seen too many western television shows and is convinced he's a cowboy and the neighborhood firetruck is an Indian, and a salesman demonstrating his television-scope, a contraption whose sole purpose, it seems, is to advertise upcoming theatrical programs for children in New York.
According to our records, this episode was broadcast November 11, 1949, probably around 10:45 a.m.

There's no wealth of information about "The Junior Journal," though we found one other reference to it two months earlier as part of another children's program, "Saturday Morning Story Fair," which was produced and directed for WNYC by George Wallace.
Audio courtesy NYC Municipal Archives collection.