Injured Stunt Man Says He Will Fly Again In 'Spider-Man'
The stunt man injured during a December performance of "Spider-Man: Turn Off the Dark" attended Friday night's show at Foxwoods Theater. Despite suffering a skull fracture and broken ribs, among other injuries, Christopher Tierney bounded up to the theater's entrance and told the media, ticket holders and fans that he hoped to be flying in "Spider-Man" again soon.
"I'm walking around. I'm here today. I've just got a brace on and, like, life is great," the 31-year-old dancer and stunt man said, opening his coat to reveal a brace around his torso decorated with multicolored Spider-Men on it. "I still have my faculties and everything else. And I'll be dancing and back in the show soon."
Eighteen days earlier, Tierney was in the middle of a flying maneuver when a safety tether attached to his harness malfunctioned and he plummeted more than 20 feet to the ground. "The initial thing was...'Oh my god, something went wrong,'" the New Hampshire stunt man remembered. "It was surreal because it was a moment that I thought couldn't go wrong ever. And then it was, 'I'm going to land on my head unless I do something else.'"
Tierney, who has been dancing and acting for 20 years on and off Broadway--he played the role of dorm buddy in Julie Taymor's 2007 film Across the Universe--was luckily able to turn his body in the air so he didn't fall on his head.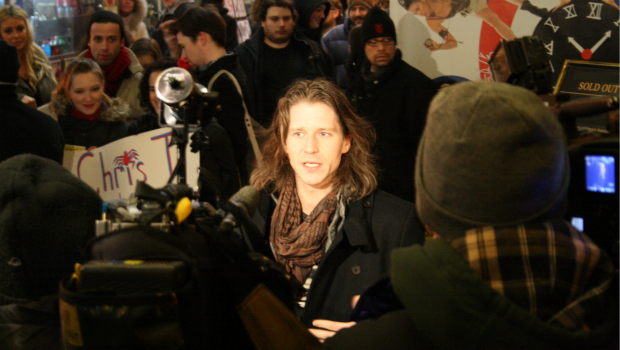 His is not the only serious injury in "Spider-Man." During the first preview performance of the show on November 28, the actress playing Arachne, Natalie Mendoza, sustained a concussion when a rope hit her backstage. Mendoza has since left the production. Two other actors suffered a broken toe and wrists during rehearsals.
By all accounts, Tierney's injury was the most serious. The show's producers canceled several performances after his fall while the Department of Labor and the Occupational and Safety Health Administration investigated the show's 38 flying maneuvers and recommended that two, rather than one, person ensure that actors were connected to their harnesses onstage.
On Friday, Tierney urged the public to have faith in the show. "Don't believe the hype of the injuries," he said. "The message I want to send is that I believe in this show. I believe in everything that's done on that stage. And I care about this show and think it's fantastic."
Some ticket holders for Friday's show were hopeful. "I'm just hoping practice makes perfect," said Brian Brennan, who bought balcony tickets for the show in October. He and his friend Alyssa Gainey had come into Manhattan for Friday night's show from Staten Island. "Even though there's been a lot of negative hype about it, hopefully it will be good," Gainey added.
Queens resident Joseph Ammendolea was not so optimistic. He said he saved up to buy a ticket when the show had officially opened, but then the producers of "Spider-Man: Turn Off the Dark" moved the official opening of the show to February 7 to allow more time for rehearsals. "I bought it [my ticket] for an actual show and they turned it into a preview and I'm a little pissed about that," Ammendolea said, who was wearing a T-shirt bearing the original "Spider-Man" from the first printing of the comic. "They're probably going to cancel it a week after opening it anyway."
City officials have also taken note of the lengthy number of preview shows for "Spider-Man," which started in November. Public Advocate Bill De Blasio sent a letter earlier this week to the city's Department of Consumer Affairs suggesting that the show was violating consumer protection laws for not making clear to ticket buyers when its preview performances were compared to when its official performances would be.
The $65 million production is the most expensive show ever to be mounted on Broadway. Earlier in the week, Bono, who composed the score along with U2's the Edge, attended the show for the first time.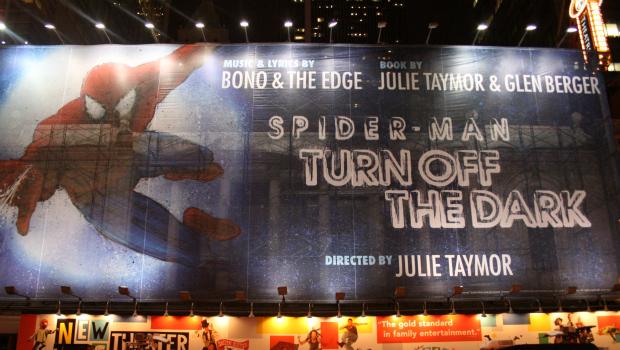 of