Snow and Tell: City Shows Off New Storm Response Gadgets
The snow may not be sticking to the ground, but the city wants the public to know that it has made improvements to its snow response.
In Crown Heights Friday, city officials gave reporters a demonstration of a new, so-called Snow SCOUT team, where mobile staffers with video cameras can stream live pictures from around the city to laptops across the city's official wireless network -- and even to Mayor Bloomberg's own iPad.
Carole Post, the commissioner of the city's Department of Information Technology and Telecommunications (DoITT), said the technology isn't new to the city, but its use for snow storms is a direct result of the December blizzard.
"We're directing [the Snow SCOUT team] from City Hall where we know there are areas that had conditions that we want to be responsive to, areas of concern from the last storm," Post said. "They're also being used to track behind the Sanitation trucks to make sure that when a Sanitation truck has cleared a path, that we're getting the right results after that."
Post said Snow SCOUT is a subset of the city's SCOUT program, or Street Condition Observation Unit, where inspectors survey each city street once a month to report quality of life issues -- from potholes and missing street signs to damaged structures to illegal dumping. Five Snow SCOUT teams were deployed in all five boroughs on Friday, with each team able to cover 60 miles of streets in a day, Post said.
In a separate pilot program, the city also put 50 GPS-equipped mobile phones on Sanitation Department's plow trucks to track their whereabouts. Girish Chhugani, executive director of DoITT, said the system updates every minute the location of each GPS phone, which also serves as a communication tool.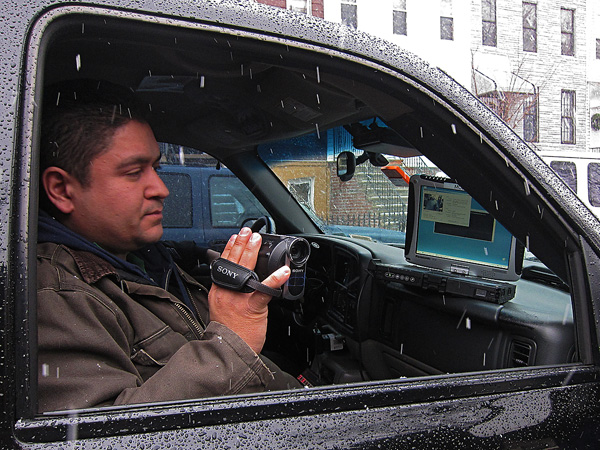 Snow SCOUT member Alan Alvarado in a police-driven Suburban streams live video back to City Hall. (Richard Yeh/WNYC)