WNYC Broadcasts From One of the First Anti-Nazi Rallies Held in the U.S.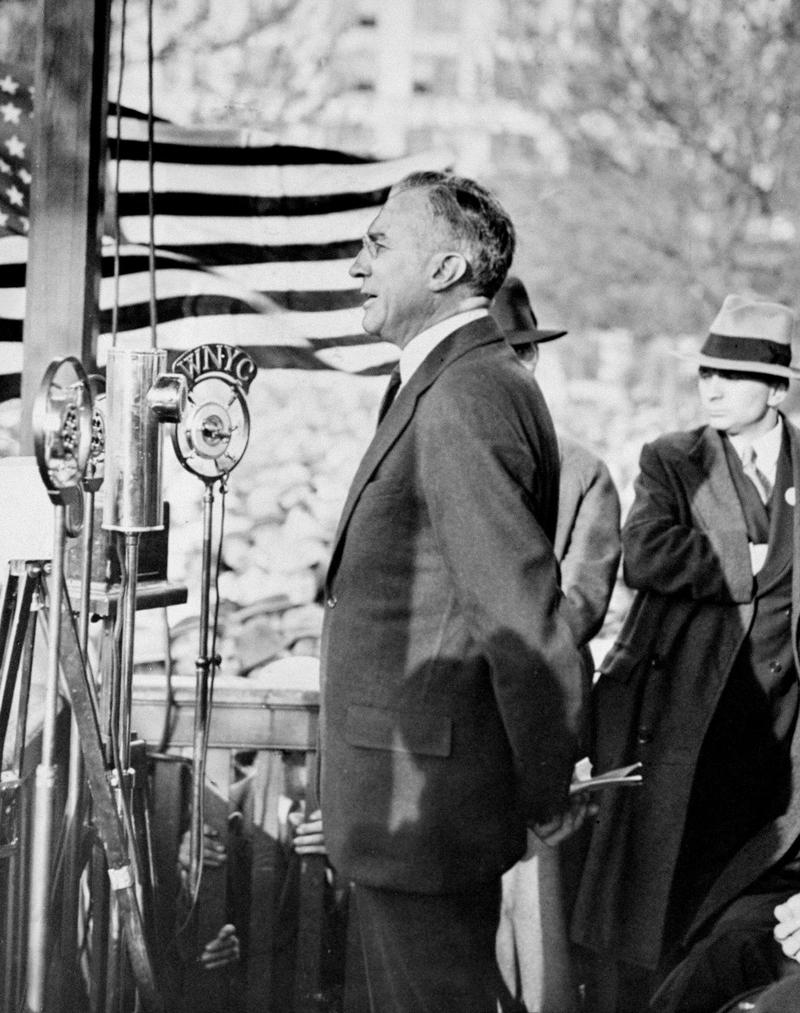 Dr. John Haynes Holmes addressed tens of thousands at an anti-Nazi rally in Battery Park on May 10, 1933, broadcast over WNYC. The Pastor of the Community Church recalled his earlier protests of the pogroms against the Jews in Czarist Russia and said, Hitler was "more cruel than the Czar."
Holmes went on to say, "Millions of American men and women today stand ready to denounce Hitler and his activities, regardless of race or creed. There is no liberty in Germany today. We are told we should not protest the persecution of Jews in Germany because it will endanger their safety there. The protest against the Hitler government is the outspoken opinion of mankind."
Pastor Holmes was joined before the microphones by former Secretary of State Bainbridge Colby, former Congressman Fiorello H. La Guardia, labor leader David Dubinsky, Rabbi Stephen S. Wise, and many other Jewish leaders. The anti-Nazi rally followed a three mile march by 100,000 demonstrators from Madison Square to Battery Park and was organized by the American Jewish Congress. The march and rally were among the first major public protests against Hitler since his coming to power several months earlier. Simultaneous demonstations were held in Chicago, Philadelphia and Paris.
Meanwhile in German university towns, Nazi youth grouths and students gathered around bonfires to burn books deemed 'anti-German' and 'anti-Aryan.' These included works by Sigmund Freud, Albert Einstein, Bertolt Brecht, Karl Marx and Thomas Mann. Rabbi Wise told radio listeners and those attending the rally, "This will stand as a tragic day in the annals of the German people, for they have done an ignoble deed which after a time they will choose not to remember, but which history will not let them forget."
______________________________________________________________________________________
Broadcast on WNYC today in:
1927: Captain Roald Amundsen and Lincoln Ellsworth are honored by the American Scenic and Historic Preservation Society at the American Museum of National History. The two flyers led an expedition which traveled by dirigible across the North Pole from Spitzbergen, Norway to Alaska in the Spring of 1926.
1945: Mayor Fiorello H. La Guardia in his regular weekly Talk to the People reads some excerpts from President Roosevelt's fourth innaugural address delivered the previous day. He introduces it this way: "I am going to talk about the patience we must have before victory comes and the fortitude to take whatever comes. Yesterday, at twelve-o-clock, the President of the United States was inducted into office. Called into service by a mighty draft board consisting of all the American people - a willing inductee who did not claim exemption for having served three previous hitches. The candidate of a political party became the President of all Americans; Commander-in-Chief of all our armed forces; the leader of 135,000,000 people at war. His is the responsibility of leadership, ours is the responsibility of cooperation and following. We must all do more, we are not doing enough. If we need inspiration, let me quote now..."
1954: The New York Herald Tribune Books and Authors Luncheon. Today's speakers are: Admiral Leslie Cark Stevens, Nebraska author Mari Sandoz and diplomat Chester Bowles.
1963: Fund for the Republic's 10th Annual Convocation. Speeches on the subject of technology by historian Lewis Mumford and Gerard Piel, Editor of the Scientific American. Admiral Hyman Rickover, Harrison Brown of the California Institute of Technology and Sol M. Linowitz, Chairman of the Board of Xerox Corporation are critical of the presentation.  
1978: Lend Us Your Ears, a series of radio programs with host Lawrence Libin. In this program guest Aldolph Herseth talks about the trumpet.  The program was produced by The Metropolitan Museum of Art Recording Archives with funds from NEA and the Ampex Corporation.
1995: The Poet's Voice: William Carlos Williams. Williams, a New Jersey pediatrician, fathered a new movement in American poetry. His verse, deceptively simple and direct, is full of observations and expansive feeling.
2007: In this edition of The No Show, Steve Post reveals yet more of his darkest secrets (what might his lightest secrets be?) as he discusses "The Sweet Science versus A Back Rub" or "How a Pacifist Learns to Love Violence." Musical selections will reflect this ominous turn of mind while studiously avoiding overt references to any recent elections, winners, losers, or whatever. Same difference.  This program is recycled from November 9, 2002, and would make really good compost.