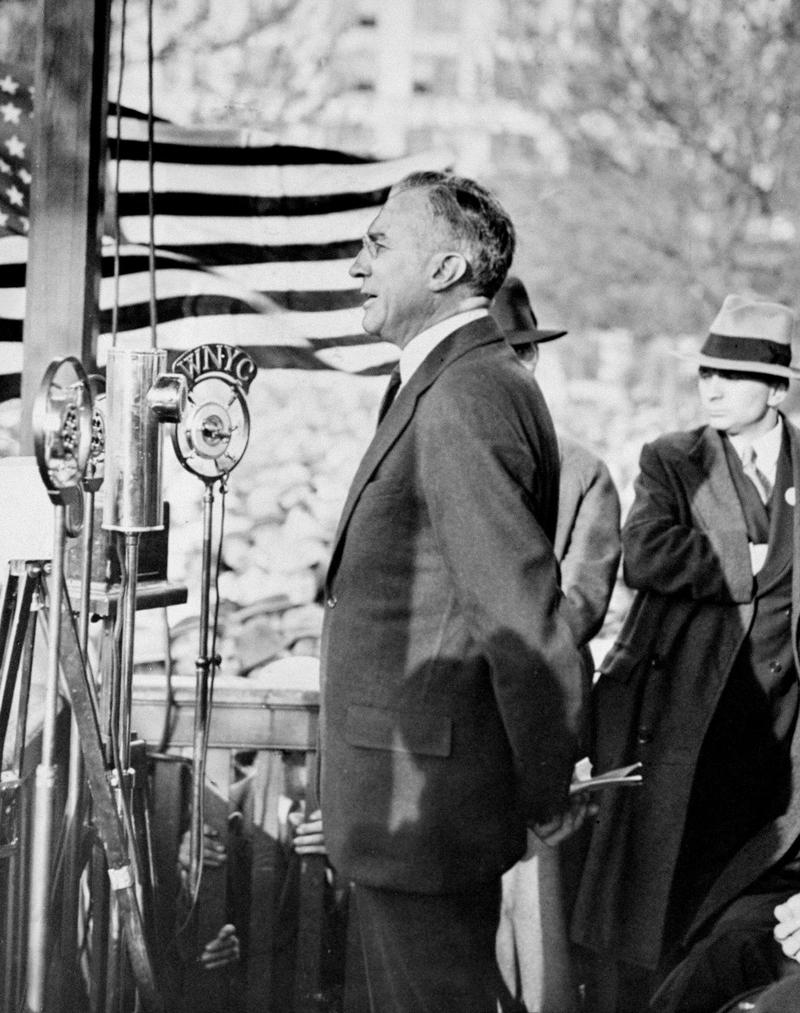 Dr. John Haynes Holmes addressed tens of thousands at an anti-Nazi rally in Battery Park on May 10, 1933, broadcast over WNYC. The Pastor of the Community Church recalled his earlier protests of the pogroms against the Jews in Czarist Russia and said, Hitler was "more cruel than the Czar."
Holmes went on to say, "Millions of American men and women today stand ready to denounce Hitler and his activities, regardless of race or creed. There is no liberty in Germany today. We are told we should not protest the persecution of Jews in Germany because it will endanger their safety there. The protest against the Hitler government is the outspoken opinion of mankind."
Pastor Holmes was joined before the microphones by former Secretary of State Bainbridge Colby, former Congressman Fiorello H. La Guardia, labor leader David Dubinsky, Rabbi Stephen S. Wise, and many other Jewish leaders. The anti-Nazi rally followed a three mile march by 100,000 demonstrators from Madison Square to Battery Park and was organized by the American Jewish Congress. The march and rally were among the first major public protests against Hitler since his coming to power several months earlier. Simultaneous demonstations were held in Chicago, Philadelphia and Paris.
Meanwhile in German university towns, Nazi youth grouths and students gathered around bonfires to burn books deemed 'anti-German' and 'anti-Aryan.' These included works by Sigmund Freud, Albert Einstein, Bertolt Brecht, Karl Marx and Thomas Mann. Rabbi Wise told radio listeners and those attending the rally, "This will stand as a tragic day in the annals of the German people, for they have done an ignoble deed which after a time they will choose not to remember, but which history will not let them forget."