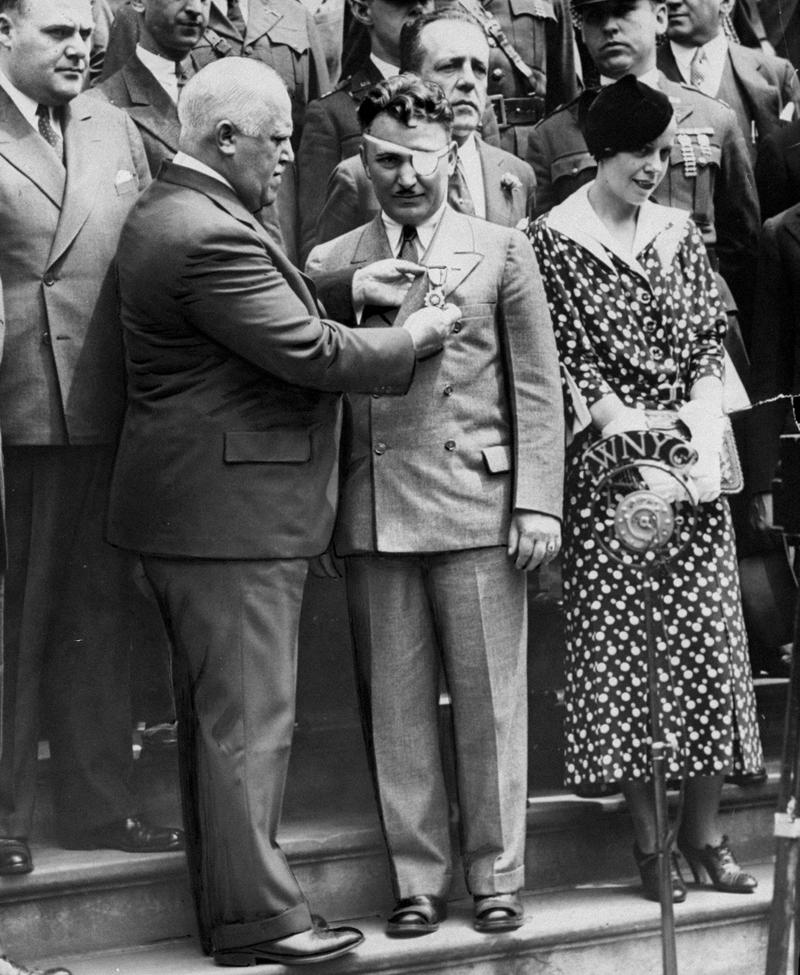 New York Mayor John P. O'Brien* pinned a gold medal on Wiley Post, 'round-the-world flier' on the steps of City Hall, July 26, 1933. Post's wife Edna Mae is on the right behind the WNYC microphone.
This was Wiley Post's second flight around the world. Two years earlier, he and navigator Harold Gatty circumnavigated the globe in just under nine days. This time, however, he was alone, aided only by the plane's radio compass and auto-pilot supplied by the Sperry Gyroscope Company. The York Times to wrote: "He will ride around the world on radio waves while the robot flies the plane."
Post took off from Brooklyn's Floyd Bennet Field on July 15th, bound for Berlin. Twenty-six hours later, a new world record was made. The aviator made 10 more stops between Berlin and Brooklyn for repairs and various mishaps. Fifty thousand people greeted him when he landed at Floyd Bennett Field at 11:50 PM, July 22, 1933. He had knocked 21 hours off his previous record, completing the solo flight in seven days, nineteen hours.
Post told those gathered and WNYC listeners, "I would like to express my appreciation of your enthusiasm. Thank you very much." The Mayor compared Post's flight with the voyages of Ferdinand Magellan and Sir Francis Drake. "How fast the world moves," O'Brien said, "and how fast you move around the world." Following the City Hall ceremony, WNYC coverage of Post continued at the Advertising Club of New York, where he was lauded by aviatrix Amelia Earhart and called "an iron man with a stout heart" by Thomas Morgan, President of the Aeronautical Chamber of Commerce. The modest aviator told the assembled and those listening on the radio, "When I look back on the cooperation I had before, during and after the flight, it makes me realize that my part, after all, was not very much." Post thanked the equipment manufacturers, his friends, the oil companies and the landing fields for making his journey possible. This flight won Post the coveted Harmon International Trophy, a feat shared with Lindbergh, Igor Sikorsky and James Doolittle.
*Note: Shortly after the resignation of Mayor Jimmy Walker in 1932, Tammany Hall nominated John P. O'Brien for Mayor in a special election. O'Brien prevailed over write-in candidate (and Acting Mayor) Joseph V. McKee by more than 500,000 votes.
_______________________________________________________________________________________