The Lodown
Please Explain: Tests – The Answers, Revealed
For today's Please Explain, we asked you to take a look at some sample SAT and New York State Exam questions. We'll be discussing the answers during the segment, but we didn't want to keep you waiting for too long! Below, the answers, revealed. Let us know how you did in the comments!
EARLY SAT QUESTIONS:
VERBAL:
1. Select the two words that are opposite in meaning: (from 1934 test)
                        1. Gregarious  2. Solitary  3. Elderly  4. Blowy
Answer: 1,2
2. Select the two words that are most nearly opposite in meaning: (from 1943 test)
                        1. Divulged     2. Esoteric  3. Eucharistic  4. Refined
Answer: 1,2
MATH:
1. (From 1934) Write the answer to these questions as quickly as you can. In solving the problems on geometry, use the information given and your own judgment on the geometrical properties of the figures to which you are referred.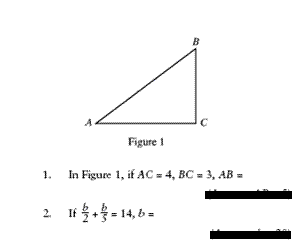 Answer: 1. AB = 5; 2. b = 20
2. (From 1943) If 4b +2c = 4, 8b – 2c = 4, 6b-3c = (?)
                        (a) -2   (b) 2     (c) 3     (d) 6     (e) 10
Answer: B

QUESTIONS FROM THE SAT TODAY:
            Critical Reading: (Sentence Completion)
Geysers vary widely: some may discharge _______, whereas others may have only a brief explosive eruption and then remain _________ for hours or days.

Violently…dangerous
Continuously…quiescent
Spontaneously…unpredictable
Regularly…active
Faintly…imperceptible
Answer: B
Only after the campaign volunteers became aware of their candidate's questionable motives could they recognize the ______ statements made in his seemingly _______ speeches.

Insightful…astute
Partisan…callous
Cordial…hostile
Duplicitous…candid
Cunning…surreptitious
Answer: D
            Math:
If a positive integer n is picked at random from the positive integers less than or equal to 10, what is the probability that 5n +3 ≤ 14?
(a) 0           (b) 1/10            (c) 1/5              (d) 3/10            (e) 2/5
Answer: C
If t is a number greater than 1, then t2 is how much greater than t?
(a) 1           (b) 2                 (c) t                  (d) t(t-1)          (e) (t-1)(t+1)
                              Answer: D
NEW YORK STATE 8TH GRADE TESTS:
Answers to the math exam are available here; answers to the ELA exam are available here.