First Impressions: Cuomo and the State Senate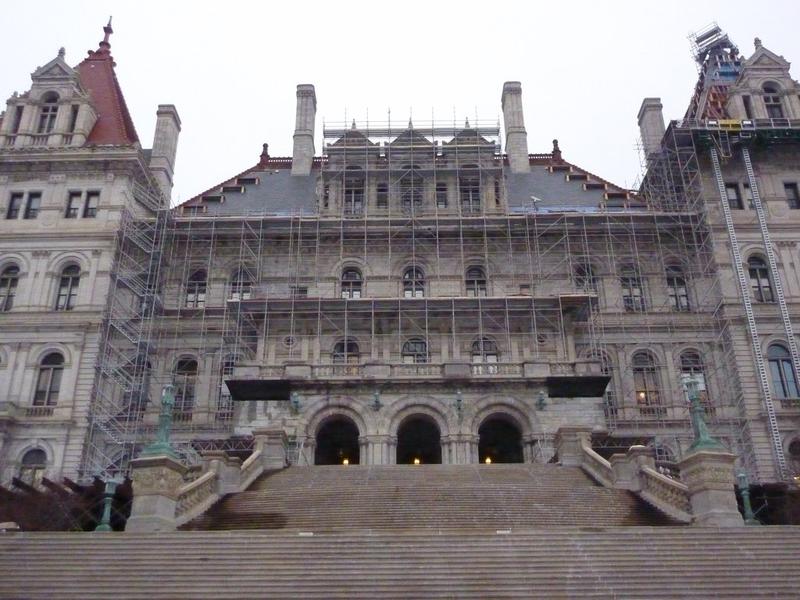 Welcome to Politics Bites, where every afternoon at It's a Free Country, we bring you the unmissable quotes from the morning's political conversations on WNYC. Today on The Brian Lehrer Show, two State Senators, Democrat Liz Krueger of Manhattan and Republican John J. Flanagan of Suffolk County, look ahead to working with Governor Andrew Cuomo.

Officially, it's still all niceties and talk of cooperation in Albany, but as Andrew Cuomo fills in the lines on his proposals and pledges to "rightsize government," there are sure to be more than a few fights in the halls of the Capitol.
First, there's Medicaid, a perennial and fierce battle in Albany. The Wall Street Journal reports that Cuomo's looking to cut state funding for Medicaid by $2.1 billion, which would mean a $4 billion hit to the program with the loss of federal matching money. That would keep state funding at current levels, but because the stimulus money is expiring, New York's share of Medicaid bills would increase.
Sen. Krueger said that "we know we've had a huge Medicaid problem," but as this debate starts up again, she said it's important not to lose sight of who relies on these services.
Medicaid is a program for the poor, the elderly and disabled, and technically, in New York State, while elderly and disabled representatives are 24 percent of enrolles, they consume 72 percent of the dollars. When you ask about cutting Medicaid, we just have to remember, the math is there, that we're talking about cutting funds for the elderly and the disabled.
There is lots of potential for wonky reworking of regulations, including using tools in the federal health care overhaul legislation to "shift responsibility," pass on the bills to the feds.
But Sen. Flanagan made sure that even if deck chairs get arranged, there's going to have to be some discussion about whether the state can afford to cover the same services and populations.
I don't think there's been a hard enough discussion about some of the services we provide to residents all across the state of New York compared to other states. We're spending about a billion dollars a week on Medicaid, so when you have a 10 billion dollar deficit, anyone who thinks we're going to somehow walk away from this problem without touching Medicaid is divorcing themselves from reality.
Governor Cuomo campaigned on bringing New York's "costs more in line with other states" — but details on how he wants to do that remain sketchy.  
One area where Cuomo's been crystal clear is his support for letting a a higher income tax rate for wealthy New Yorkers expire at the end of the year.
Cuomo loses Sen. Krueger on this one, or as she put it, "here's where I hope to have substantive conversations with Governor Cuomo." Kreuger says when the temporary bump on taxpayers earning $200,000 and $500,000 was put in place, legislators assumed the Bush era taxes would be ending this year too. Then, President Obama and Senate Republicans made their famous deal.

We believed the federal government would be doing the reverse, and we could draw on some more money from the feds. Since they have taken the wrong action, increasing the likelihood of our local deficit here in New York State, I think we have to revisit the question of whether this is the time to also do an additional state tax cut for the wealthiest, when they are holding on to the enormous federal deduction in their taxes.   
Sen. Flanagan says that will only add to the perception that New York has become too expensive a state in which to live and start a business – driving wealthier tax-payers out of the state.
That's another reason Sen. Krueger says Congress' tax deal made life harder for legislators, because rather than all playing with the same rules, legislators in every state will have to figure out how to pay for government while looking over their shoulders to see if statehouses across their borders will lure residents will lower tax rates.