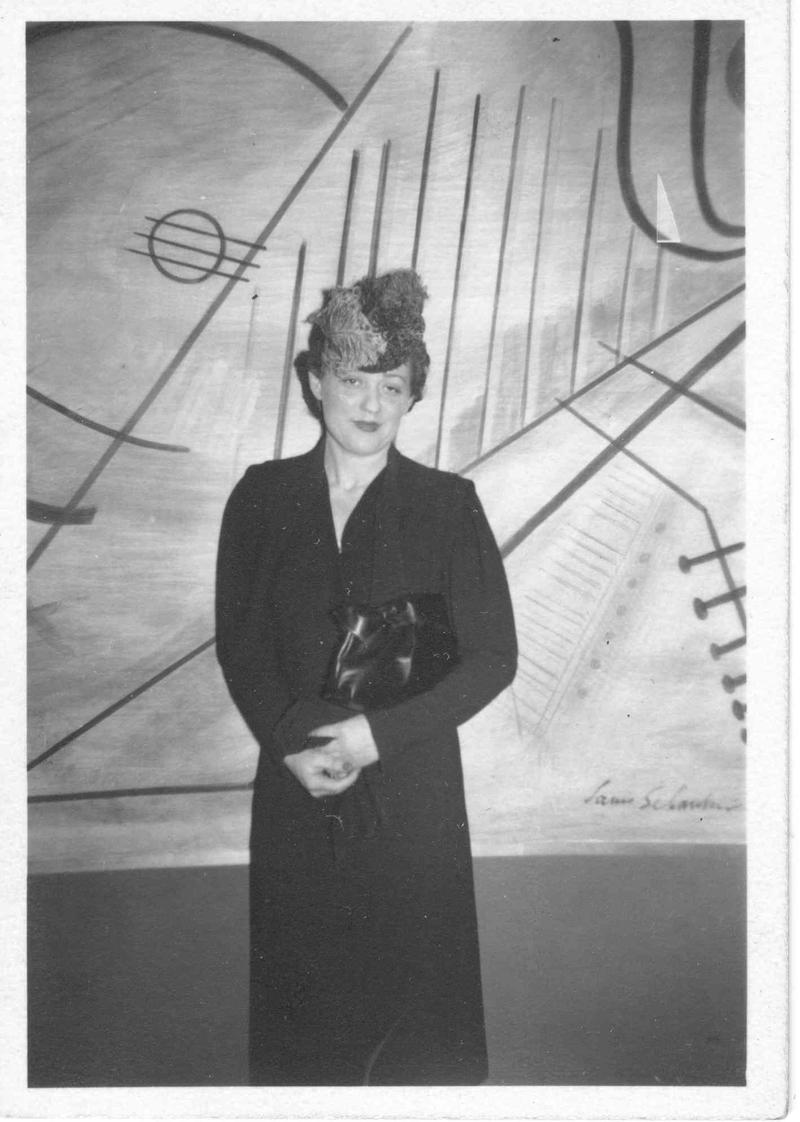 Concert pianist Nadia Reisenberg standing in front of the Louis Schanker WPA mural at WNYC, April 25, 1942.*
In 1921, Reisenberg played her first orchestral concert: the Rimsky-Korsakov Concerto with the Warsaw Philharmonic under Artur Rodzinski, who was also making his conducting debut. Reisenberg was the sister of theremin player Clara Rockmore and the mother of WQXR's Robert Sherman, whom we thank for this wonderful snapshot. For more information on the reknown sisters check out The Nadia Reisenberg and Clara Rockmore Foundation.
*While we've been unable to document if Reisenberg actually performed on WNYC that April 25th  we can't fathom any other reason for her being at the station. We do know, however, that later that year, December 13, 1942, she was on WQXR as part of a War Bond Concert. She performed that day with the Perole String Quartet and cellist Joseph Schuster. Abram Chasins was the musical commentator and Henry J. Taylor the guest speaker. Works by Rachmaninoff and Gliere were played.  
___________________________________________________________________________________
Broadcast on WNYC today in:
1927: The New Year's Eve broadcast begins at 7:20 p.m. with a selection by a police quartet and WNYC Musical Supervisor Herman Neuman at the piano. There are contributions by French soprano Blanche Mauclair and the Geluso Mandolin Quartet. Harriet Weems delivers an address entitled,  A New Year at 9 p.m. and Professor R.E. Mayne delivers a New Year's Greeting. The talk will be part of the 'Air College' series at 10 p.m.
1939: American music is presented in a concert under the auspices of the National Association of American Composers and Conductors, with Herman Neuman directing the orchestra and Sigmund Spaeth as the commentator. The works performed are: Arrowmakers Overture by Elliott Schenck; Pinocchio Suite by Mabel Wood-Hill; and Entrance of Montezuma from Azora, by Henry Hadley.  
1949: A Man Without A City, a civic-minded drama where a leaky faucet leads a stubborn man down the path of being very sorry for getting what he wished for: a life without city agencies or government involvement. Without them, he finds that accomplishing anything is impossible.
1956: The Harvest Years reflects on the past year in health, with NYC Health Commissioner Leona Baumgartner. Also heard are two poems read by Robert Frost and reflections on Pablo Casals in  his 80th year. Casals selections.
1962: Under the auspices of the American Society of Composers, Authors and Publishers, composer Jay Gorney discusses writing for the musical theater, with questions from the audience. Gorney began his songwriting career on Tin Pan Alley just after serving in World War I. He contributed songs to musicals by the Shubert brothers. He was introduced to lyricist Yip Harburg, who became a frequent collaborator. Their most famous song was Brother, Can You Spare a Dime? for the 1932 production of New Americana.  Gorney's 2005 biography, Brother, Can You Spare a Dime? The Life of Composer Jay Gorney, was written by his widow Sondra.
1984: Small Things Considered presents a Peabody Award-winning entry for WNYC. The Peabody Committee said of it: "In recent years, radio programmers have tended to overlook a very important part of the listening audience: children. WNYC Radio is a notable exception. Small Things Considered is a live three-hour daily radio program designed especially for children ages 6 to 12. The program successfully combines contemporary, classical and children's music with bright, informative and creative educational segments. There is also telephone dialogue between the hosts, Kathy O`Connell and Larry J. Orfaly, and children who live in the station's listening area. For catering to an oft forgotten audience with a program that is both entertaining and educational and for regarding children as an important and worthy audience for radio…"
Note: In light of the similarity to the name All Things Considered and some noted discomfort from National Public Radio, WNYC agreed to change the name of the program to Kids America. 
1999: As the new year, decade, century and millennium approach, it is only natural to be looking ahead. But moving forward is a lot easier, as Sara Fishko tells us, if you're really finished. Here's the next Fishko Files.
2000: Richard Hake presents the year in review.