Blizzard Slows Down New York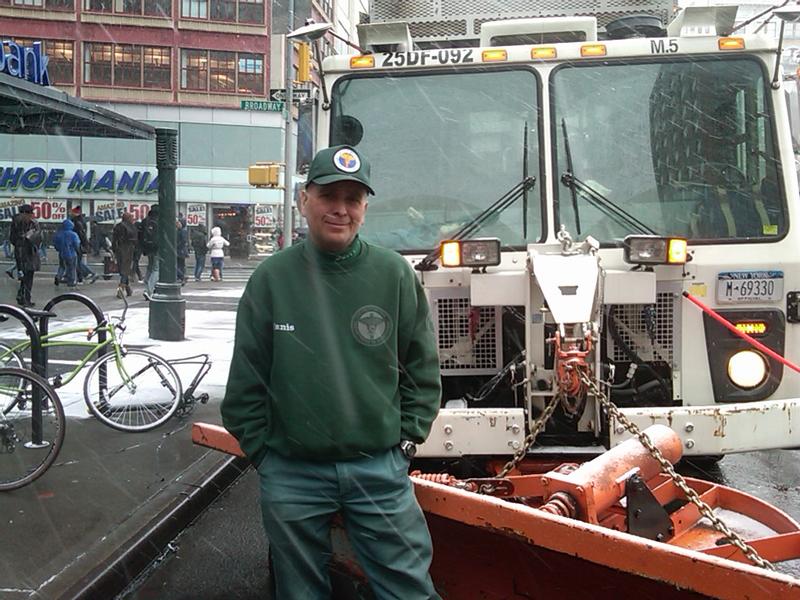 The first storm of the winter rolled through the New York City metro-area on Sunday, bringing heavy winds and predictions of up to a foot of snow by Monday.
Sanitation crews scheduled 12-hour split shifts, with 365 salt spreaders and 1600 plows ready to clear the snow from main roads in time for the Monday morning commute. For workers who thought they had Sunday off, the blizzard meant an early end to their holiday weekend. Sitting in a snow plow on East 14th Street in Manhattan, Edward Yanis said he's working from 7 a.m to 7 p.m. He said his wife isn't happy but that's the nature of the job.
"It's a job that we have to do you know, and I'm proud of doing it. We keep the city clean from the snow and that's a priority for us."
Those not working were free to shop. Craig Baron stood in line outside the Paragon sporting good shop before the store opened at 11 a.m. to buy snowpants and boots for his three-year old son Jonah. The boy said he couldn't wait to play outside because he wanted to "make snow angels! And make snowflakes."
His father corrected him, saying "snowballs."
Those looking for sales were disappointed but ear wraps appeared to be selling strong, along with sleds.
Crowds around Union Square were thinner than usual, though. Managers at the Max Brenner chocolate shop and ShoeMania declined to comment. But neither store looked busy for a Sunday -- especially during a holiday weekend. Jackie Rivera of the Bronx went to the Filene's Basement and DSW complex to buy some snow boots. She said it definitely wasn't a normal Sunday.
"Even Sunday is busy, even when it's 30 degrees," she said. "But today I guess because it's been a long, big holiday crowd it's been so light. This is my first time seeing this area like this."
With the mayor urging people to stay off the roads, the blizzard also meant a bad day for taxi drivers. Outside the W hotel, Qaisar Saed said he's going home early because flights are cancelled and people aren't out and about.

"You're going to have holiday crowd folks who are stranded or they want to leave somewhere, they're going to be on the road too," he said. "I'm increasing misery, you know. If I can avoid it I'm going to avoid it, so I'm going to go."
He added that having Christmas fall on a Saturday was especially hard for taxi drivers, because so many New Yorkers left for a long weekend. He said he made less than $70 on Saturday.
Some retailers say the blizzard couldn't have come at a worse time. The week between Christmas and New Year's is a critical one for sales.

In SoHo, Mindy Garrett said she came from Florida to help run her daughter's clothing store, Bundle, for children. She said she was the only customer on Sunday. "I bought three items to entertain myself for my niece in Florida, Ella, and there wasn't a single sale and I think there were two people who came in just to warm up a little bit," she said.

Still, she said she's hopeful customers looking for sales will return once the snow stops and the sun comes out. After all, she said pointing to a rack of colorful clothing, they might need winter clothes for their babies and toddlers.