The Story of "Silent Night," c. 1945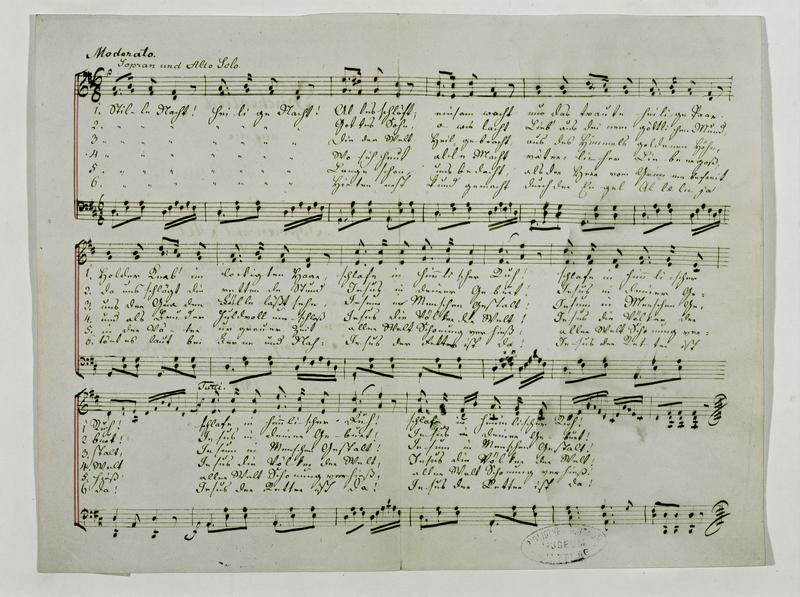 In this 1945 WNYC broadcast, Austrian born Marie Lemmermeyer tells the "one true story of 'Silent Night'."
Mrs. Lemmermeyer, who was born in the Austrian village of Oberndorf (where Franz Grüber set to music the words by Father Joseph Mohr), says that she knows this story is true because it was told to her by people whose parents and grandparents attended the carol's first performance at the Church of St. Nicholas on December 24, 1818.
In her recounting Father Mohr, distressed by a broken organ and the potential of a Christmas mass without music, wrote the words of "Silent Night." He then took this poem to his friend, village organist Franz Grüber, who picked out a guitar melody on his guitar. The first performance, arranged for a soprano and alto duet with guitar accompaniment, was loved by all in attendance. The song quickly became very popular throughout the village, and when a "wandering Tyrolean theater group" came through town they helped to spread "Silent Night" throughout Austria and Germany.
Despite Lemmermeyer's assurances that her story is the authentic one, there is evidence that it is not entirely true. In Franz Grüber's "Authentic Account of the Origin of the Christmas Carol, 'Silent Night, Holy Night!'" he indicates that rather than a soprano-tenor duet, the performance was in fact a duet between Mohr, who sang the tenor part and played guitar and Grüber himself, who sang bass.
Furthermore, in 1995 a score of the song was discovered, signed and dated by Father Mohr, which indicated that he actually wrote the words to "Silent Night" two years earlier -- in 1816, while living in Mariapfarr, which at the time was suffering greatly following the Napoleonic wars. The Silent Night Association also notes that during this period the ecclesiastical Principality of Salzburg, which had "lost its status as an independent country and was forced to secularize" was divided between Bavaria and Austria – effectively separating the village of Oberndorf from the town center Laufen. All of this contributed to a deflated economy without much hope for economic improvement. Perhaps it was the effects of a two-decades-long war coupled with the low spirits of his congregation which inspired Mohr to turn his somber and sweet words into a Christmas carol.   
In 1914, "Silent Night" was sung simultaneously in French, English and German by troops during the Christmas Truce of World War I. It has been translated into over 45 languages and has been recorded by over than 300 artists.
Audio courtesy NYC Municipal Archives collection.