'Spider-Man' Producers Implement New Safety Controls
The producers of the musical "Spider-Man: Turn Off the Dark" canceled Wednesday night's performance, following an incident on Monday night in which stunt man Christopher Tierney plummeted over 20 feet into the orchestra pit.
The most expensive musical in Broadway history--$65 million--has been plagued by cast injuries and production delays. In addition to Tierney, who was rushed unconscious to Bellevue Hospital Monday night, three other actors have been injured doing the show's aerial stunts. To allow time to work out the safety controls, Director Julie Taymor and her company pushed the opening date of the show to February 7th (the musical was originally scheduled to open in previews this past February), citing injuries, creative changes in the show's storyline and an ambitious score by U2's Bono and the Edge.
The New York State Department of Labor spent Wednesday at Broadway's Foxwoods Theater with the producers and Occupational Safety and Health Administration officials, examining the safety protocols for the show's 38 flying maneuvers. "We took a look at the procedures they were using in the various aerial acts and focused on situations where the actor was tethered and in a harness," said Maureen Cox, the labor department's director of safety and health, at a press briefing Wednesday afternoon. "We saw we needed to tighten up the controls."
The Department of Labor had originally approved the show's safety equipment in mid-November. But on Wednesday, Cox admitted that the show's aerial stunts were the most intricate she had ever seen in a production.
The labor department added that the aerial safety system was to blame for Tierney's injury, and not human error as the Actors' Equity Association said in a statement on Tuesday. Going forward, it recommends that two separate stagehands make sure that "Spider-Man" actors are properly attached to their harnesses, and that there be more communication between actors and stagehands. "We're working on the language to sign off on that it's safe," said Cox. "At this point, we're satisfied that they have implemented the appropriate procedures."
The show's producers decided to cancel Wednesday's matinee and evening performances to rehearse with the new safety procedures in place. Ticket holders who purchased tickets for Wednesday shows through Ticketmaster will get automatic refunds. If tickets were purchased at the box office, customers can exchange tickets or get a refund there.
"Spider-Man: Turn Off the Dark" performances are scheduled to resume Thursday evening. Balcony tickets start at $75; orchestra and flying circle seating starts at $145.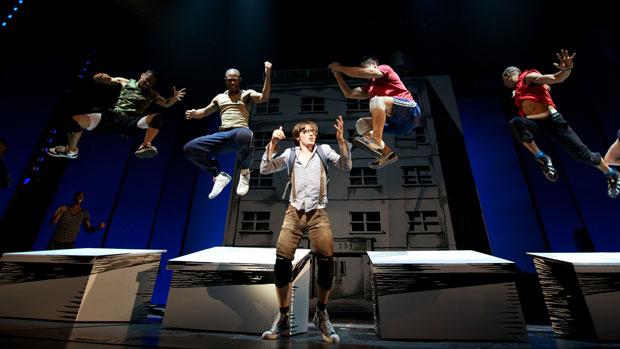 of