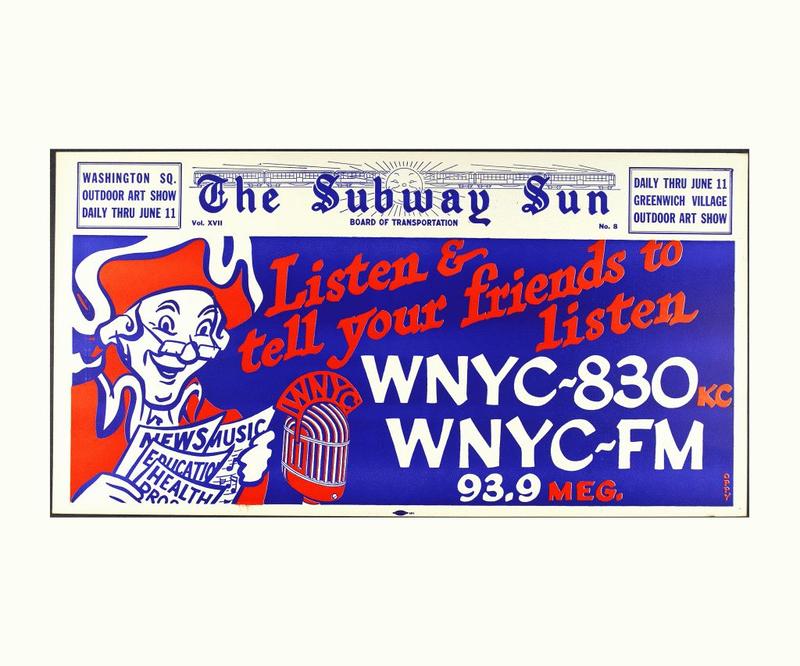 A 1950s era New York City subway advertisment for WNYC by Amelia Opdyke Jones, a.k.a. "Oppy". Oppy was the cartoonist  behind a twenty-year run of subway posters and advertisments beginning in 1946.
The figure pictured here is Father Knickerbocker, a fictional character historically used to represent New York City much like Uncle Sam represents the United States.  The Subway Sun, a placard 'newspaper,' was often a lesson in subterraean equiette admonishing riders to not to litter or spit. Oppy's work has been chronicled on several sites, among them: Subway Art Blog and Forgotten NY Subways.
Note: WNYC-AM's frequency shifted over the years. It began at 570 kilocycles (kc), and then moved to 810 kc, 830 kc and finally settled at 820 kc in 1990.
_____________________________________________________________________________________
Broadcast on WNYC today in:
1927: Mayor James J. Walker delivers his Christmas message. "In taking this method of expressing my Christmas greetings to the people of New York City, I cannot but marvel at the wonderful things that science has accomplished for the human race, not the least of which is this phenomenal instrument of thought communication by means of radio transmission..." The Mayor shares the WNYC Christmas Eve program with the Harmony Trumpeters, who play Christmas carols.  
1939: Christmas concert by the City Symphony and Manhattan Chorus, with Eugene Plotnikoff conducting and Louis Kroll as the Choral Director. Works by Franck, Berlioz, Tchaikovsky, Rachmaninoff and Rimsky-Korsakoff are performed.
1942: Christmas tree lighting at Madison Square. WNYC Reporter Joe Fishler is on location marking the anniversary of the world's first outdoor community Christmas tree. The broadcast is sent overseas via shortwave. "This afternoon's ceremonies are living proof that, despite what you may have heard from our enemy propagandists in Germany, to the contrary, we here in America still have Christmas trees and will keep on having Christmas trees as long as there is a United States of America." Listen to the full broadcast at: ANNOTATIONS.
1956: Eleanor Roosevelt addresses the New York Urban League. The former First Lady talks about civil rights and integration. She tells her audience and WNYC listeners that segregated schools are never equal and that if the North does not do its part, it will be far easier for the South to go on with Jim Crow and segregation. Roosevelt declares that the South must give protection to every citizen who wants to vote and asks, "How can we talk of democracy around the world when the world tells us you care only for white people?"
1961: The Challenge of Space Flight: Communication and Navigation Satellites. Irwin Hersey, Editor of Astronautics and Director of Publications for the American Rocket Society, has as his guests: Sidney Sternberg, Chief Engineer on the Tiros Weather Satellite Project; F.W. Reichelderfer, Chief, U.S. Weather Bureau; John R. Pierce, Director of Research, Bell Laboratories; Arthur R. Kantrowitz, Director, Avco Everett Research Lab; James E. Webb, Administrator, NASA; Arthur Clark, science writer; Hugh L. Dryden, Deputy Administrator, NASA; and F.J. Krieger, Physics Dept., Rand Corporation.  The Challenge of Space Flight was produced by Harold K. Halpern and Bob Costigan.
1997: Seymour Hersh talks to Leonard Lopate about his book, The Dark Side of Camelot. We also hear from Bill Geist, who shares his fears about turning 50, and Dr. Jerome Groopman on how people deal with life-threatening illness.
2000: "If you like to pretend that the holidays are not happening, then maybe you also celebrate what's known as Jewish Christmas: a movie and Chinese food. Well, somehow word got out. These days, movie theaters and Chinese restaurants are crowded on Christmas Day. Just as non-Christians have co-opted Christmas as a secular holiday, Christians seem to have co-opted Jewish Christmas. So if you can't beat 'em, join 'em, right? Today, on The Next Big Thing we acknowledge, to one degree or another, that there is not only Christmas but an overlapping of three holidays celebrated by the world's main monotheistic religions."