Three to See: Catch These Broadway Plays Before They Close
Smaller, lesser-known shows in New York are often the least expensive, most interesting way to see theater. But when it comes to spectacle, the scale and scope of Broadway is nearly impossible to match. Here are three plays whose curtains are set to fall just after the New Year. We think seeing these before they close is worth your while.
"Next to Normal" It won a Pulitzer Prize. It was nominated for 11 Tony Awards. Nobody needs to tell you that "Next to Normal" is an exceptional example of musical theater. I'm here to tell you to run–don't walk, don't Tweet about it. Get a ticket to "Next to Normal." As a family grapples with a mother's mental illness, the jangled nerves and unhealed anger of familial conflict are perfectly couched in the music by Tom Kitt and in the book and lyrics by Brian Yorkey. The music supports the drama of the play to the point where it almost disappears, so that the song itself becomes a transparent vessel for the emotional truths within it. The dramatic beats of the play—teenage love, a marriage falling flat—resonate with 21st century leitmotifs, like acoustic guitar lick reminiscent of James Taylor or a jangling piano riff à la Billy Joel. Like watching the World Cup, the Superbowl or the New York City Marathon, seeing athleticism at the highest level is thrilling, and Marin Mazzie is an Olympian athlete in this play each night she walks out onstage. Though Alice Ripley originated the role of the mentally ill Diana, and won the Tony for Best Performance by a Leading Actress, Mazzie's knowledge of her vocal and emotional instrument is exceptional. She reels and rants, blubbers and collapses, yet her voice consistently smarts with the powerful clarity of a right hook to the jaw. The show is punctuated by the giggles and sniffles of an audience that leaps to its feet as soon as the show is over in celebration of an exceptional theatrical experience. It's a celebration that people should be a part of before it becomes a memory in the ephemeral art of live theater. On Broadway through January 16th.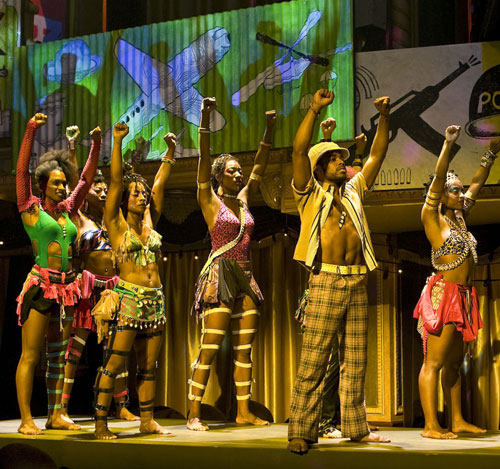 "FELA!" Any audience member who walks into "FELA!" can tell it is a hit in 30 seconds or less. Before audience members even have a chance to settle into their seats, Brooklyn's fantastic Antibalas Afrobeat Orchestra lets audience members know that we're in Africa and we're here for something spectacular. If the music isn't enough to hook the audience in, the exceptional cast of dancers sashays on stage followed by Kevin Mambo as the Nigerian musician and revolutionary Fela Anikulapo-Kuti, inviting the audience to be a part of something. This is a show that holds all of the promises of Broadway: superb choreography by Bill T. Jones, artistry in sound and movement and a rainbow of colors that make up the set and actors' costumes. It's truly an engaging spectacle that also showcases a living legend in the form of Patti LaBelle, who plays Fela's late mother, Funmilayo Ransome-Kuti. The audience can't help but get involved and that's the premise of the show—that the audience is attending one of Kuti's infamous concerts at his club, The Shrine. As Mambo interacts with the audience, there is not a moment of hesitation in their response. Just as the cast wrings energy and life out of each extended finger or half-beat of music onstage, the audience members are close behind, allowing themselves to become one with the man who helped make Afrobeat famous. "How many people here have ever been in jail?" Mambo as Kuti (who was arrested dozens of times) asks the audience. Hands of all colors in the audience shoot up in the air. "FELA!" is a resurrection of Kuti's axé, or spirit, that should not be missed. On Broadway through January 2nd.*
"Bloody Bloody Andrew Jackson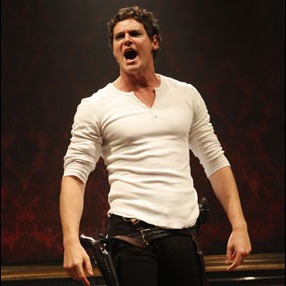 " Is there anything more American than discussing the great history of our country through a man-muse in guyliner shaking his bon bon in skinny jeans? Absolutely not. With cleverly crafted (if slightly repetitive) rock music as the lightning rod,  "Bloody Bloody Andrew Jackson" takes a political story from the realms of the demure and grayish colonial New England and imbibes it with primary colors and cultural primacy. On some level, the character of Jackson (played by Benjamin Walker) makes it easy to reflect on the kinds of ideals that provided the foundation of the country: hard work, determination and a powerful desire not to be messed with. As Jackson fills the role of populist hero and fights with the Native Americans, his life serves as an allegory for the populist movements of today. Plus, as a general phenomenon of imbuing pop culture with political clout, "Bloody Bloody" is much more engrossing and passionate than anything you'll see in other pop-meets-politics showcases like "Sarah Palin's Alaska." On Broadway through January 2nd.
*On January 13th, the Royal National Theater's production of FELA! will be broadcast via satellite to 300 movie theaters around the world.
Here's a partial list of other Broadway plays closing next month. If we're missing any, please post the show below!

Closing January 2nd: "West Side Story," "Brief Encounter," "Elf," "Promises, Promises," "Pee Wee Herman Playhouse"
Closing January 9th: "A Little Night Music", "Rock of Ages", "In the Heights", "La Bete", "A Free Man of Color"
Closing January 15th: "Rain"
Closing January 23rd: "Women on the Verge of A Nervous Breakdown"