Goodness on the Half Shell, Oyster Power
The oyster holds a vaunted place in New York's history, which goes back to the 17th century, when some speculate the New York Harbor may have been home to half of all the oysters in the world. Throughout the 1800s, oysters were even considered fast food due to their widespread availability in New York City street stands.
"One hundred years ago, on the East Coast of the United States, people consumed more oyster meat than beef," says Mike Osinski of Widow's Hole Oyster Company. He grows the shellfish in Greenport, Long Island, 100 miles away from the city, and usually sells out his stock by Christmas to well-known restaurants like Aquagrill, Le Bernardin, Esca, and 11 Madison Park. "If you were to look at a cookbook from 100 years ago, you'd see eight pages of oyster recipes. They were a staple of an East Coast diet."
These days, shellfish are a delicacy entirely absent from New York City waterways due to a number of factors, including pollution and overfishing. In fact, Osinski came into the oyster growing business nearly by accident. The former computer programmer (learn more about Osinski's previous career in this New York Magazine article), found out that he held water rights that extended 500 feet out from his waterfront home in Greenport. After Osinski's wife suggested he try his hand at growing a few oysters, Osinski got hooked. What started as a lark now involves a regular, manual labor–heavy schedule of oyster farming.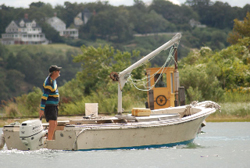 "Everybody in the food business knows the concept of terroir, and that's really, really important in oysters because you're basically tasting the bay," Osinski (pictured at right) explains. He notes that East Coast oysters are brinier because our bays get less rain than on the West Coast and therefore have a higher saltwater content.
In particular, Greenport is well suited for growing oysters because it is the last bay in Long Island to freeze during the winter. A number of oyster canneries were located in Greenport before the town turned into a destination for New Yorkers who wanted a second home. "Wherever you see a condominium now in Greenport was a cannery," Osinski jokes. Also, the hard rocky bottom of the bay is good for oyster growing since the shellfish don't constantly have to filter muddy water.
Osinski has a few tips for city dwellers who are oyster connoisseurs. He suggests asking seafood restaurants to see the shellfish tags listing when the oysters were harvested. Also, although oyster are fine in the cooler for a few weeks, Osinski recommends choosing shellfish with plenty of liquor—or briny water—in the shell along with the meat.
If you'd like to try cooking shellfish on your own, here are two simple recipes. The first is for Osinski's oyster pot pie, which he describes as "a dish that evaporates as soon as it's served." The second is for oysters with champagne and crème fraiche. It's from chefssmartypants.com's Erica Wides.
Oyster Pot Pie
by Mike Osinski
Carrots, potatoes, leeks
2 T butter
1 T flour
Whole pepper corns
Fennel seed
Parsley
2 dozen oysters
1. Simmer diced carrots, potatoes and leeks until half done in two tablespoons butter.
2. Add a tablespoon of flour, stir and thicken.
3. Season with whole pepper corns, fennel seed and parsley.
4. Add the liquor of 2 dozen oysters.
5. Simmer until soft.
6. Add the oyster meats.
7. Place in a square baking pan.
8. Place a simple biscuit dough atop the mixture and bake for a half hour at 350 degrees F.

Oysters with Champagne and Crème Fraiche
By Erica Wides
Serves 6
12 fresh oysters
1 small shallot, minced
1/4 teaspoon freshly ground black pepper
1 cup champagne, prosecco or other sparkling wine
1/4 cup crème fraiche
1 tablespoon chives, finely snipped
coarse salt or rock salt
1. Preheat the broiler.
2. In a small saucepan, combine the shallots, champagne, and black pepper and cook over medium heat until the liquid is reduced to about 2 tablespoons. Remove from heat.
3. Whisk the creme fraiche into the champagne reduction and set aside.
4. Open the oysters, carefully saving their liquor in a small bowl. Detach the oysters from their shells, and place in the bowl with the liquor. Save the bottom (bowl-shaped) shells.
5. Spread a layer of coarse salt or rock salt on an oven-proof platter or baking dish.
6. Place the shells on the salt, and place one oyster on each shell.
7. Mix the champagne/crème fraiche with the reserved liquor, and place a spoonful of this mixture on each oyster.
8. Broil oysters for 1-2 minutes, or until the creme is melting and the oysters are just firmed up. It may take longer, depends on your broiler. Top with snipped chives and serve immediately.