Operation Santa Claus, 1948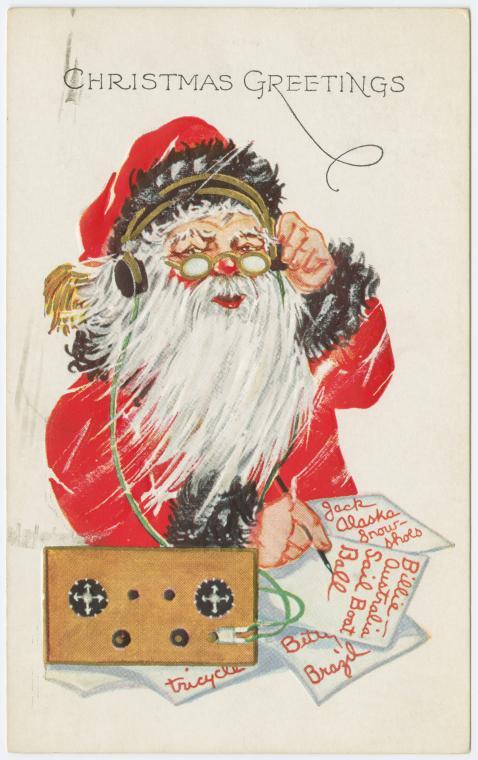 On Christmas Eve 1948, three lucky children flew to Montreal, where they met Santa Claus and escorted him back to New York to deliver presents to the City's children. WNYC reporter Frank Rosa was there to capture the scene.

Santa's excorts, Mickey Kivatiski, Gloria Godoy and Harry Riviera each spent their summers out of the city thanks to the New York Herald Tribune Fresh Air Fund, a charity that provides children from low-income communities with summer trips to the country.
In 1948, despite having received far less in donations the year before, the Fund was able to send more than 8,500 children like Mickey, Gloria and Harry to enjoy vacations in the country: about 4,000 children spent two weeks at summer camps, while the others stayed with families in "Friendly Towns" around the East Coast. Their experiences were so great that many of these children returned to their host families for the winter holidays.
The special Christmastime trip on this broadcast was the grand prize for an essay competition in which children were encouraged to describe their experiences at Fresh Air Fund summer programs. The winners were awarded the flight to Montreal, courtesy of Colonial Airlines, where they to met Santa on the last leg of his Christmas Eve journey from the North Pole to New York City.
Aboard the plane, Mickey, Gloria and Harry described their prize-winning essays to the WNYC reporter, and, upon their arrival in Montreal, the children chatted about their flight and waited for Santa Claus.
When he finally arrived, Santa met the children, who were stunned into a near silence. Once recovered from their surprise, the children told Santa their Christmas wishes, received presents and sang Christmas carols until it was time to board the plane once again, this time with Santa aboard, to return to New York.
Once they reached LaGuardia Airfield, Santa, Mickey, Gloria, Harry, and the WNYC crew were greeted by the Police Department Glee Club and policemen, who escorted the "Santa Claus cavalcade" to City Hall, where Vincent Impellitteri, President of the City Council at the time of this recording, welcomed Santa to the city.
Audio courtesy NYC Municipal Archives collection.