NYC's Culinary Schools Thriving In Hard Times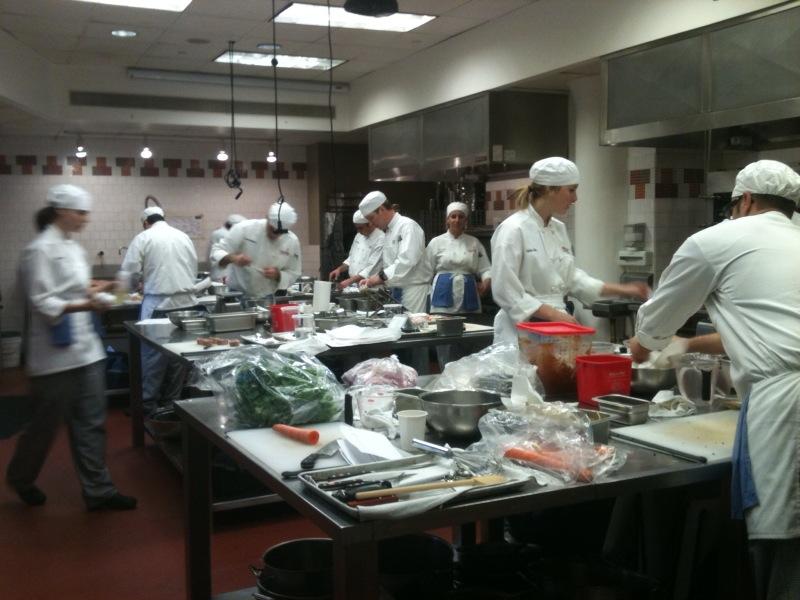 The City's economy may have hit some rocky patches in the last few years, but enrollment at New York City's culinary schools has seen steady growth.
Two of the cities' most prominent culinary schools, The Institute of Culinary Education and the French Culinary Institute, have seen double-digit increases in enrollment during the worst parts of the economic crisis. Many of the new students are mid-life career changers, forced out of their old professions by the crumbling economy.
Doug Lauriano, 49, has been a student at ICE since September. Laid off from his job as a flight attendant in 2008 when his airline, ATA, filed for bankruptcy, Lauriano gravitated to culinary school. "I looked for something to do to keep my mind occupied," he says. "Something I would be passionate about."
Lauriano admits that he was attracted to the culinary profession partly because he was caught up in the "media frenzy."  "I said 'why not?' It looks so easy on television, but it's not. No one realizes the type of work involved. It's physically demanding."
Career-changers typically have their own set of challenges when entering the culinary profession. Tuition hovers around $30,000 for a full-time program.  Jobs can be difficult to come by, and kitchen work is often menial and low-paying. In New York City, entry-level restaurant workers like line cooks and prep cooks make an hourly wage of less than $10. 
Helen Murphy enrolled at ICE after a successful career as a financial planner for small businesses. When she noticed that many of her clients were going out of business, she decided to follow her 20-year-old dream of going to culinary school.
"I do worry about what would happen after this if I can't support myself," said Murphy. "But I came to a point in my life where I want to do something that makes me happy. If I have to live on less, I'm okay with that."
According to Phil Gutensohn, assistant director of career services and alumni affairs at the French Culinary Institute, there are even more opportunities now than there were nine years ago when he graduated from culinary school.
"There may be an economic downturn, but there has not been a downturn in how much we're eating," Gutensohn says. "There are just different ways that people are pursuing it. You can move out of the traditional restaurant profession and be a personal chef or a caterer, or you can work at dining clubs or pop-up restaurants. You can market your project online, and at places like Brooklyn Flea and other artisanal food markets. The breadth of things that people are doing with this skill set is constantly surprising us."
Lauriano says that after graduation, he will be happy to find any work that will allow him to practice and improve his skills in the kitchen. His is realistic enough to know that his ultimate goal -- finding work preparing food in the airline industry -- may take a bit of patience to achieve.