Jimmy McMillan Sings Songs of Rent and Love
On Thursday evening, Jimmy McMillan is going to get on stage with a guitar and perform for the first time in over 20 years, but he's not nervous. "Every child is my child, and when I look out, I'm gonna' look at the faces of my children," says McMillan. "And Daddy's never nervous around his kids."
McMillan's performance tonight comes almost two months after his run as a long-shot candidate in the New York gubernatorial race vaulted him into sudden political celebrity. Representing his "Rent is 2 DAMN High" party, McMillan brought his Victorian-era facial hair and theatrical approach to rent activism. Although he didn't win the seat, he did get 40,000 votes in the general election and, more importantly perhaps, over 5 million views on YouTube.
Yet there's another Jimmy McMillan that few fans are familiar with: the '70s soul singer who has seized on his 15 minutes of fame to relaunch a long dormant musical career. On December 7th, McMillan released an album of rent-centric songs called The Rent is Too Damn High, Vol. 1, which is currently available on iTunes and Amazon for $5.99. The album is made up of extremely lo-fi hip-hop songs that feature McMillan's powerful baritone. McMillan produced and recorded the album himself in his bedroom, playing all the parts into a MIDI keyboard. Among the tracks are "Land Lord Listen Up," "Rent Party Christmas," and a single romantic ballad, "My Place." The YouTube music video for another song on the album, "Ain't Nothing to Talk About," showcases the ironic gyrations of three white, 20-something backup female dancers. At tonight's performance at Klub Europa in Greenpoint, Brooklyn, however, McMillan will play solo with his guitar. That's when he really shines.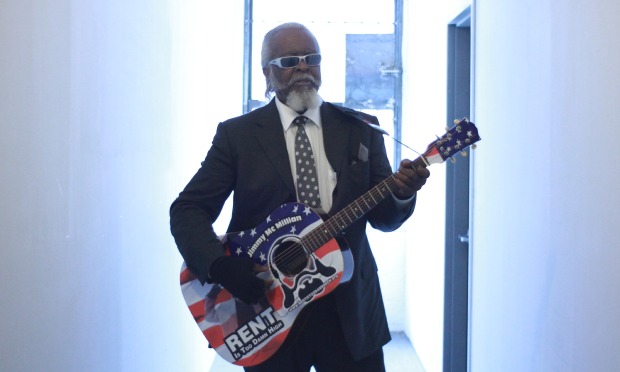 "Do you think you guys can find two guys with mustaches who look like me to stand on either side of the stage when I sing? I think that would be cool," says McMillan. The question is directed at Kristian Almgren and Aaron Fisher-Cohen, the two 26-year-old filmmakers behind "DAMN," a Jimmy McMillan documentary currently in production. Almgren and Fisher-Cohen began to shoot Jimmy shortly after they watched him at the gubernatorial debate, and along the way have become his friends and de facto music managers. It's three days before the gig, and all three are in an old brick loft in outer Bushwick, home to Fantastic Relationship Filmmaking's cozy production studio. McMillan is seated in front of a storyboard covered in index cards scribbled with phrases like "Jimmy at Fox News" and "Jimmy in Car." McMillan's clad in a sharp gray suit and is demonstrating new tunes on his guitar, which he's had custom-wrapped with an American flag print for his show. "He's taking this gig really seriously," confides Almgren. "Maybe too seriously."
McMillan's not exactly sure when he started playing music. He says that a bomb attack he suffered in the Vietnam War wiped out his memory of his life before the war. "My uncle said I played guitar with him in a gospel band, but I don't remember that," says McMillan. The way he tells it, his musical story begins when he found a guitar hanging in a shack in Vietnam. McMillan says he stashed the guitar in a helicopter he was riding in and taught himself Sam and Dave's R&B anthem "Hold On I'm Coming" in the Vietnam barracks where he was serving.
When McMillan got back to Brooklyn from Vietnam, he continued to sustain himself on a diet of soul music. "My favorite artists back then were Otis Redding, Otis Redding, and Otis Redding," he says. He was working as a letter carrier at a Manhattan post office; afterhours, he was a street busker in Washington Square Park. He became the lead singer of a soul band, and made music under the name "Jimmy Mack." McMillan created his own independent record label, Hamster Records, and released a smoking single called "A Woman is So Hard to Understand" in 1975 (video at right). With its wobbly clav and driving backbeat, it's a classic track in the "Northern Soul" style popular in 1970s England, and McMillan says it played on the radio in New York for six months. It even made it onto an English compilation from Soul Food Records called Blackpool Mecca Legends.
McMillan left the soul band in the '80s and turned to activism, but he continued to make songs on his own, this time with an overtly political message. He's sketched out dozens of songs since then on his computer, but never thought anyone would be interested in them.
But people were, specifically filmmakers Kristian Almgren and Aaron Fisher-Cohen. "Our initial reaction was: 'This isn't bad.' There's kernels of genius in there," says Almgren. He listened to the tracks during their first session filming "DAMN," and encouraged McMillan to rerelease his rent songs as an album.
Initially, McMillan didn't believe anyone would be into his music. "I'm like, he's freaking crazy. I thought he must be smoking crack or something," reflects McMillan.
But it took just five hours for Almgren and Fisher-Cohen to make a Jimmy McMillan album. They were already familiar with the one-click world of indie music distribution from years of playing in their own bands. Almgren and Fisher-Cohen chose 12 songs out of 50 that McMillan sent them. Then, they released them online, without any mixing or mastering. The songs are glaringly unfinished and full of technical flaws, but that's part of the charm, says Almgren. A friend transformed McMillan's icon-worthy facial hair into minimalist album art, and voila, an album was made.
Almgren and Fisher-Cohen are careful to insist that their involvement in the music making was minimal, lest the documenters become actors in the unfolding McMillan story. Yet they did handle the booking for Thursday's show, and hired a P.R. company to promote Jimmy's big debut. "People smell money with Jimmy, and that was not our motivation, because we had the film," says Almgren. The duo made the music video (at right) for free to thank McMillon for giving them such incredible access to his life during the past few months. In return, McMillan has gotten Almgren and Fisher-Cohen to tell his story and promote his music.
Reactions to Jimmy McMillan have been varied in the aftermath of the gubernatorial race. Some political commentators were outraged that McMillan and other fringe political characters were taken seriously and put on a stage alongside mainstream candidates. Yet McMillan's wackiness, natural charisma and basic working class platform have won him more than a few fans, some of whom have even called for McMillan to run for president. One Amazon album reviewer wrote, "Jimmy's music has a humanitarian message that resonated with me. He just tells it like it is and I wish he had won because it would have been interesting to see what this guy could do."
As it turns out, McMillan also has all the makings of an hipster icon. His unconventional facial hair and old-school style mirror steampunk aesthetics. The chintzy, early '90s quality to his new album also unintentionally resonates with the indie scene's current fascination with low-grade digital synthesizers. So, it's no coincidence that his first gig is at a divey Polish nightclub in bohemian Greenpoint. "It's great to hear music that has such honesty behind it," says Fisher-Cohen. "We're so used to listening to music that's so self-conscious. Jimmy is making music about something he's completely obsessed and emotional about—and that's 'rent.'"       
McMillan says that anyone can make a name for themselves if they just give it their all. "If I can stand up on this stage at age 65 tomorrow and not show any nervousness, you can do the same dog-gone thing. It's time to step up your game," he says. "America's kids aren't fighting for anything, they don't want to get their hair wet. I'm fighting to let them know that they're gonna' have to rise up, peacefully, and get involved in the election system, and send all those politicians that are not doing what they should be doing for you on a long vacation. And I'm gonna' do it through the music."
Jimmy McMillan performs Thursday night at Klub Europa, at 98 Meserole Ave. in Brooklyn. Tickets are $10.
Stream or Download "My Guitar" by Jimmy McMillan, which is not found on any album. McMillan gave it exclusively to WNYC.

Or listen to McMillan performing live in Bushwick, Brooklyn's Fantastic Relationship Studios.