What Happened in 2010: Health Care
The health care debate dominated news headlines constantly through the first three months of the year, until President Obama finally signed the overhaul legislation on March 23. As some aspects of the law began rolling out over the next nine months, others were brought to court over questions of constitutionality.
January 19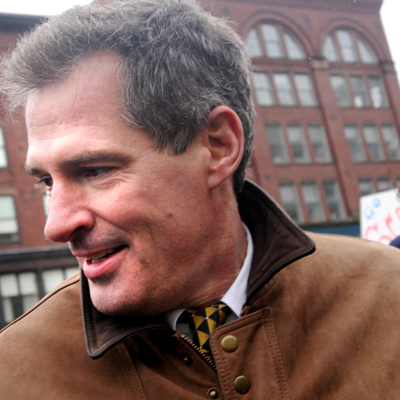 In an upset, Republican Scott Brown wins the election to fill the seat of deceased Senator Ted Kennedy, who was a staunch health care reform advocate. Brown's election means that Democrats have lost their 60-person super-majority in the Senate and will now have to overcome Republican filibusters. Health care reform advocates worry that this means their year-long battle is lost, despite both houses of Congress having passed their own versions of health care reform in 2009.
---
January 27
In President Obama's State of the Union Speech, he presses the case to provide health care to all Americans by passing a comprehensive overhaul.
---
February 25
President Obama hosts a seven hour televised bipartisan forum on health care policy, providing Americans with a close-up look at political maneuvering. The president tries to make the case that the Senate health care bill is centrist, but Republicans say they want to write a new one from scratch. The biggest issue is the cost of providing coverage to 30 million currently uninsured Americans, which Republicans say will be too expensive. Obama doesn't manage to secure any Republican votes through the forum, but suggests a way to avert a Republican filibuster in the Senate by using a process called budget reconciliation, a parliamentary maneuver that only requires a simple majority, not 60 votes.
---
March 3
Obama gives a 20 minute speech at the White House, calling on Congress to allow an "up or down" vote on the health care bill. He lays out a timeline to pass the overhaul within weeks, saying "Let's get it done."
---
March 17
Rep. Dennis Kucinich (D-OH) announces he will support the Senate's health care reform bill, buoying hopes of passage in the House. 
---
March 18
The Congressional Budget Office releases a report saying that the health care plan will cost $938 billion over a ten year period, but at the same time it will pay for itself and reduce the federal deficit by $138 billion. This boosts the Democratic plan to use budget reconciliation to pass the bill.
---
March 21
On a Sunday night, the health care overhaul bill passes the House with an amendment specifically preventing federal money from being used for abortions. In another concession to win over conservative Democrats, undocumented immigrants will not be eligible for coverage, nor will they be able to purchase insurance in the exchange. With the 219-to-212 vote, the House gave final approval to legislation passed by the Senate on Christmas Eve 2009. A "sidecar" of changes to the bill went back to the Senate for a vote that only required a simple majority, which the Senate passed with a few revisions. Days later, the final set of fixes were passed by the House on March 25.
---
March 23
Obama signs the health care overhaul bill into law, called the Patient Protection and Affordable Care Act, using 22 pens. Within a decade, the overhaul will provide coverage to an estimated 30 million people who do not currently have insurance. Certain elements of the overhaul go into effect in 2010, including young adults being allowed to stay on their parents' plan until the age of 26, no copays for preventative care, and a new restriction prohibiting insurers from denying coverage to children based on pre-existing conditions. The broader changes, such as (almost) every American being required to have health insurance, will go into effect in 2014. That's when people will be able to buy insurance directly in an exchange if their employers do not offer it and low-income people will receive subsidies to help pay for the cost of coverage. Not a single Republican voted for the final version, and within hours, two lawsuits were filed challenging the constitutionality of the overhaul, one led by Virginia Attorney General Ken Cuccinelli, and a collective suit from 13 states (which eventually becomes 20), led by Florida Attorney General Bill McCollum.
---
April 1
States are now able to receive federal matching funds for covering some low-income individuals and families under Medicaid for whom federal funds were not previously available.
---
June 18
The Senate passes a six month "doc fix," to prevent a 21 percent pay cut in Medicare fees to doctors. The cuts were supposed to roll out this week, but lawmakers were afraid doctors might start turning away Medicare patients because of the lower rates. The $6.4 billion measure passed after a deal was brokered to offset the cost with changes in Medicare billing regulations and other measures. 
---
July 1
A new insurance plan goes into effect that will provide coverage options to individuals who have been uninsured for at least six months because of a pre-existing condition. States have the option of running this new program in their state, and if a state chooses not to do so, a plan will be established by the Department of Health and Human Services in that state instead. The government says that this program will serve as a bridge to 2014, when all discrimination against pre-existing conditions will be prohibited. The federal government launches a website where Americans can compare health care options available to them. This summer, the government also began sending $250 checks to four million seniors with high prescription drug costs who have hit the so-called "donut hole."
---
September 23
The first elements of health care overhaul go into effect for plans starting on or after this date. Young adults are now allowed to stay on their parents' insurance plan until they turn 26 years old, all new health insurance plans must offer free preventative care—including an annual check up, mammograms and colonoscopies without charging a deductible, co-pay or coinsurance. Insurance companies are now prohibited from rescinding coverage, placing dollar lifetime limits on coverage, and denying coverage to children based on pre-existing conditions. Insurance companies will now be regulated on their annual restriction limits.
---
September 29
The House passes a 9/11 health bill to provide medical care to rescue workers and others who became ill as a result of breathing toxic fumes while working to clean up Ground Zero after the attacks on September 11, 2001.
---
October 7
A federal judge in Michigan, Judge George C. Steeh, who was appointed by President Clinton, dismisses a challenge to the federal health care overhaul, ruling that the legislation is constitutional. The central issue is whether the Commerce Clause of the Constitution allows Congress to require citizens to purchase a product—in this case, health insurance, which will be required in 2014. The case was brought by a number of Michigan residents and the Thomas More Law Center.
---
October 14
A Federal Judge rules that a 20-state lawsuit led by Florida against the health care reform can proceed.
---
November 3
The day after Republicans win a majority of seats in the House of Representatives, the incoming Speaker, Rep. John Boehner, vows to repeal health care reform.
---
November 30
Federal Judge Norman K. Moon in Lynchburg, VA., appointed by President Clinton, rules that the health care reform law is constitutional, in a case brought by Liberty University, the private Christian college founded by Rev. Jerry Falwell.
---
December 9
Senate Republicans prevent a vote on the 9/11 Health bill passed by the House that would provide medical care to rescue workers and others who became ill as a result of working to clean up ground zero after the attacks on September 11, 2001.
---
December 13
Federal Judge Henry E. Hudson, appointed by President Bush, in Richmond, Virginia makes the first ruling against the health care law. Hudson rules that the core provision in the reform, that every American must have health insurance, is unconstitutional. However, Hudson rejected the plaintiff's request to freeze implementation of the law, so it will continue to roll out in 2011. The Obama Administration says they will appeal Judge Hudson's ruling. There are over 15 lawsuits against the health care law, and its constitutionality will most likely be decided by the Supreme Court in 2012.
---
December 15

President Obama signs into law another "doc fix" that will postpone a 25 percent reduction in Medicare reimbursement for physicians until January 1, 2012. The $19.2 billion cost is covered by tweaking the health care overhaul bill to increase the amount of a subsidy that someone will have to pay back if his or her income changes during the year. 
---
December 22
In a surprising compromise, the Senate passes the James Zadroga 9/11 Health Bill to cover the cost of medical care for rescue workers and others who became ill as a result of working at ground zero after the September 11, 2001 attacks. After intense pressure to pass the bill came from citizens and commentators on both the right and the left, Republicans agreed to a $4.3 billion package to pay for health costs over five years, instead of the original amount Democrats were hoping for of $7.4 billion over eight years. The bill is expected to be quickly approved by the House and signed by President Obama.
Want to know what else happened in 2010?