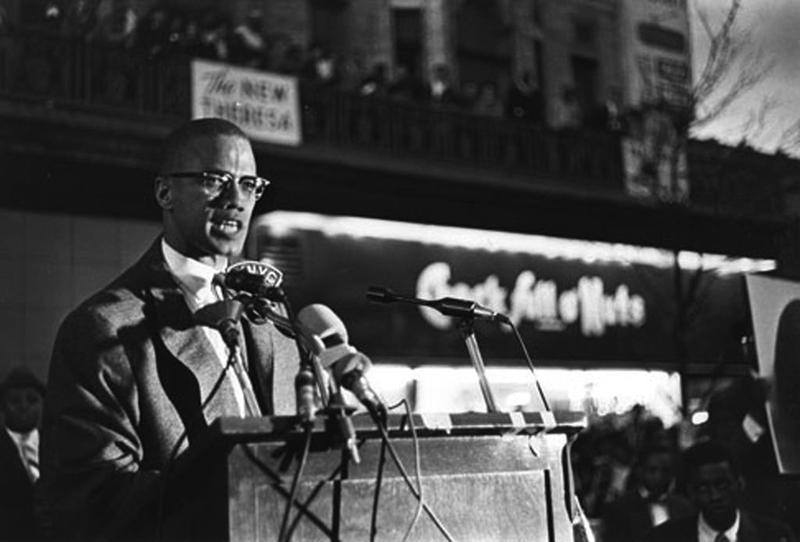 Malcolm X in front of the Teresa Hotel in Harlem when he was still a spokesperson for the Nation of Islam.
If you look closely, you'll notice the WNYC mic flag on the podium. He's wearing the same overcoat he was wearing in the more famous Mary 14, 1963 Larry Fink UPI photo taken in front of the Theresa Hotel in Harlem. The microphones seem similar as well. WNYC's is either a Western Electric or Altec 'saltshaker' microphone, while the mic that obscures part of our mic flag is clearly an Electrovoice 666.  
Unfortunately, we have not found the recording that goes with this photo, but we do have a rare interview done with Malcolm X in the collection from the same period done by reporter Eleanor Fischer. You don't have to wait for Black History Month to hear them. Go to: MALCOLM X.
The page also contains the radio documentary Malcolm X Remembered, which includes many interviews with people who knew him.
Last, but hardly least, Studio 360's American Icons series, recently aired a fascinating program on The Autobiography of Malcolm X. See: AUTOBIOGRPHY.
______________________________________________________________________________________________________
Broadcast on WNYC today in: 
1924: Band and organ music from the WNYC studio is heard in England as part of a special international broadcast arranged by Wanamaker's department stores in New York and Philadelphia. An audio feed from WNYC and WOO (Philadelphia) was sent via land line to KDKA in Pittsburgh. From there, it was relayed by short wave to British stations "using wave lengths similar to those used by American broadcasting stations," according to the New York Times in a report titled "London Gets WNYC Music." A Wanamaker's ad the next day proclaimed: "In thousands of British homes last night the glorious strains of the Star Spangled Banner from America mingled with the sonorous overtones of historic Big Ben as it re-echoed the midnight hour over all of London!"    
1947: Behind the Scenes in Music presents a rehearsal of Norman Dello Joio's Concertino for Flute and Strings. Ruth Freeman is the flutist with the training orchestra of the National Orchestral Association, under the direction of Leon Barzin.
1953: Music for the Connoisseur, with David Randolph. In this sequel to an earlier program on unusual instrumental effects, we hear music in which ordinary instruments are treated in an extraordinary fashion. Included is a rendition of Handel's Sonata #3 performed with a piano and a saxophone; A brief aria by Mozart played on musical glasses a.k.a. glass harmonica; Romanian folk dances by Bartok adapted for and played by Larry Adler on the harmonica and one of John Cage's Sonata's for Prepared Piano. 
In 1946, David Randolph began a series of weekly broadcasts called Music for the Connoisseur, later known as The David Randolph Concerts, on WNYC. For his fourth broadcast, on July 23, 1946, he surveyed the subject of "Humor in Music," thus "inventing" the type of radio broadcast devoted to a single musical subject with commentary. The broadcasts were later heard nationwide on the 72-station network of the National Association of Educational Broadcasters. These broadcasts, which won four Ohio State University Awards as "The best programs of music and commentary in the nation," continued for 33 years and resulted in invitations from 23 publishers to write a book.
1964: Community salute to Dr. Martin Luther King Jr., on his return from Oslo after winning the Nobel Peace Prize with Cleveland Robinson, A. Philip Randolph, Robert Wagner, Roy Wilkins, Whiney Young, Ossie Davis, James Farmer, Nelson Rockefeller and V.P. Hubert Humphrey, at the 369th Regiment Armory.
1976: 'City Club Investigations' on various scandals in New York City regarding Medicaid, food stamps and nursing homes. Speakers include New York Times reporter John Hess and Village Voice reporter Jack Newfield. Also speaking is NYC's Commissioner for Investigation, Nicholas Scopetta.
1989: Arts Alive From the Algonquin with Host Wynton Marsalis and guests Alina Bloomgarden, David Berger, Jon Hendricks.
1998: Music for the anniversary of Rumi's death. The great Persian Sufi poet died on this date in 1274. Each year on this date, Nail Kesova and the Mevlevi Dervishes of Istanbul perform the sema ceremony built around his poetry. We'll hear a recording of that ceremony on this edition of New Sounds.
2004: In the 1950's, Edward Steichen of the Museum of Modern Art wanted to say something about the world. He said it, as Sara Fishko tells us, with a photo exhibit that made history. In this edition of the Fishko Files, a look back, 50 years later, at "Family of Man."